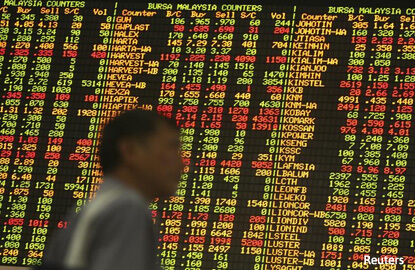 (Feb 23): Southeast Asian stock markets, except Singapore, moved sideways on a lack of firm cues after minutes of a US Federal Reserve meeting showed it would wait for jobs and inflation data to meet expectations to decide on the timing of its next rate increase.
The minutes of the Jan 31–Feb 1 policy discussion, at which the US central bank voted to keep rates unchanged, also showed the depth of uncertainty at the Fed because of a lack of clarity on President Donald Trump's economic program.
Investors are cautious about the "global uncertainties related to Trump's economic policies as well as the interest rate direction of the Federal Reserve, which was actually a non-event," said Taye Shim, head of research at Mirae Asset Sekuritas.
"So, most of the investors within the emerging markets are pretty much on the sidelines."
Singapore shares hit fresh 18-month highs on Thursday, led by oil and gas stocks and financials.
Keppel Corp rose 3.3%, while Sembcorp Industries Ltd added 5% as global oil prices rose after US data showed a surprise decline in inventories.
Also, data on Thursday showed the city-state's rate of inflation rose at its fastest pace in two years in January.
The momentum in consumer prices, combined with stronger-than-expected economic growth at the end of 2016 and the government's generous budget for the coming year will take near-term monetary policy easing off the table, analysts said.
Philippine stocks closed at their highest in more than three weeks, as energy and telecom stocks climbed.
Semirara Mining and Globe Telecom rose more than 2.5% each.
Thai shares lost 0.3%, as consumer non-cyclicals and energy stocks fell.
PTT Exploration and Production PCL lost 2%, while Charoen Pokphand Foods PCL shed nearly 1%.
Indonesia made small gains, while Vietnam lost marginally.
Malaysia fell about 0.2%, dragged down by Axiata Group Bhd, which lost 5.6% after fourth quarter net profit declined 34%.
SOUTHEAST ASIAN STOCK MARKETS
Change on day
| | | | |
| --- | --- | --- | --- |
| Market            | Current       | Previous close   | % move |
| Singapore         | 3137.57       | 3122.2           | 0.49 |
| Bangkok           | 1567.32       | 1572.04          | -0.30 |
| Manila            | 7335.56       | 7304.45          | 0.43 |
| Jakarta           | 5372.748      | 5358.683         | 0.26 |
| Kuala Lumpur      | 1704.48       | 1708.08          | -0.21 |
| Ho Chi Minh        | 716.87        | 717.24           | -0.05 |
Change on year
| | | | |
| --- | --- | --- | --- |
| Market            | Current       | End 2016         | % move |
| Singapore         | 3137.57       | 2880.76          | 8.91 |
| Bangkok           | 1567.32       | 1542.94          | 1.58 |
| Manila            | 7335.56       | 6840.64          | 7.2 |
| Jakarta           | 5372.748      | 5296.711         | 1.44 |
| Kuala Lumpur      | 1704.48       | 1641.73          | 3.82 |
| Ho Chi Minh        | 716.87        | 644.87           | 11.2 |