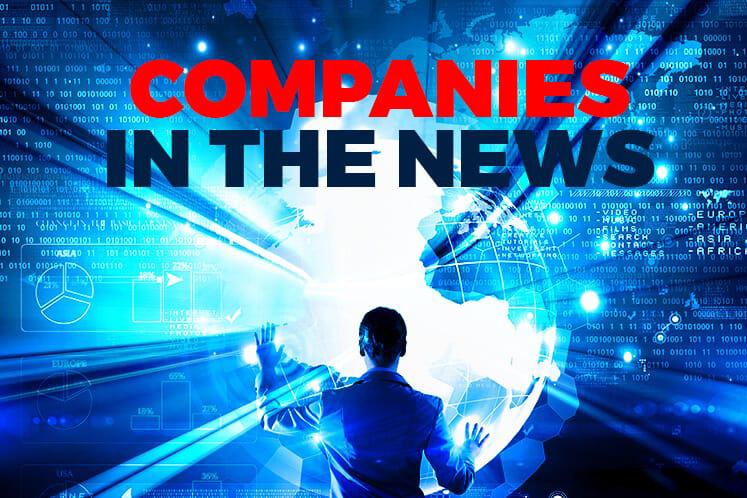 KUALA LUMPUR (Aug 6): Based on corporate announcements and news flow today, stocks in focus for Tuesday (Aug 7) may include the following: Sime Darby Plantation Bhd, PRG Holdings Bhd, Pasukhas Group Bhd, KKB Engineering Bhd, SKH Consortium Bhd, Axis Real Estate Investment Trust, Only World Group Holdings Bhd, MCT Bhd and Advance Synergy Bhd.
The Malaysian Palm Oil Board (MPOB) has named Sime Darby Plantation Bhd executive deputy chairman and managing director Tan Sri Mohd Bakke Salleh as its chairman for a two-year term, effective July 31.
Mohd Bakke replaces Datuk Seri Ahmad Hamzah, whose term began from Sept 1, 2016 and was to end on Aug 31, 2018.
PRG Holdings Bhd's 75%-owned Hong Kong-listed subsidiary Furniweb Holdings Ltd had today issued a profit warning after a preliminary review of Furniweb's unaudited accounts for the six months ended June 30, 2018 (1HFY18).
PRG is a property and construction group while Furniweb produces elastic yarn and furniture webbing. PRG told Bursa Malaysia today that the preliminary review of Furniweb's unaudited accounts showed a substantial decline in Furniweb's 1HFY18 net profit by approximately 75% from a year earlier.
Pasukhas Group Bhd targets to comply with the Bumiputra Equity Requirements by year end.
"We are looking at institutional investors which will create synergies and grow with us," said its executive director-cum-chief executive officer Wan Thean Hoe.
Wan said the company is currently in the midst of seeking institutional investors to invest in the group, adding that Bursa Malaysia Securities had given the company a deadline to comply with the Bumiputra Equity Requirements latest by January 2019.
Currently, the company's equity participation from Bumiputras is less than 1%.
KKB Engineering Bhd said it has commenced engineering, procurement, construction and commissioning (EPCC) works for the D18 JT-D wellhead platform off Malaysia last month, which together with the D28 Phase 1 project have a total contract value of RM226 million.
The 27-month contract was awarded to its subsidiary OceanMight Sdn Bhd (OMSB) by Petronas Carigali Sdn Bhd on March 14.
SKH Consortium Bhd plans to diversify its business to include property development and property investment, as part of the group's business plan to improve its financial performance as well as its shareholders' value.
SKH said the proposed diversification will allow the group to reduce reliance on its existing business in the information technology (IT) and information and communication technology (ICT) industries, as well as its construction activities.
As part of its diversification plan, SKH is proposing to acquire an 80% stake in Kepayang Heights Sdn Bhd, which will own a 19.5-acre piece of land in Bentong, Pahang, for RM13.6 million. The land has a market value of RM15.5 million.
SKH is also looking to acquire a 70% stake for RM12 million in Rimbun Gabungan Sdn Bhd (RGSB), which will be granted with an irrevocable, unconditional and full power of attorney from Rimbun Purnama Sdn Bhd (RPSB) to undertake an affordable housing development project with a gross development value of RM252 million on a piece of government land in Setapak owned by RPSB.
Axis Real Estate Investment Trust's (Axis REIT) net property income or NPI rose 15% to RM26.83 million from RM23.27 million a year ago for the second financial quarter ended June 30, 2018 (2QFY18), as its portfolio size grew to 42 properties as opposed to 38 properties in the year-ago quarter.
Its total quarterly revenue rose 14% to RM47.45 million from RM41.64 million. It recorded a net realised income of RM24.42 million for 2QFY18, which is higher than the RM23.68 million it recorded in 2QFY17.
It announced a distribution per unit (DPU) of 2 sen for the quarter — which is payable on Sept 7 — compared with 2.17 sen in 2QFY17. The distribution represents 99.7% of its realised income available for distribution generated from operations for 2QFY18.
Only World Group Holdings Bhd (OWG) has proposed to undertake a bonus issuance of warrants on the basis of one warrant for every two existing shares held. The exercise price of the warrants will be determined and announced later.
Based on OWG's issued share capital of RM183.6 million comprising 267.1 million OWG shares as at July 25, the maximum number of warrants to be issued pursuant to the proposed bonus issue of warrants is 133.55 million warrants.
MCT Bhd's net profit jumped 69.7% to RM30.71 million in the fourth financial quarter ended June 30, 2018 (4QFY18) from RM18.1 million a year ago, mainly due to a one-off gain on disposal of its subsidiary Ecity Hotel Sdn Bhd.
This resulted in a higher earnings per share of 2.11 sen for 4QFY18, from 1.36 sen for 4QFY17.
Quarterly revenue also rose 9.4% to RM184.63 million, from RM168.78 million in 4QFY17, mainly driven by Lakefront @ Cyberjaya, Skypark @ Cyberjaya and Cybersouth, which have varying stages of completion and take-up rates due to launch schedules.
For the full FY18, MCT said net profit rose 23% to RM78.33 million from RM63.66 million in FY17. Revenue, however, came in 23.6% lower at RM450.3 million compared with RM589.71 million in the previous year.
Advance Synergy Bhd is selling its indirect stake in 40%-owned associate Helenium Holdings Ltd, which owns a freehold mixed-use property in Kilburn High Road, London, for £8.73 million (RM46.637 million).
The proposed disposal will enable it to realise cash and have ready capacity for any high potential investment or acquisition. The proposed disposal is expected to result in a gain of RM2.38 million to the group.