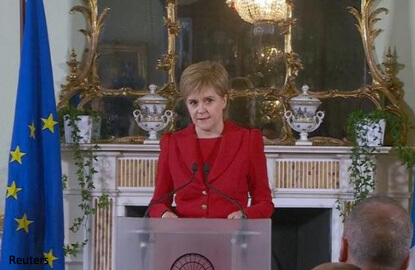 EDINBURGH (Jan 17): Scotland must have the option of independence from the UK if its wishes on Britain's new trade plan after it leaves the European Union are rejected, First Minister Nicola Sturgeon said on Tuesday.
Sturgeon, who leads the pro-independence devolved government, said the Brexit plan laid out by British Prime Minister Theresa May earlier on Tuesday was "economically catastrophic" for the UK, and that Scotland had not voted for it.
Scots voted to stay in the EU last June, in contrast to Britain's overall vote to leave. Sturgeon has submitted a series of proposals on Scotland's position to the government.
"While discussions on those proposals continue, and while the Prime Minister today reiterated her pledge to give our plan proper consideration, we have not yet seen evidence that Scotland's voice is being listened to or our interests taken into account," Sturgeon said.
She added: "The UK government cannot be allowed to take us out of the EU and the single market, regardless of the impact on our economy, jobs, living standards and our reputation as an open, tolerant country, without Scotland having the ability to choose between that and a different future.
"With her comments today, the Prime Minister has only succeeded in making that choice more likely."