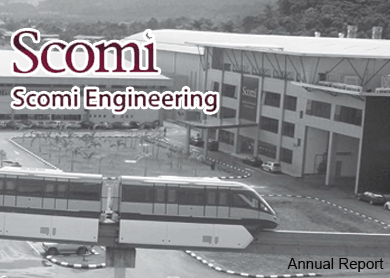 KUALA LUMPUR: Scomi Engineering Bhd's Mumbai Monorail has proved able to withstand the heaviest rains as seen during the latest monsoon season, which had brought the suburban railway network in Mumbai, India to a grinding halt last Friday.
In a statement yesterday, Scomi Engineering said the Mumbai Monorail has been running at 100% punctuality since the start of the monsoon. "Scomi brought the monorail to a country that has a high risk of earthquakes, suffers extreme monsoons and has a dense population. Built in the city of Mumbai with over 29 million people, the monorail, last Friday, has withstood the test of the elements and proven its sturdiness in the face of the raging monsoon," said Scomi Engineering chief executive officer Kanesan Velupillai in the statement.
The Mumbai Monorail started commercial operations of its phase one from Wadala to Chembur, a distance of 8.9km on Feb 2, 2014. It has carried some seven million passengers to date. 
 "Initially operating eight hours of services per day, within 10 weeks of operations, it had increased its services to 14 hours per day. Currently, it operates 16 hours of services per day at an average of 99.17% punctuality," said Kanesan.  
"The ability of the monorail to continue service punctually is due to its design itself. With the straddle design, the train is designed to wrap-around the beam. Hence heavy rains and strong winds do not affect the stability of the train.
"Further, our operations and maintenance team has an extensive monsoon preparedness plan in place to ensure our operations are ready to face the elements," he added.
Phase two of the Mumbai Monorail will link Wadala to Jacob Circle with 10 stations along a 10.8km stretch. The full alignment is anticipated to be commissioned by mid-2016.
This article first appeared in The Edge Financial Daily, on June 24, 2015.