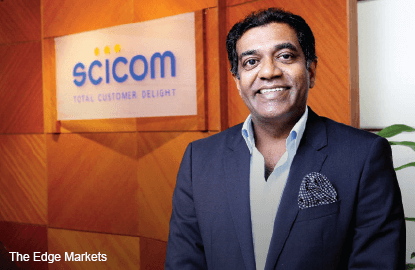 This article first appeared in The Edge Malaysia Weekly, on October 19 - 25, 2015.
SCICOM (MSC) Bhd is probably one of the few companies that is not that worried about the lacklustre economic environment, which has cast a pall over order books and sales.
While other top executives are concerned over declining sales and thinning margins, Scicom CEO Leo Ariyanayakam grins when talking about the company's earnings prospects.
This is because, when times are tough, more companies tend to outsource their customer service in order to retain their market share while reducing their cost. Thus, Scicom (fundamental: 3.0; valuation: 2.1), which has diversified from merely being a call centre into a solutions provider, has been able to gain more clients this year.
"This has been one of our better years. We have reached critical mass. We're 18 years old now. We're stable, we have no debt, we have a good reputation, we have 45 different multinational clients, we have capabilities and people know it," says Ariyanayakam.
Some of its clients are Fortune 500 companies.
Scicom has been profitable since its inception in 1997, the year the Asian financial crisis swept through the region. Malaysia was among the hard hit countries.
Ariyanayakam, who is also the company's founder, takes pride in the fact that it survived both the 1997/98 Asian financial crisis and the 2008/09 global financial crisis. It was listed on Bursa Malaysia in 2005.
"We survived because we have a business that is counter-cyclical. In 1997, people did not want to lose market share. So, they improved on their services and we provide services. Service is a differentiator. Otherwise, you have to compete on prices," he says.
Scicom's net profit for the financial year ended June 30, 2015, increased 49.5% year on year to RM34.69 million, or 9.76 sen per share. Revenue rose 10.4% to RM176.83 million.
When asked if he expects earnings to grow further in the next financial year, Ariyanayakam says: "We've already shown two years of 50% growth. We can safely say that there will be continued growth [going forward]."
In FY2013, Scicom's net profit stood at RM14.85 million while revenue was RM133.84 million.
Ariyanayakam points out that the company's margins have been increasing as well — an indication that it is becoming more efficient. Net margins widened from 11.1% in FY2013 to 14.5% in FY2014, and 19.6% in FY2015.
Scicom's business diversification seems to be a well-thought-out plan — it is now operating in three distinct businesses that serve different markets. One of its core operations is business process outsourcing (BPO). For example, it provides customer service solutions such as multi-language call centres.
Its other core operations are e-government services and the education business, the latter of which comes under Scicom Academy that provides accredited customer contract programmes.
So, Scicom isn't putting all its eggs in one basket. "When one business is not doing so well, the other businesses supplement it. The trick is to get all three businesses working at the same time. But we will never be in a situation where we lose money. We're quite buffered in that way," says Ariyanayakam.
He adds that Scicom's e-government solutions and education businesses provide the company with higher margins than its traditional call centre business.
Nevertheless, it is not the company's strategy to dip its hand into every market, says Ariyanayakam. It only ventures into markets that it feels it has a competitive advantage.
For instance, its BPO business focuses on multinational companies with a customer base that is in Asia-Pacific while its education business focuses on large local corporations and governments in emerging markets in the region.
Meanwhile, its e-government solutions are targeted at the emerging economies where it provides IT solutions to government departments to improve their efficiency and increase their cost savings.
An example of this is IT solutions for foreign student visa applications — Scicom was awarded a contract to implement this system and to process foreign student visa applications under Education Malaysia Global Services, a wholly-owned subsidiary of the Ministry of Higher Education.
Ariyanayakam says Scicom is in talks with governments in several emerging economies in the region to provide them with e-government solutions, but declines to reveal the type of solutions and the countries that are on the company's radar screen. However, he believes it can expect a good outcome from the talks.
"We are focusing on the emerging nations. We want to offer this whole win-win situation — a proposition that makes a difference for them (the governments). When we do these things, we need to hire quite a lot of people to do them. We're doing all the technology transfer. At the same time, people need to be trained and we have a huge training academy. So, the whole proposition is very useful for the emerging nations," he says.
Scicom operates by providing the infrastructure necessary for the IT systems that the government wants to implement, and adopts a risk-sharing model.
Ariyanayakam says this approach is not necessarily capital intensive for the company because it has existing systems available and in-house capabilities. He adds that its operational expenditure will be recouped when the systems are up and running.
Scicom's share price has increased 29% year to date. Last Thursday, it closed at RM1.99. The counter hit a 52-week high of RM2.29 on April 17.
---
Note: The Edge Research's fundamental score reflects a company's profitability and balance sheet strength, calculated based on historical numbers. The valuation score determines if a stock is attractively valued or not, also based on historical numbers. A score of 3 suggests strong fundamentals and attractive valuations. Visit www.theedgemarkets.com for more details on a company's financial dashboard.