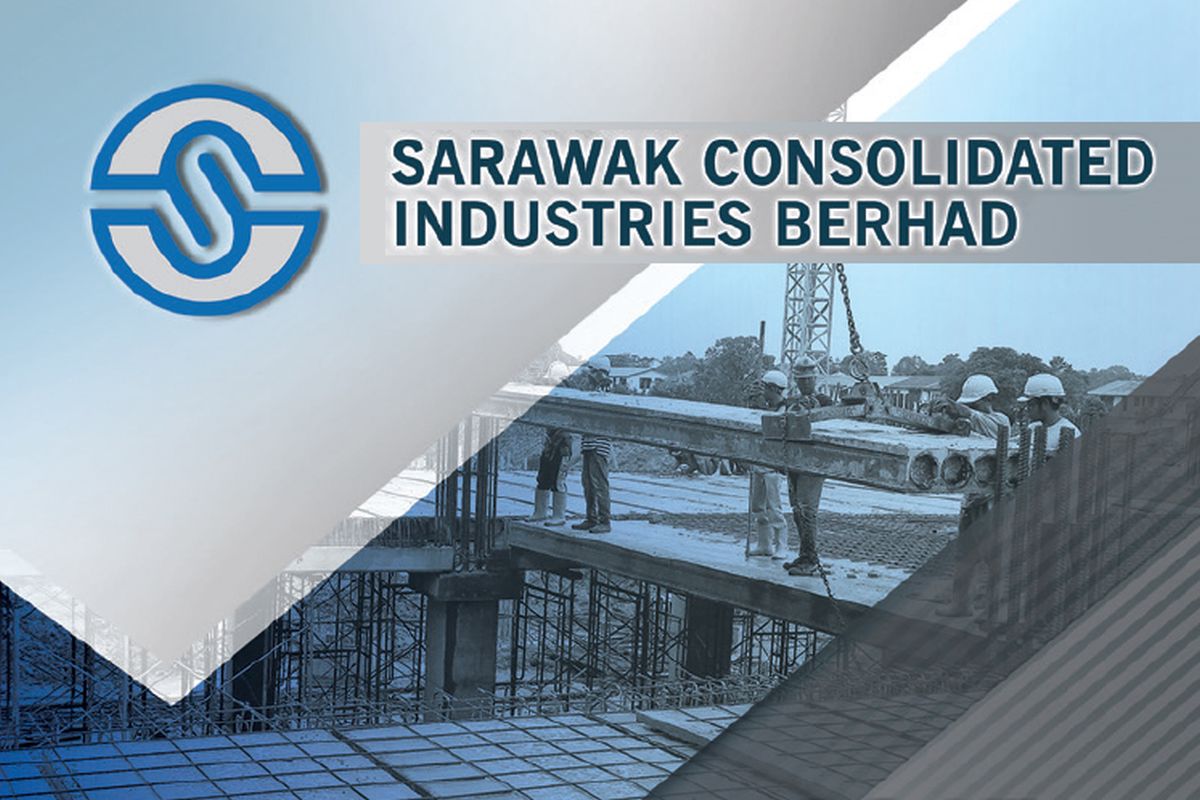 KUALA LUMPUR (Nov 30): Precast concrete product maker Sarawak Consolidated Industries Bhd (SCIB) posted a net loss of RM2.7 million for its first quarter ended in September 30, 2021 (1QFY22) due to operational and initial mobilisation costs, according to its bourse filing on Tuesday.
No comparative financial results were available as the company had changed its financial year-end from December 31 to June 30.
Its loss per share stood at 0.54 sen while its revenue stood at RM26.49 million, according to its filing.
The group said its manufacturing segment reported revenue of RM19.06 million and loss before tax of RM217,000, mainly due to operational cost from adhering to stringent standard operating procedures (SOPs) while its construction and EPCC segment recorded revenue of RM7.43 million and a loss before tax of RM942,000 due to incurring initial mobilisation cost of its local projects. Its property trading and other segments did not record any revenue for the quarter.
SCIB wrote in its filing that its corporate expenses were RM1.52 million, which caused it to sink deeper into the red for the quarter.
Compared with its immediate preceding quarter ended June 30, 2021, its net loss had narrowed from RM19.55 million while its revenue had plunged 83.6% from RM161.53 million.
"Revenue in the current quarter was significantly lower mainly attributable to no revenue contribution from the overseas projects due to the termination of contracts in Qatar and Oman.
"The lower loss before tax for the current quarter was mainly due to the immediate preceding quarter's additional provision of project cost as a result of repositioning of business strategy and impairment loss of RM14.4 million," the filing said.
Looking ahead, SCIB said it should benefit from the expansionary development expenditure allocated in Budget 2022 as it prioritises basic infrastructure provisions to fulfil the gap of public needs and to facilitate local economic developments.
It also said that it has "re-strategised its geographical positioning by taking a closer look at potential emerging markets especially East and West Malaysia, Brunei, Indonesia and India."
Adding that it will use its position as the largest precast concrete and Industrialised Building System (IBS) manufacturer in East Malaysia to continue supporting the State-initiated people-centric construction projects with its three integrated manufacturing factories and wharf facility for shipment across Borneo to supply 500,000 tonnes of building materials annually.
"Transitioning through the headwinds and challenges faced in FY21, SCIB is striving its best to set back on [the] right path leveraging on its growth strategies put forward above as well as the encouraging industry outlook. Barring any unforeseen circumstances, the Group is hopeful for the upcoming year with order book value standing at RM1.3 billion as of November 2021 which translates to an earnings visibility up to 2026," the filing said.
Issuance date of outstanding annual report is still expected to be on Dec 31 2021 (crosshead)
In a separate filing on Tuesday, the company provided an update to the issuance of its outstanding annual report by saying that the expected date of issuance of the FY21 Annual Report is 31 December 2021.
"The Annual Report 2021 of SCIB remains outstanding as the Audit of the Financial Statements for the period ended 30 June 2021 is still ongoing.
"The Company is working closely with its external auditor to finalise the audit of the Financial Statements for the period ended 30 June, 2021 and to issue the Annual Report 2021 as soon as possible by the above expected date of issuance," the filing wrote.
Shares of SCIB was last traded at 20.5 sen and has been suspended since Nov 9 for failing to submit its annual report by Nov 8 as directed by Bursa Malaysia,. It has a market capitalisation of RM119.3 million.