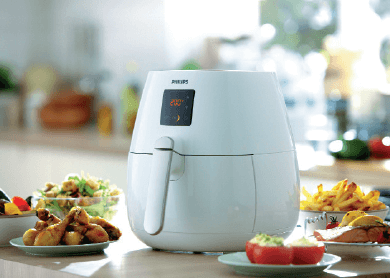 COOKING comfort food to satisfy your family's cravings during Ramadan is something many Muslims are accustomed to once the fasting month rolls around. According to a survey commissioned by Philips, 25% more Malaysians spend time in the kitchen during this time to specially prepare meals. 
The same survey also highlights how 61% of Muslims in Malaysia believe that eating healthy meals are important, but find it challenging to incorporate it into their lifestyle. With a whole month of cooking ahead for many Malaysians, Philips has come to the rescue by introducing a range of innovative kitchen appliances dedicated to helping us prepare food faster and more efficiently for the whole family. 
A great start is the Philips Viva Collection digital airfryer, perfect for anyone whose guilty pleasure is a plate of crispy fried chicken during buka puasa. The airfryer prepares fried food with 80% less fat with little or no oil used, letting you enjoy your fried foods with a lot less guilt. The device bakes, grills and air-fries food in a short space of time using Philips' unique Rapid Air Technology. The technology allows you to cook healthier food without compromising the taste and making it less stressful in the kitchen. 
Another device guaranteed to save time and preparation is Philips' computerised electric pressure cooker from the same collection, which can tenderise food in mere minutes with a variety of cooking settings for fast and delicious results. Many people in the survey cited they took slightly longer in the kitchen to make food, and this pressure cooker is designed to save time while preserving the taste of food. 
The pressure cooker also has a warming function that will help keep rice fresh for up to 12 hours. It's variety of cooking programmes is sure to help users cook their favourite dishes, such as congee, chicken soup and even bake cakes — all in half the time that is usually required.
To learn more, visit the Philips website at www.philips.com.my or the Philips flagship store at lot G3-15, Publika Shopping Gallery, Kuala Lumpur.
This article first appeared in The Edge Financial Daily, on June 17, 2015.