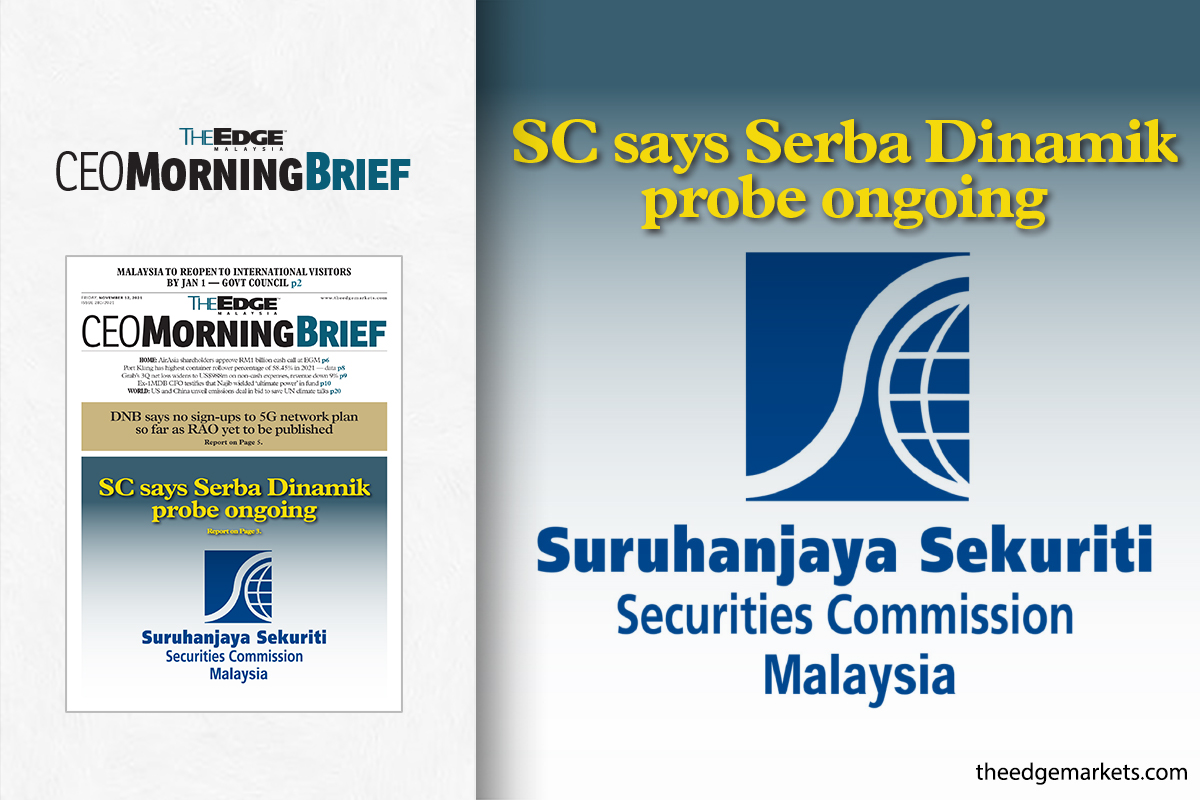 KUALA LUMPUR (Nov 12): The Securities Commission Malaysia (SC), which does not usually comment on its investigations, broke its silence in view of the legal suits by Serba Dinamik Holdings Bhd against its former auditor KPMG, Bursa Malaysia, and Ernst & Young Consulting Sdn Bhd (EY) that it appointed to conduct a special independent review (SIR).
The SC told The Edge that the commission had raided several of Serba Dinamik's offices on May 18 to secure documents and relevant evidence after it had received a "Section 320 of the Capital Markets and Services Act 2007 (CMSA) notice" from KPMG.
The regulator assures the investing public that it has made progress on its investigation and additional resources have been added to the team to ensure the investigation is completed in a timely manner.  
As the capital market regulator, the SC stressed that it is empowered under securities laws to investigate and enforce any transgression or potential transgression of securities laws, SC guidelines and rules of the stock exchange.
"The SC will evaluate all available evidence and take any appropriate action as is deemed necessary. As investigation is ongoing, the SC is not able to comment further on this," said the SC in an email reply to The Edge.
In the course of its investigation, the SC said it received and granted a request from EY to have access to documents and evidence seized by the SC during the raid as EY was having difficulties obtaining complete documentation from Serba Dinamik on several aspects of its review.
Subsequently, the SC issued a Section 152 Securities Commission Malaysia Act 1993 (SCMA) notice to require EY to disclose its SIR findings for the SC's review, according to the email reply.
How the audit saga started
To recap, KPMG in late May flagged audit issues relating to sales, trade payables and material on site balances involving 11 parties which accounted for total sales transactions of RM2.32 billion, a trade receivables balance of RM652 million and materials on site balance of RM569 million.
Serba Dinamik then announced it was commencing a special independent review after its board of directors was informed by its external auditors on some matters pertaining to statutory audit.
In June, Serba Dinamik appointed three new independent directors including current chairman Datuk Mohamed Ilyas Pakeer Mohamed.
Since then, the oil and gas services and engineering group has been embroiled in audit disputes with KPMG, and later the stock exchange and EY. It has filed lawsuits against the three.
It sued KPMG for alleged negligence and breach of statutory duty, prompting the latter to resign as the company's external auditor. This was followed by the resignation of five independent directors, four of whom were in protest against the legal action.
The debt-laden company later took legal action against Bursa for "acting in excess of power" after the exchange suspended the trading of its shares and warrants. The suspension came as Serba Dinamik declined to make public the SIR findings from EY.
Serba Dinamik on Nov 8 filed a legal suit against EY, seeking to nullify the latter's appointment as the reviewer and to block any sharing of any findings from the review.
This was on grounds that EY was not registered as an auditor with the Audit Oversight Board, and that EY misled the company into thinking it met the criteria to be appointed as the special independent reviewer.
In a statement responding to the legal action, EY said it had undertaken its duties professionally and that it stands by all its actions to date.
EY noted that it was appointed by Serba Dinamik's board of directors, under the directive of Bursa. "We disagree with the position taken by Serba Dinamik. We undertook our duties professionally and stand by all our actions to date," EY said in the statement.
Strong growth, high receivables
Serba Dinamik has missed its coupon payment that was due on Tuesday (Nov 9) for its US$300 million three-year sukuk with a 6.3% annual profit rate that is payable biannually.
The coupon payment that was due is about US$9.45 million (RM39.35 million), back-of-the-envelope calculation shows.
It is understood that the non-payment does not constitute a default yet as the bond covenant includes a 30-day grace period for the coupon payment to be made from the due date.
However, the May 2022 sukuk contains cross-default provisions with another tranche of US$200 million sukuk, which matures on March 12, 2025.
Since its listing in 2016, Serba Dinamik has shown stellar year-on-year growth in its financial performance.
From a net profit of RM144.88 million on revenue of RM1.24 billion in the financial year ended Dec 31, 2016 (FY16), Serba Dinamik has recorded compound annual growth rates in bottom line and top line of 44.5% and 48.31% respectively, to record net profit of RM631.75 million on revenue of RM6.01 billion for the 12-month period ended Dec 31, 2020.
The company's directors changed the financial year end from Dec 31, 2020 to June 30, 2021. For the 18-month period ended June 30, 2021, Serba Dinamik posted a net profit of RM759.98 million on revenue of RM8.6 billion.
As at June 30, its receivables swelled to RM1.92 billion compared with RM1.25 billion as at end-2019. Its long-term loans and borrowings dropped to RM2.29 billion compared with RM2.93 billion at end-2019. However, short-term loans quadrupled to RM1.64 billion versus RM400.9 million as at Dec 31, 2019.
To receive CEO Morning Brief please click here.