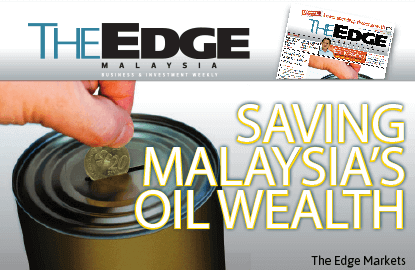 KUALA LUMPUR (Nov 21):  The Edge weekly in its latest edition raised whether enough has been done to ensure Malaysia's oil wealth lasts after the well run dry, and if establishing a special oil fund is the answer to the conundrum.
In its cover story, the Edge's Cindy Yeap wrote that that Malaysia is blessed with rich biodiversity and natural resources — from minerals such as tin to crude oil and liquefied natural gas (LNG) reserves.
The magazine said the country's oil and gas riches have fuelled the growth of national oil corporation Petroliam Nasional Bhd (Petronas), which last year was ranked 68th on the Fortune 500 list of the world's largest companies.
It said that from its inception in 1974 to end-2014, Petronas had contributed RM881.3 billion in dividends, taxes, royalties and duties to federal and state coffers, company data shows.
The weekly said if one were to include the RM230.6 billion in foregone revenue (gas subsidy) since regulated gas prices came into effect in May 1997, Petronas' monetary contribution to Malaysia's economy would amount to a whopping RM1.11 trillion over the past four decades.
To put that into perspective, RM1.11 trillion would be enough to pay off Malaysia's government debt of RM623 billion, cover the RM175.8 billion debt guaranteed by the government as at end-September 2015 and comfortably fund Budget 2016, with RM40 billion extra to double cash transfers and allocation for education, health and housing.
It is also 1.7 times the total investment assets of the Employees Provident Fund (EPF) of RM667.21 billion as at end-June 2015 and 2.7 times Bank Negara Malaysia's foreign reserves of US$93.9 billion (RM417.2 billion) as at mid-November 2015, said the weekly.
The Edge said Petronas' cumulative RM1.11 trillion contribution to date would also have been enough to fund Budget 2013 to Budget 2016, with change to spare. Prior to Budget 2009, national budgets were below RM200 billion a year, but they grew even as government revenue expanded. The country's budget deficit has averaged RM40 billion a year for the past five annual budgets.
If just 10% of that amount has been set aside for a natural resource fund, Malaysia would now have RM111.2 billion, even without counting the effect of compounding interest and investment gains.
For the full story on whether it is too late to start saving the country's oil wealth now that oil prices are projected to stay low for some time, please read the latest edition of the Edge weekly for the week of Nov 23 – Nov 29 available at newstands now.