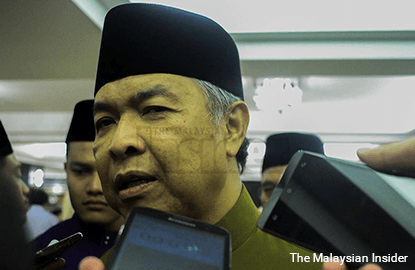 (July 25): Sarawak Report editor and founder Clare Rewcastle-Brown may be extradited to Malaysia for interfering in the country's sovereignty if a "prima facie" case can be established, Home Minister Datuk Seri Ahmad Zahid Hamidi said.
In a statement tonight, Zahid said the government could start communicating with British authorities for a possible extradition if the Malaysian police find concrete evidence to charge her here.
"As the concept of sovereignty is respected by all, I'm sure the British does not give its blessings to its citizen interfering in the affairs of other countries," he said.
He said it was unacceptable that Rewcastle-Brown's exposes on 1Malaysia Development Bhd (1MDB) published on Sarawak Report had "ill intentions".
Zahid said police were conducting investigations and should enough evidence surface, the ministry would make official contact with the British government through the Foreign Ministry so that legal action could be taken against Rewcastle-Brown.
"There is already a working relationship between the Malaysian police and Scotland Yard. This will make it easy should any extradition be required," the home minister said.
The Barisan Nasional (BN) government has been emphasising allegations that documents on 1MDB leaked to Sarawak Report and used in critical reportage of the state investment fund had been tampered with.
BN's strategic communications director Datuk Abdul Rahman Dahlan previously alleged that Rewcastle-Brown had tampered with documents relating to 1MDB as part of a scheme to topple Prime Minister Datuk Seri Najib Razak.
The allegations came about after a police report was lodged by made by non-governmental organisation leader Ramesh Rao Krishnan Naidu, based on a "confession" by a former Sarawak Tribune journalist, Lester Melanyi.
Melanyi claimed to have worked with Sarawak Report before and said he knew of Rewcastle-Brown's plans to forge evidence on 1MDB.
However, Rewcastle-Brown has denied Lester's claims, saying that the latter never worked for Sarawak Report before. – July 25, 2015