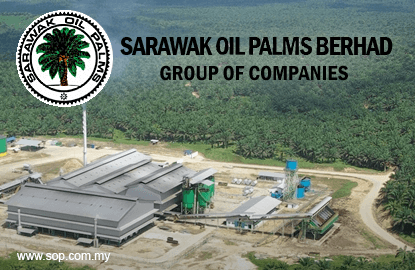 This article first appeared in Corporate, The Edge Malaysia Weekly, on July 4 - 10, 2016.
SARAWAK Oil Palms Bhd (SOP) is close to acquiring a major plantation asset in Sarawak, worth more than RM750 million, bankers familiar with the proposed deal tell The Edge.
It is understood that the deal could be concluded as early as this week, if all goes well.
"Thus far, it (negotiations) has gone smoothly. It (the deal) is slated to be sealed early next (this) week," says one of the bankers. Bankers are aware of the proposed deal because SOP has been scouting around for funds. It has approached several banks looking for the best deal.
SOP's share price rose 12 sen last Friday to close at RM4.12, giving the company a market capitalisation of RM1.82 billion.
While the identity of the company being acquired is kept under wraps, the bankers say it is a major acquisition involving about 25,000ha of planted land and many unplanted land parcels in Sarawak.
This could substantially increase SOP's existing 72,653ha, of which 87% or 63,517ha are planted. The company also has six palm oil mills as well as a refinery in Bintulu with an installed capacity of 1,500 tonnes per day.
The last major oil palm plantation deal in Sarawak was in 2014 when Felda Global Ventures Holdings Bhd (FGV) acquired 100% of Asian Plantations Ltd (APL) for RM628 million.
APL had 24,622ha of plantation land in Miri and Bintulu then, which means FGV acquired the estates at RM25,506 per hectare.
Basically, there are six large plantation companies in Sarawak — Ta Ann Holdings Bhd, WTK Holdings Bhd, Rimbunan Hijau Group (through Bursa Malaysia-listed Rimbunan Sawit Bhd), KTS Holdings Sdn Bhd, Samling Group and Shin Yang Group.
Ta Ann is largely controlled by Datuk Amar Abdul Hamed Sepawi and his partners — Datuk Wahab Dolah and Datuk Wong Kuo Hea — who collectively control about a third of the company. Hamed is the cousin of former chief minister and now Yang di-Pertua Negeri Tun Abdul Taib Mahmud.
WTK is 35%-controlled by the family of the late Datuk Wong Kie Nai.
Privately held Rimbunan Hijau is the vehicle of billionaire tycoon Tan Sri Diong Hiew King @ Tiong Hiew King while KTS is controlled by the Lau family, whose patriarch Datuk Seri Lau Hui Kang passed away about 10 years ago. The Lau family also controls 35% of BLD Plantations Bhd.
Samling Group is the vehicle of Tan Sri Yaw Teck Seng. It had publicly traded units in Hong Kong (Samling Global Ltd) and Malaysia (Lingui Development Bhd and Glenealy Plantations Bhd) but have all been privatised.
Shin Yang Group, which has interests in shipbuilding, timber, engineering and plantations, to name a few, is controlled by Tan Sri Ling Chiong Ho. The group also controls 28.6% of SOP after it acquired a 25% stake from the Commonwealth Development Corporation.
SOP was established in 1986 as a joint venture between the Commonwealth Development Corporation and the Sarawak government, which still has a 20.32% stake in Shin Yang held under Pelita Holdings.
SOP has been performing well financially. For its first three months of FY2016 ended March, the company registered a net profit of RM23.98 million on revenue of RM1.04 billion. In the previous corresponding period, its net profit was only RM5.45 million and revenue was RM630.87 million. The better results were attributed to higher trading and sales volume of palm oil products.
As at end-March this year, SOP had cash and bank balances of RM520.81 million, short-term borrowings of RM744.48 million and long-term debt commitments of RM411.75 million. It also had retained earnings of RM953.92 million. For the three months ended March 2016, it paid finance costs of RM8.94 million.
On its prospects, SOP says, "The performance of the group will continue to be driven by the price movements of palm oil products, which are dependent on the global edible oil market, movement of the ringgit and [global] economic condition."
Crude palm oil prices have come off their multi-year low of RM1,800 on Aug 26 last year and are currently up some 30% — at RM2,373 per tonne last Friday.
In a report released last Friday, MIDF Amanah Investment has an average CPO price assumption of RM2,450 per tonne, which is 14% higher than 2015's average of RM2,153.50.
While the research outfit does not rate SOP, in a report in early May, it had a target price of RM5.15 on the stock. SOP ended trading last Friday at RM4.12, which means MIDF's target is 25% higher than the current share price. MIDF pegs price-earnings multiples of 19 times against FY2016 forecasted earnings per share of 27.1 sen.
For FY2016, MIDF forecasts SOP raking in almost RM120 million in net profit on revenue of RM3.8 billion. In FY2015, SOP posted a net profit of RM84.94 million from RM3.64 billion in sales.