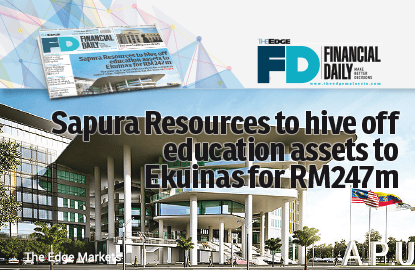 This article first appeared in The Edge Financial Daily, on March 17, 2016.
KUALA LUMPUR: Sapura Resources Bhd (SapRes), which is controlled by tycoon Tan Sri Shahril Shamsuddin, is proposing to sell its education assets to Ilmu Education Group Sdn Bhd, the education arm of government-owned private equity firm Ekuiti Nasional Bhd (Ekuinas), for RM246.99 million, to focus on growing its property and aviation businesses.
SapRes should pocket about RM314.99 million, cash, from the deal, inclusive of a RM68.01 million dividend from a proposed reorganisation of one the units it is selling.
Interestingly, the price tag for the assets is about RM55.74 million above its market capitalisation of RM191.25 million, according to the closing price of its shares at RM1.37 yesterday, which slipped one sen or 0.72% from Tuesday.
The deal is also the first under Ekuinas' new chief executive officer Syed Yasir Arafat Syed Abd Kadir, the private equity firm's former managing partner (investment), who took over the position beginning this month as his predecessor Datuk Abdul Rahman Ahmad retired on Feb 29.
In a bourse filing yesterday, SapRes said the education assets it is disposing of are its 49% interest in APIIT Sdn Bhd, 49% stake in Asia Pacific University Sdn Bhd (APU), and 37.61% stake in Asia Pacific Institute of Information Technology Lanka (Pvt) Ltd (APIIT Lanka).
The total disposal consideration comprises RM58 million for APIIT, RM161.99 million for APU, and RM27 million for APIIT Lanka. Ilmu currently owns 51% of APIIT and APU (APIIT Education Group), which it bought from SapRes in 2011 for RM102 million.
Prior to the stake disposals, there will be a proposed reorganisation, which will involve the disposal by APIIT to Ilmu of its entire interest in Asia Pacific Schools Sdn Bhd (APS) for RM138.8 million.
Thereafter, APIIT will declare dividends to its shareholders (Ilmu and SapRes), whereby Ilmu and SapRes will be entitled to dividends of RM70.79 million and RM68.01 millon respectively.
Subsequently, APIIT will undertake a bonus issue of 2.5 million new APIIT shares to its shareholders.
SapRes said it had entered into a conditional share sale agreement with Ilmu in relation to the disposals. Under the deal, Ilmu has undertaken that should it sell any or all of its shares in APIIT, APS, APU and APIIT Lanka to a third-party buyer within 18 months after the proposed disposals are completed, it will first offer the shares to SapRes, whereupon SapRes has 60 days to consider the offer.
This undertaking, however, will cease to apply if Ilmu is listed or has registered the prospectus for its listing on any recognised stock exchange, or if Ekuinas' stake in Ilmu falls below 51%.
SapRes is expected to realise a one-off pro forma gain of about RM192.2 million, based on its audited financial statements ended Jan 31, 2015.
The group intends to use RM144.6 million (58.5%) of the sale proceeds for repayment of bank borrowings, while RM90.8 million (36.8%) will be channelled into future expansion and general working capital requirements, RM6.98 million (2.8%) will be set aside for a proposed special dividend, while the remainder will be for estimated disposal expenses.
As for the RM68.01 million in dividends that it will get from APIIT under the proposed restructuring, the group said it will use that for future expansion and general working capital requirements.
SapRes said it is more value-accretive to the group in the long run to use the funds from the disposals to concentrate on growing its property business, namely its Lot 91 Kuala Lumpur City Centre development, as well as its aviation business.
The Lot 91 development, located in Jalan Kia Peng, entails the construction and development of an office tower, a convention centre and a retail podium.
SapRes expects the proposed disposals to be completed by the third quarter of this year.