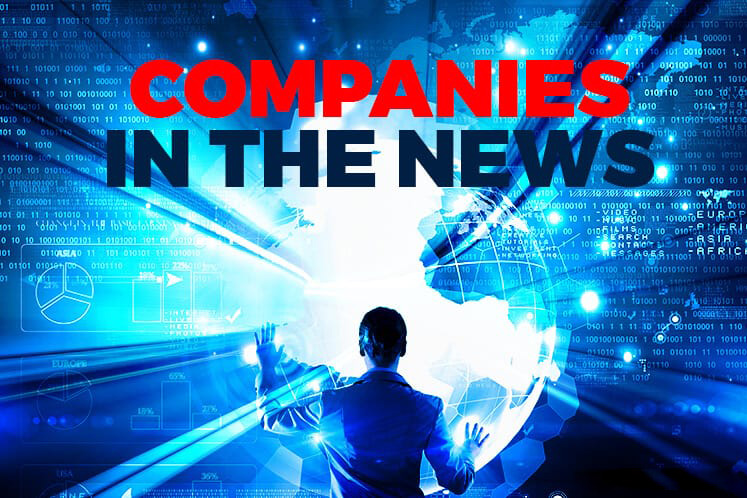 KUALA LUMPUR (Aug 24):  Based on corporate announcements and news flow today, companies that will be in focus on Monday (Aug 27) may include: Sapura Energy Bhd, PUC Bhd, Axiata Group Bhd, Cahya Mata Sarawak Bhd, Magnum Bhd, Southern Steel Bhd, Dayang Enterprise Holdings Bhd, SKP Resources Bhd, MMC Corp Bhd, MSM Malaysia Holdings Bhd, Pos Malaysia Bhd, Paramount Corp Bhd and Adventa Bhd.
Sapura Energy Bhd (SEB) has proposed a rights issue of new ordinary shares besides Islamic redeemable, convertible preference shares (RCPS-i) in the company to raise up to RM3.98 billion to reduce borrowings.
"As at April 30, 2018, the total borrowings of the SEB Group is approximately RM16.4 billion. The part repayment of the bank borrowings of the SEB Group is expected to result in interest savings of approximately RM190 million per annum based on an interest rate of approximately 4.8% per annum," it said.
PUC Bhd's wholly-owned subsidiary Founder Pay Sdn Bhd (FPSB) has partnered with Revenue Monster Sdn Bhd (RMSB) for FPSB to lease payment terminals to RMSB for its merchants.
The MoU also provides an opportunity for both parties to unlock business potential by exploring other business collaborations in the future.
A one-off non-cash impairment provision of RM3.38 billion resulted in Axiata Group Bhd posting a second quarter net loss of RM3.36 billion, which is its second consecutive quarter in the red after the group incurred a net loss of RM147.41 million in the first quarter.
The provision was a result of the de-recognition and reclassification of Idea Cellular Ltd from associate to simple investment, as the group announced on July 27.
Quarterly revenue dipped 3% year-on-year to RM5.87 billion from RM6.06 billion, as the ringgit strengthened against all regional currencies leading to an adverse forex translation impact on the group's headline performance.
Sarawak State infrastructure facilitator Cahya Mata Sarawak Bhd (CMSB) saw its net profit for the second quarter ended June 30, 2018 (2QFY18) leap by 59.5% to RM91.63 million from RM57.43 million mainly attributed to the increase in share of results of its associates. Revenue rose 15.4% to RM395.28 million from RM342.55 million in 2QFY17.
Magnum Bhd's net profit fell 19.9% to RM48.05 million in the second quarter ended June 30, 2018 (2QFY18) from RM59.96 million last year, on lower gaming sales due to the FIFA World Cup event that took place in June 2018.
Quarterly revenue was 3.3% lower at RM600.39 million, versus RM620.58 million in 2QFY17. The group declared three sen per share of dividend, payable on Sept 28.
Southern Steel Bhd's fourth quarter net profit grew by more than six times to RM35.21 million from RM5.57 million a year earlier, on higher sales volume and net margin. Quarterly revenue increased 35.7% to RM888.64 million from RM654.92 million.
For the full financial year, Southern Steel's net profit jumped 126% to RM210.85 million from RM93.3 million or 22.07 sen a share a year ago. While revenue was 40.18% higher at RM3.7 billion versus RM2.64 billion previously.
Dayang Enterprise Holdings Bhd has returned to the black with a net profit of RM38.85 million for the second quarter ended June 30, 2018 compared to a net loss of RM48.1 million in the same quarter last year, on higher work orders.
This follows a 15.84% increase in revenue to RM221.28 million from RM191.02 million in 2QFY17.
SKP Resources Bhd's saw its net profit fall 22.84% to RM25.74 million in the first quarter ended June 30, 2018 (1QFY19) versus RM33.36 million last year due to lower sales from key existing customers. Quarterly revenue declined 17.98% to RM430.52 million compared with RM524.88 million in 1QFY18.
MMC Corp Bhd's net profit slumped 66% to RM20.08 million in the second quarter ended June 30, 2018 (2QFY18) from RM59.81 million a year ago, due largely to lower contribution from Johor Port Bhd and Northport (Malaysia) Bhd.
The conglomerate also attributed the decline in earnings to the lower share of profit from its 36.5%-owned Malakoff Corp Bhd due to lower contribution from Segari Energy Venture Sdn Bhd's (SEV) plant, and lower fuel margin recorded at coal plants.
This was despite seeing a 27% year-on-year (y-o-y) rise in quarterly revenue to RM1.2 billion from RM944.43 million, due to work progress from the Klang Valley Mass Rapid Transit Sungai Buloh-Serdang-Putrajaya (KVMRT-SSP) Line, and the effect of consolidating Penang Port Sdn Bhd's (PPSB) revenue.
Sugar manufacturer MSM Malaysia Holdings Bhd reported a net profit of RM14.33 million in the second quarter ended June 30, 2018 (2QFY18) versus a RM21.45 million net loss a year earlier, due to lower raw material costs and favourable foreign exchange (forex) rates.
Its quarterly revenue, however, fell to RM573.22 million from RM691.11 million a year ago, due to a "7% reduction in the overall tonnage sold and lower average selling price".
Pos Malaysia Bhd's net profit for the first quarter ended June 30, 2018 plunged 86% to RM4.98 million, from RM35.92 million a year earlier, due to lower revenue from its postal services segment coupled with increased costs.
Quarterly revenue fell 3% to RM590.46 million from RM611.63 million a year ago.
Paramount Corp Bhd, which saw its net profit more than double in its second quarter thanks to a land disposal gain, plans to continue monetising its land bank and conduct strategic divestments to unlock value and improve its bottom line.
The group specifically intends to divest assets in its education segment in the near future, given increased competition amidst a price-sensitive environment, according to group chief executive officer Jeffrey Chew.
"[There are considerations to sell land in] Cyberjaya, Klang, as well as in Bukit Mertajam [Penang]. If we can sell at the right price then we will. We are still looking for buyers for different locations. Additionally, we are also on the lookout for more land," he told a media and analyst briefing today. The group's remaining undeveloped land bank stood at 721.9 acres as at June 30, 2018.
Adventa Bhd plans to vary the terms of its proposed renounceable rights issue of new irredeemable convertible preference shares (rights ICPS) with free warrants, to a basis and issue price to be determined and announced later.
It would also make an application to exempt its major shareholder Low Chin Guan and persons acting in concert with him from being obligated to undertake a mandatory offer for the remaining Adventa shares not already owned by them on the subsequent conversion of the rights ICPS and the exercise of the rights warrants into new Adventa shares.