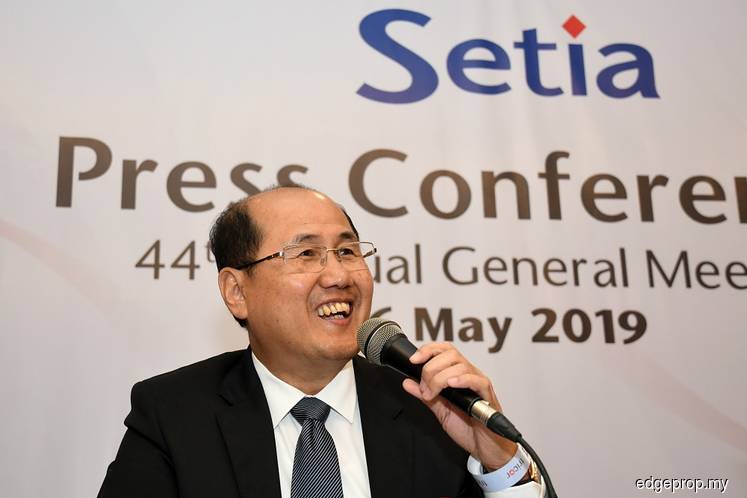 SETIA ALAM (May 16): S P Setia is confident of achieving the RM5.65 billion sales target for FY2019 despite registering lower property sales in 1Q2019 of RM718 million, down 35% y-o-y.
This is largely due to the upcoming RM6.4 billion worth of property launches from now until the end of the year as only RM339 million worth of projects was launched in 1Q2019 as well as the bookings the developer has received from potential homebuyers.
"The RM718 million sales is of course lower than expected. But typically, the 1Q [of the year is slow]. But what is encouraging is that in the pipeline, those people who have [placed] their bookings are also [valued] at over RM700 million also.
If you add it up, it is RM1.4 billion. But these [people who have placed their bookings], they are cautious as well, they will not sign the [Sales and Purchase Agreement] until they get a confirmation of being able to get a housing loan.
"Going forward, we are still working on our RM5.6 billion sales target. We will have a clearer picture in 2H2019," said S P Setia CEO Datuk Khor Chap Jen at a press conference after the group's 44th annual general meeting today.
Meanwhile, he also addressed questions about the all-time high overhang of unsold property units in the country — Khor said S P Setia has reduced its unsold units value from RM1.6 billion to RM1.4 billion over a period of less than six months.
"Our unsold stocks are concentrated in six projects of which three are in Johor, one in Penang and one in the central region. The one in Johor, we are looking to repackage it and relaunching it as investment products while the one in Penang are our larger units which are priced more than RM8 million, while the smaller ones are all sold out.
In our central region, we have a project in Alam Impian where there are some issues with the soil settlement, so we held back. But the problem has been resolved and repairs have been done, so we are putting it out in the market. It [The Alam Impian project] won't be a problem as these are landed units and it is in a mature location," Khor explained.
He also added that the phase two and three of the Battersea Station Project in London are expected to see a minor delay of about a year owing to the change in construction method and Brexit and is now targeted for completion and opening in 2021.
Buyers of Battersea Station have the option of pulling out from the project if they do not want to wait due to the delay but Khor expects only a marginal decline of the take-up rate from 70% to 67% for phase three while he predicts the take-up rate for phase two to be maintained at above 90%.
"You must remember phase two is like a trophy unit, it is the most prime [part] of the project as it is sitting on the power station itself.
These buyers are discerning investors so they will want to see the [construction progress] first before they decide. The completion will just be in time with the new tube station in London as well," Khor added.