This article first appeared in City & Country, The Edge Malaysia Weekly, on December 2, 2019 - December 08, 2019.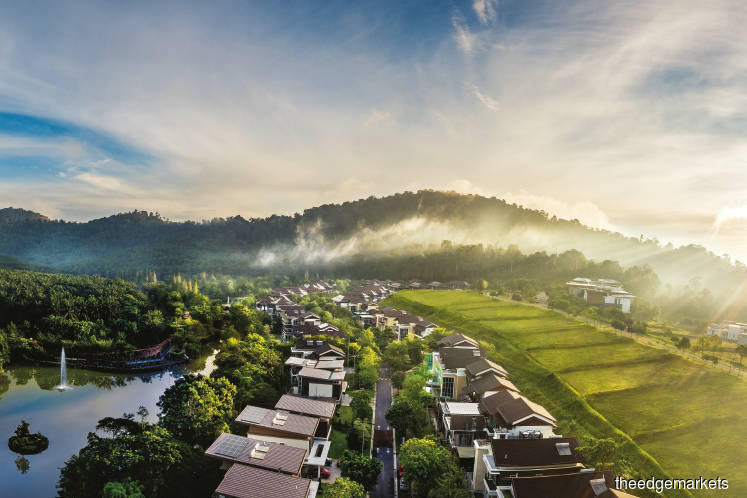 The development is located at the highest point of Setia Eco Park, next to Bukit Cherakah Forest Reserve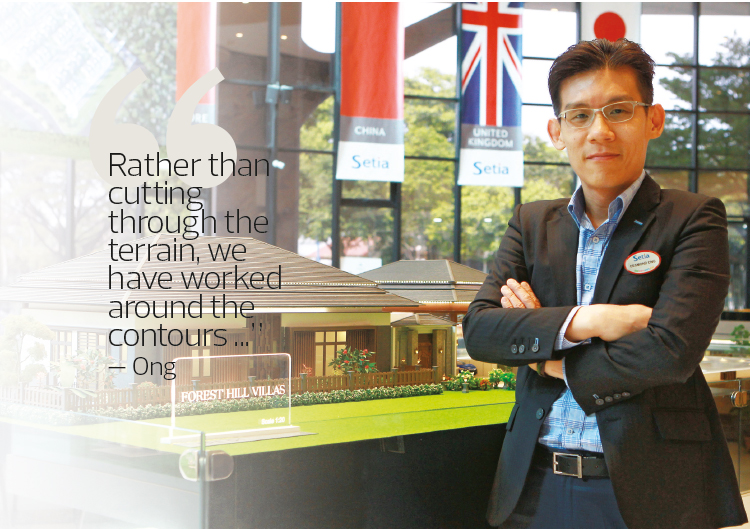 S P Setia Bhd will launch Forest Hill Villas (North) — dubbed the most exclusive phase in the 791-acre Setia Eco Park in Shah Alam — by the middle of this month, says general manager Desmond Ong.
Located at the highest point of Setia Eco Park, Forest Hill Villas (North) spans 14.54 acres in Precinct 5 and is next to Bukit Cherakah Forest Reserve. The phase, which has a gross development value of RM198 million, will offer 35 units of 1- and 2-storey bungalows.
All units will have a north-south orientation and will be separated by perimeter fencing and partition walls but will not have front gates. The maintenance fee is RM460 per month.
The units will have lot sizes of 7,000 to 23,000 sq ft and built-ups of between 3,391 and 4,570 sq ft. Ong says the units will be priced from RM4.6 million to RM7.4 million.
"This project is exclusive because it is 27m to 42m above sea level," Ong tells City & Country. "Rather than cutting through the terrain, we have worked around the contours and come up with 11 layouts. Some layouts are available in six units, while some are only limited to one unit.
"Forest Hill Villas (North) will have an exclusive entrance statement on top of the Precinct 5 entrance statement. In fact, it is the only phase that will have an entrance statement with water features. There will be a garden that features a pavilion, reading pod and floating gazebo. Volcanic stones will be used for pathways," says Ong.
Each bungalow will come with a proposed pool area and a maid's room, while some units will have a viewing deck. The bungalows will be built in cul-de-sacs to provide safe and private spaces for residents.
About half of the units — which are targeted at the affluent group and businessmen with a monthly income of more than RM70,000 — have been booked.
"These days, many people prefer to have more space but not a very big built-up area. A built-up of 3,000 to 4,000 sq ft is usually sufficient because the children are studying overseas and the parents only need enough bedrooms for the children when they come back," he says.
"For the buyers we are targeting, what they want now is to enjoy life and have a good living environment. Also, they will have social gatherings in their homes, so sufficient communal space is important. We did some research on what our customers want in their homes … we then designed the units accordingly."
Ong notes that the nearby 3,000-acre Bukit Cherakah Forest Reserve also makes the area cooler than others. The eco-living environment at Forest Hill Villas (North) will also be complemented by the Neo Balinese concept adopted in the façade design and landscape.
He emphasises that landscape is very important as it is the "soul" of a development. "There is a lot of architectural emphasis on the design in creating a Balinese ambience, such as double roofing, wood and stone. We also have false windows in the units to enrich the façade. There are also lighting effects to make the houses unique," he explains.
A challenge S P Setia is facing in developing Forest Hill Villas (North) is controlling the noise and dust from earthworks as the area is surrounded by residences. Working hours are restricted 8am to 5pm on weekdays, says Ong.
Like other residents of Setia Eco Park, residents of Forest Hill Villas (North) will be able to join the exclusive clubhouse, The Canopy Club. It offers various indoor and outdoor facilities including a gymnasium, fitness studio, squash court, games room, reading room, swimming pool, futsal court, basketball court and tennis courts.
Ong says S P Setia is looking to launch Forest Hill Villas (South) by 2Q2020. Spanning 11 acres, it will have 37 bungalows with different designs and concepts from Forest Hill Villas (North).
S P Setia has 171 acres (or 21%) of undeveloped land bank left in Setia Eco Park, mostly in Precinct 2. It will be developed over 10 to 15 years with launches worth RM2.7 billion.
Other ongoing projects in Setia Eco Park include Elizabeth Falls Grand Finale, Emma Crest and Arundina.
Elizabeth Falls Grand Finale consists of 20 semi-detached homes with lot sizes of 41ft by 85ft and built-ups of 2,746 to 3,040 sq ft. Each unit has 4+1 bedrooms. Launched in 1Q2019 and priced from RM1.8 million, the project's take-up rate is 80%.
Emma Crest offers 110 units of 2-storey semi-detached homes with lot sizes of 41ft by 85ft, 45ft by 85ft and 55ft by 85ft. Built-ups range from 2,698 (4+1 bedrooms) to 3,098 sq ft (5+1 bedrooms). Prices start from RM1.86 million. The development was launched over three phases — in April last year and January and November this year.
The 73-acre Arundina is a strata-titled precinct featuring three phases of semi-detached homes and a clubhouse. Ong says Phase 1A was launched in June and more than 60% of the 118 units have been taken up. With lot sizes of 32ft by 75ft and 38ft by 70ft, the units have built-ups of 2,495 to 2,833 sq ft.
Ong adds that Phase 1B has 74 semi-detached homes and will be launched in 2Q2020.