This article first appeared in The Edge Malaysia Weekly, on May 7, 2018 - May 13, 2018.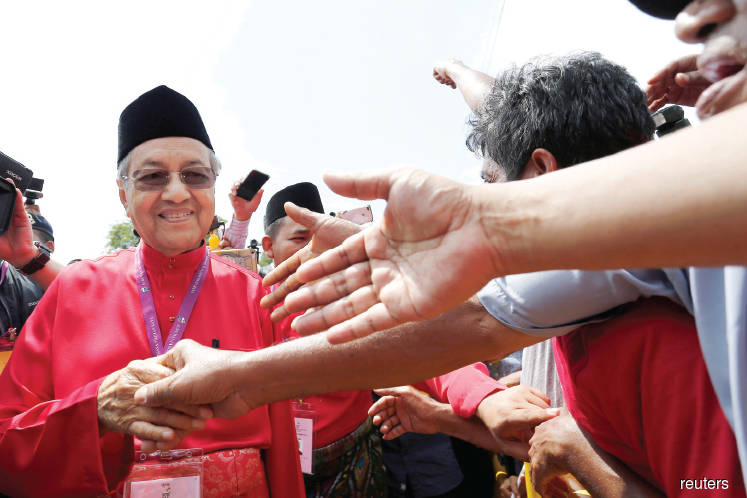 I think I won't be too off the mark to say the reception that Tun Mahathir Mohamad gets now is, well, more rousing than when he was prime minister. And he was PM for a long time.
This is not to say he was not accorded the right welcome then. Nor did he fail to generate a buzz, so to speak, at meet-the-rakyat sessions or ceramah during the time he was prime minister. He never had trouble doing all that.
But it's just that now, it seems different. Now, the mere mention of his name — that he is due to speak at this or that event here and there — whips up a lot of excitement.
A ceramah with Mahathir on the list of speakers will surely be a major draw — big, big crowds guaranteed. In showbiz terms, a box-office hit.
The atmosphere is electrifying long before he arrives. And when he turns up, it gets even more more electric. His arrival is greeted with thunderous cheers and chants of "Hidup Tun" and "I love you Tun".
A rock star welcome. This for a man that many in the crowd might have called a dictator years back. How things have changed.
The recent mega rally, as it was billed, at the Desa Pandan suburb in the federal capital was packed to the brim despite a constant drizzle and soggy ground, leading fellow journalist Jahabar Sadiq to comment that it was a miracle only one person fainted.
Another journalist friend had this to say: "The crowd was crazy for him. This old man has amazing pulling power. You can feel the positive vibes he draws out of people with his witty remarks about Najib." Caretaker PM Datuk Seri Najib Razak is always the main target.
Mahathir has this gift to explain the complicated "transactions" of 1MDB and the meaning of kleptocracy to the average Ahmad, Ah Seng and Raju. And he does not have to shout to be fiery.
The crowd was multiracial. A Malay lady from Kampung Datuk Keramat told my journalist friend she was "geram" with Najib. Umno, she said, had been distributing essentials, including rice, in her area. She admitted that she "ambil tapi tak kan pangkah" (take but will not vote for Umno/BN).
She complained about the high cost of living. Yet, she was willing to buy a PKR T-shirt and to put money into the donation box passed around by Pakatan Harapan volunteers. There were many like her.
It was almost the same scenario at Mahathir's ceramah in Wangsa Maju, also in the federal capital, a week or so ago, and at other ceramah in Selangor, Terengganu, Kelantan, Kedah,Johor and elsewhere .
His audience understood him when he spoke of the need "to save Malaysia".
And if they blamed him for his past "mistakes", it seems they are now saying all that is water under the bridge and all is forgiven. Well, it certainly looks that way. I must say this is based on observing all the ceramah held thus far in the run-up to GE14 and not on the findings of detailed research, study and what not.
However, it can be safely said that Mahathir apologising in public for "my past mistakes" has gone down well with the people. Some people, anyway. The video clip where he tells a little girl he has not much time to rectify the situation has gone viral and deeply touched the hearts of many a Malaysian. That cannot be denied.
And in Desa Pandan when he apologised for what he said was his greatest mistake — supporting Najib to be PM — sections of the crowd responded with shouts of "no problem Tun", as though they were saying they were in this together with him to right the wrong.
So will Mahathir, Malaysia's fourth prime minister, become the seventh?
For some, it's a yes, citing a long list of reasons as proof that the man has a record of running the country well. For the detractors, it's no. To them, enough is enough.
But here's the thing — Mahathir, or rather his efforts, have been gaining traction and helped Pakatan Harapan make inroads into areas that the opposition had difficulty penetrating before.
This, the BN knows. That explains the daily onslaught against the 93-year-old politician. And "onslaught" is such a tame word to describe the situation.
Mohsin Abdullah is a contributing editor who has covered politics for more than four decades
Save by subscribing to us for your print and/or digital copy.
P/S: The Edge is also available on Apple's AppStore and Androids' Google Play.