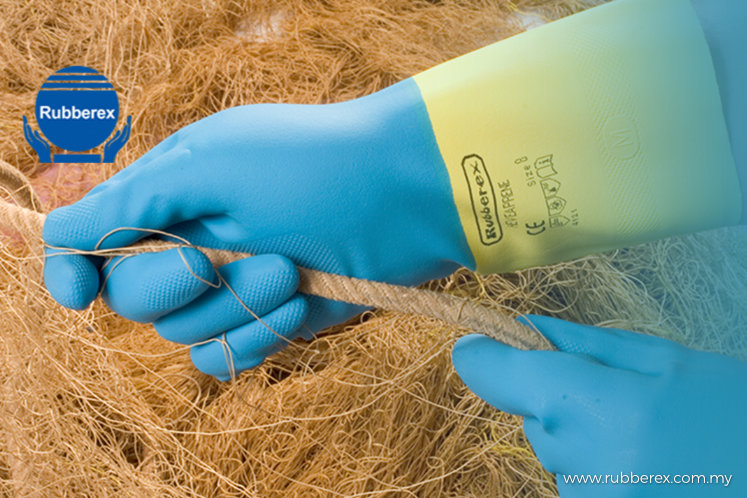 KUALA LUMPUR (April 28): RHB Investment Bank Bhd research has initiated coverage on Rubberex Corp Bhd at RM1.29 with a "Buy" rating and target price (TP) of RM1.68 which implies 23.5x FY21F P/E, a 24% discount to sector average reflected by its smaller market cap and liquidity.
In a note today, the research house said it expects Rubberex to register supernormal 3-year forward earnings CAGR of 30%.
"This is supported by expansion in capacity, which should double in the next 3-6 months and triple by end-FY22F.
"The stock should benefit directly from COVID- 19 and is trading at an unwarranted 40% discount versus peer average," it said.
RHB said Rubberex's growth going forward is supported by its aggressive but timely expansion of the nitrile disposable gloves segment.
"The company plans to double its capacity in the nitrile disposable segment from the current 1 billion pieces per annum (ppa) to 2 billion ppa in the next 3-6 months.
"By end-FY22F, we expect its production capacity to triple to 3 billion ppa. Its production capacity for household gloves is currently 52 million ppa, while industrial gloves stands at 25 million ppa. We expect capacity for household and industrial gloves to remain stable in FY20F-22F," it said.
RHB said due to exceptionally high demand for gloves globally, Rubberex's operations facility is running at close to full utilisation rate of 90%, compared to its normal level of 80-90% before the pandemic.
"The most direct beneficiary is the nitrile disposable gloves segment as it is sold mainly to the medical sector.
"The spillover effect has also benefited the household/industrial gloves segment due to increased health awareness across the world due to COVID-19.
"We also expect margins to expand due to higher USD/MYR trend and lower nitrile butadiene prices," it said.