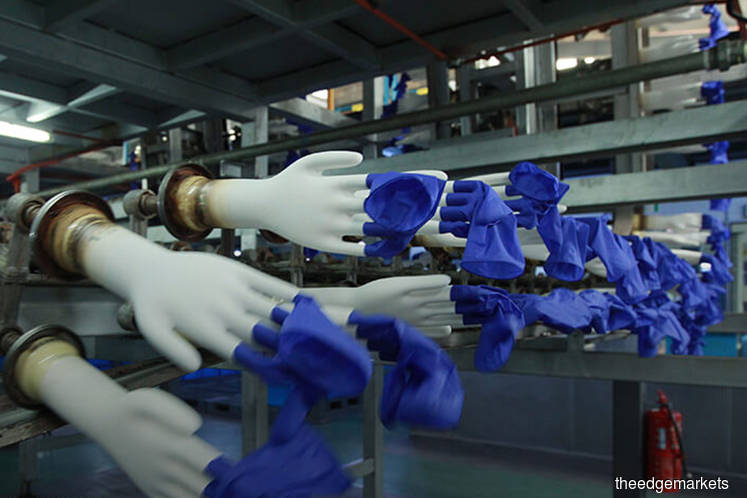 KUALA LUMPUR (June 13): Export-oriented glove maker counters traded higher today as investors take a bet that the weakening ringgit against the greenback will boost their earnings.
At 3.18pm, shares of Top Glove Corp Bhd rose 14 sen or 1.26% to RM11.28; Supermax Corp Bhd rose 24 sen or 6.68% to RM3.83; Kossan Rubber Industries Bhd gained nine sen or 1.12% at RM8.09; Hartalega Holdings Bhd rose one sen or 0.16% to RM6.21.
Reuters reported the dollar approached a three-week high against the yen and stood tall against the euro on Wednesday, ahead of the Federal Reserve's policy meeting, which could give clues on how many more rate hikes might come out of the U.S. this year.
"The Fed concludes its two-day policy meeting later on Wednesday, at which it is widely expected to hike rates for the second time this year.
"Market focus is on whether the Fed signals tightening policy four times in 2018, from the three times indicated earlier this year, after the world's largest economy has expanded steadily," Reuters added.
At the time of writing, the ringgit was trading at 3.9950 to the US dollar — its weakest level in five months. A stronger dollar is beneficial to exporters such as rubber counters.
Inter Pacific Securities Research head Pong Teng Siew said rubber stocks like Top Glove rebounded today, largely as investors turned to bargain hunting, after the strong selldown on the counters yesterday.
"It is recovering from the yesterday's losses and continues to keep in line with its upward trends," Pong told theedgemarkets.com.
"Stock like Top Glove has been on the rise since end of April this year," he added.
Meanwhile, MIDF analyst Noor Athila Mohd Razali concurred that the current sentiment for glovemakers is positive, given that the sector continues to be driven by strong global demand for rubber gloves and the fact that most companies are currently operating at an oversold capacity.
"It also might be due to the positive reaction from the recent inclusion of Hartalega into FBMKLCI Top 30 and Top Glove being designated as a reserve for the next review period," Noor Athila added.
"The impending quarterly earnings announcement might be driving Top Glove's share price higher, though we do not expect any surprises and we opine that it will come in within our estimates," Noor Athila said.
"As for Supermax, we believe the price has been rallying due to the three consecutive good earnings performance year-on-year (y-o-y), therefore we opine that investor confidence on the company has returned and Supermax also makes a good alternative for exposure to the gloves sector due to its affordability, when compared against its peers such as Top Glove and Hartalega."