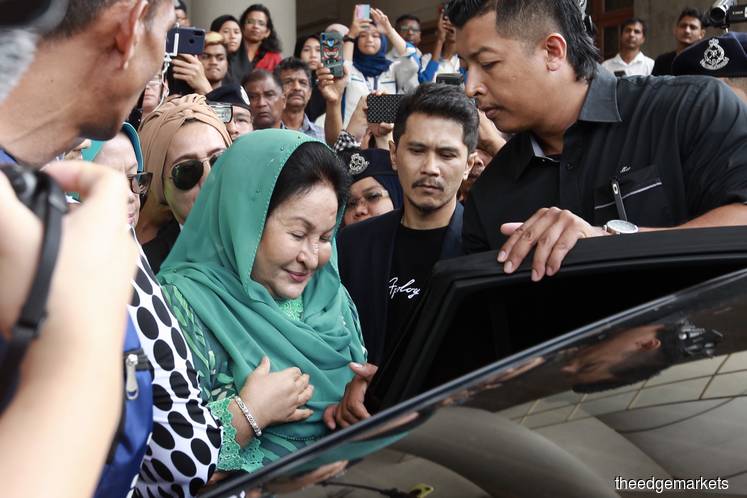 KUALA LUMPUR (April 10): Datin Seri Rosmah Mansor, wife of former prime minister Datuk Seri Najib Razak, said today she is glad that the truth has come out about her alleged purchase of a US$27 million (about RM110 million) 22-carat pink diamond pendant.
Yesterday, Deputy Finance Minister Datuk Amiruddin Hamzah confirmed that the purchase did not take place in Malaysia, although the sales agent had brought the diamond in and out of the country.
At the Kuala Lumpur Courts Complex today, Rosmah said she has been telling the truth but was disappointed that many people believed the slanders brought against her.
"We have already explained many times before, even two years (ago) we even bothered to explain. But people chose to listen to all the lies, to all the untrue stories that were being smeared at me and my husband. So we just have got to go through it and unfortunately the people suffer because of all this, because you all chose to believe in lies. Maybe lies are more interesting.
"I know that I have to go through it because I was the leader's wife so I've been dragged into all this. But for whatever it is, I'm happy and I'm glad and I thank God that the truth has come out. This is only one of them (the allegations against her)," she told reporters as she was leaving the courts complex here today.
Lebanon-based jewellery firm Global Royalty Trading SAL filed a suit in the middle of last year against her. theedgemarkets.com reported that Global Royalty had then demanded the return of over 44 pieces of jewellery sent to Rosmah for viewing purposes or the payment for the items at a full price of US$14.79 million.
It was reported that Rosmah contended the pieces of jewellery were seized by the police when they raided the former premier's house in relation to a corruption probe last year. It was reported that Rosmah is said to own the pink diamond pendant, which Najib said in an interview last year was a gift from Prince Sheikh Mansour, the brother of Abu Dhabi Crown Prince Sheikh Mohammed bin Zayed.
Earlier today, Rosmah was charged at the Sessions Court here for receiving a bribe involving RM5 million in connection with the implementation of the solar hybrid system project for rural schools in Sarawak.
Rosmah pleaded not guilty to the charge.