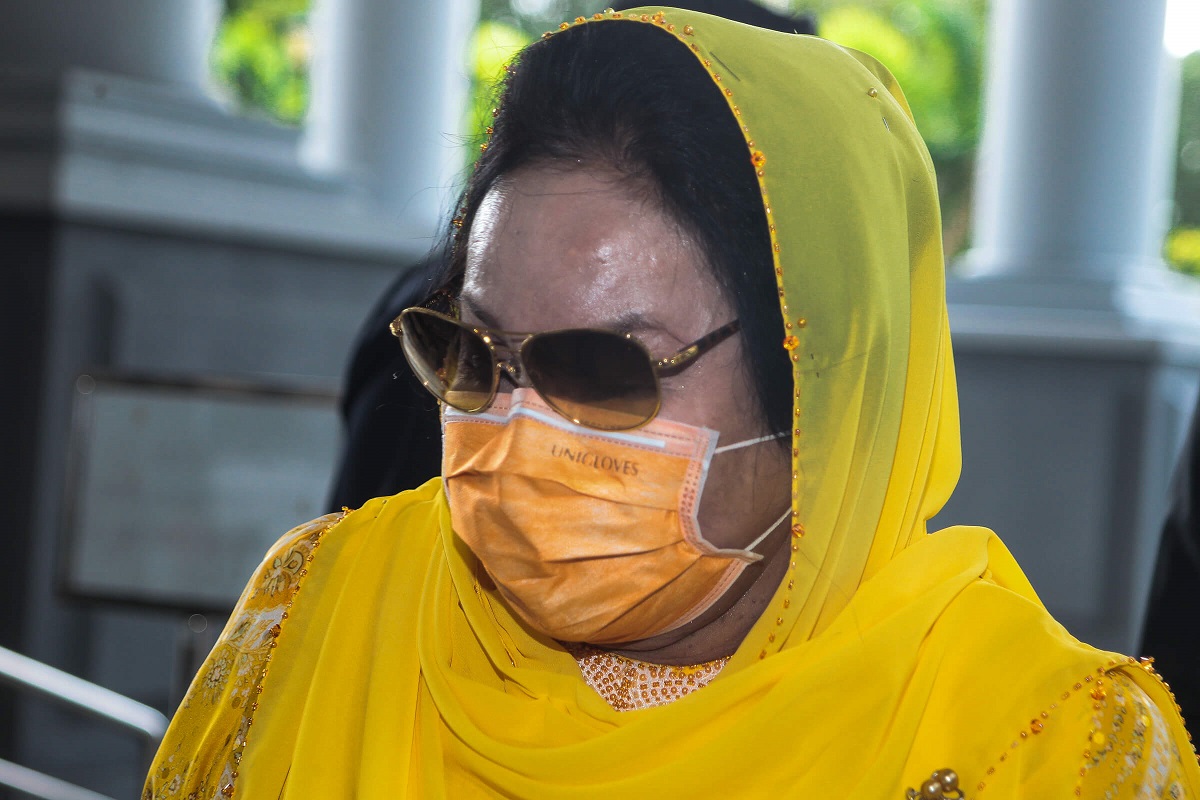 PUTRAJAYA (Dec 2): The appellate court on Thursday (Dec 2) adjourned Datin Seri Rosmah Mansor's appeal to recuse former Federal Court judge Datuk Seri Gopal Sri Ram from leading the prosecution in her corruption trial linked to the RM1.25 billion solar hybrid project to Dec 6, and exercised its discretion in withholding the issue of an arrest warrant on the former premier's wife, after she failed to obey a High Court order.
The three-member bench — which was chaired by Justice Datuk Hanipah Farikullah and also included Justices Datuk M Gunalan and Datuk Hashim Hamzah — in a unanimous ruling adjourned the appeal till Dec 6 and practised its discretion in withholding the issue of an arrest warrant on Rosmah.
Sri Ram on Thursday called for Rosmah's warrant of arrest and cancellation of bail after the former premier's wife failed to return to Malaysia according to a High Court order.
According to the High Court order issued on Oct 15, Rosmah was ordered to return on or before Nov 21 and surrender her passport before Dec 6, as her solar hybrid graft trial was set to resume on Dec 8.
The High Court had temporarily released Rosmah's passport to enable her to go to Singapore to accompany her daughter Nooryana Najwa, who recently delivered her second child in a private hospital in Singapore.
However, Rosmah was supposed to be present in the appellate court on Thursday to follow her appeal to recuse Sri Ram from leading the prosecution in her corruption trial linked to the RM1.25 billion solar hybrid case.
Rosmah's counsels — led by Datuk Jagjit Singh and Datuk Akberdin Abdul Kader — had informed the Court of Appeal (COA) via a letter on Wednesday that their client was still in Singapore and was to return to Malaysia on Dec 6.
However, Justice Hanipah noted that the court had only received a copy of the High Court order minutes before the appeal proceedings began, which clearly states that Rosmah is to return to Malaysia by Nov 21.
Jagjit explained that Rosmah's absence was an oversight as there was a change in Rosmah's travel plan due to a change in the quarantine duration his client would have to undergo for travelling between Malaysia and Singapore — namely the recently established Malaysia-Singapore Vaccinated Travel Lane (VTL).
The Malaysia-Singapore VTL allows for quarantine-free travel for fully-vaccinated travellers if they had stayed in the departing country for 14 consecutive days before departure.
Meanwhile, Sri Ram, who led the prosecution, requested the issue of Rosmah's warrant of arrest and revocation of her bail.
"The natural order which has to be made is that a warrant for her arrest must be issued and her bail must be cancelled. We are not talking about children, we are talking about equal adults who know what their duties, liabilities and responsibilities are," he stressed.
Subsequently, Jagjit said he bears sole and full responsibility for this oversight and assured the court that his client will be present in appeal proceedings on Dec 6.
In response, Sri Ram said court orders must be obeyed and that the court should act in ensuring that they are not ignored.
"I do not want to sound difficult, but we have to be guided by the order of the court, otherwise it is not worth the paper on which it is written. If people are going to ignore orders of the court, then there is no point in making those orders.
"I appreciate my learned friend's (Jagjit) sentiment, but my only point is that if the order is not obeyed, and if this had been an ordinary citizen, an Ahmad Bin Abdul, Muniandy or Ah Chong, would it have made a difference?"
"A warrant of arrest should be issued because she has disobeyed the order, I do not see why it should make a difference that the name on the charge was Rosmah Binti Mansor," he added.
Jagjit told the appellate bench that Rosmah had never missed attending her graft trial proceedings in the High Court, and again added that her not appearing in Thursday's appeal proceedings was an oversight.
Sri Ram countered that the law must be followed to maintain the public's confidence in the court.
"The law is the law, it is applicable across the board, otherwise the public would lose confidence," he said.
Justice Hanipah noted that Rosmah should have sought an extension of the order from the High Court, to which Jagjit firmly apologised to the bench for the oversight.
With the adjournment allowed, Rosmah is given the opportunity to appear before the three-member appellate bench on Dec 6. 
The appellate court on Thursday was slated to hear full submissions from both parties on whether a criminal court has the jurisdiction to grant the declaration sought by Rosmah — that her trial is a nullity.  
Previously, on Sept 24, the High Court had dismissed her application to remove Sri Ram from leading the prosecution, and in effect dismissing her application to nullify her corruption proceedings.
The COA had on Oct 4 dismissed Rosmah's application for a stay of proceedings pending her appeal over the High Court's Sept 24 decision which resulted in her taking the witness stand to testify in her defence.
Rosmah is facing a charge of soliciting RM187.5 million and two charges of receiving bribes totalling RM6.5 million from Jepak Holdings Sdn Bhd managing director Saidi Abang Samsudin through her former assistant Datuk Rizal Mansor as a reward for assisting the former secure the RM1.25 billion project to equip 369 schools in rural Sarawak with solar hybrid power.
She will resume giving evidence in her graft trial before the High Court on Dec 8.