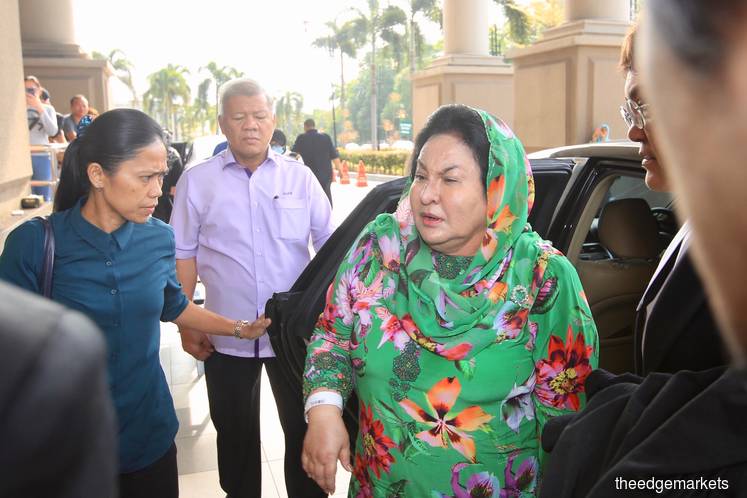 Datin Seri Rosmah Mansor alighting from her car at the Kuala Lumpur Court Complex today. (Photos by Shahrin Yahya/The Edge)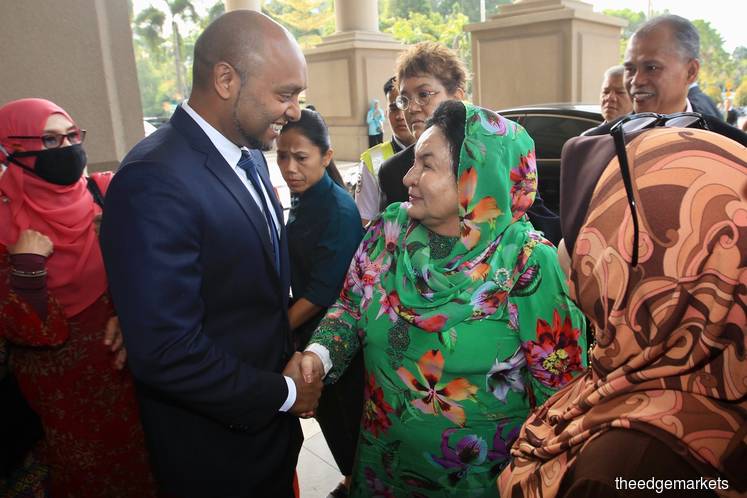 Datin Seri Rosmah Mansor being greeted upon arriving at the Kuala Lumpur Court Complex today.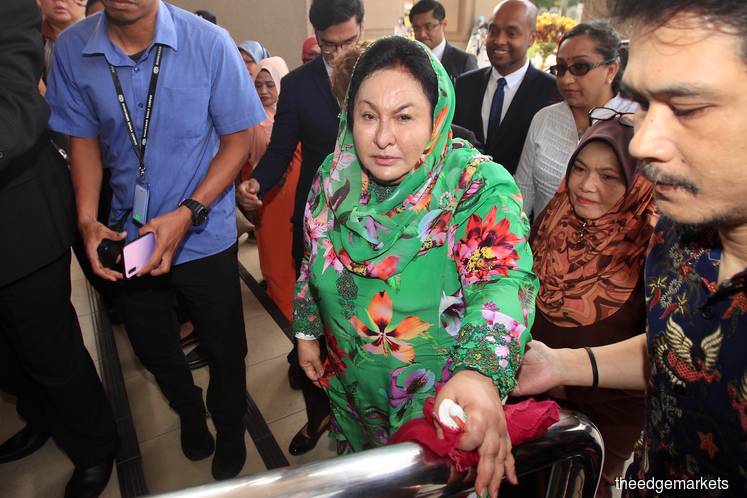 Datin Seri Rosmah Mansor being assisted up the stairs at the Kuala Lumpur Court Complex today.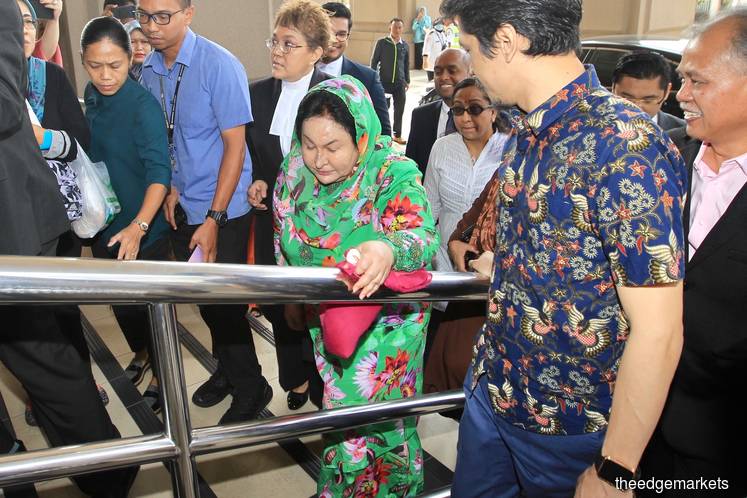 Datin Seri Rosmah Mansor walking up the stairs at the Kuala Lumpur Court Complex today.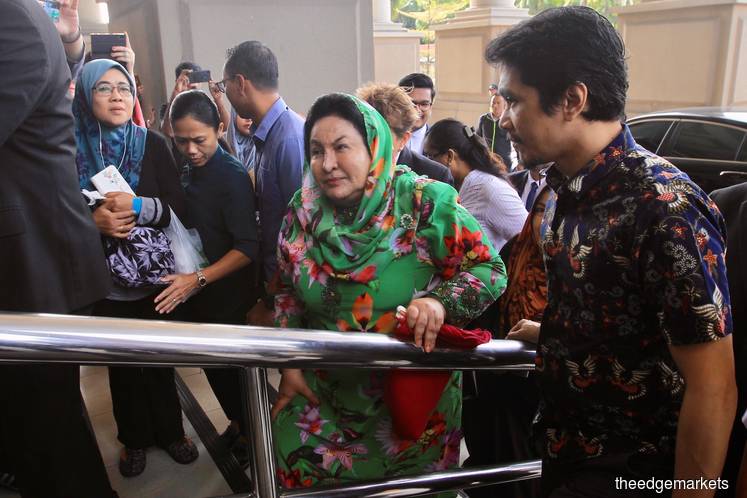 Datin Seri Rosmah Mansor walking up the stairs at the Kuala Lumpur Court Complex today.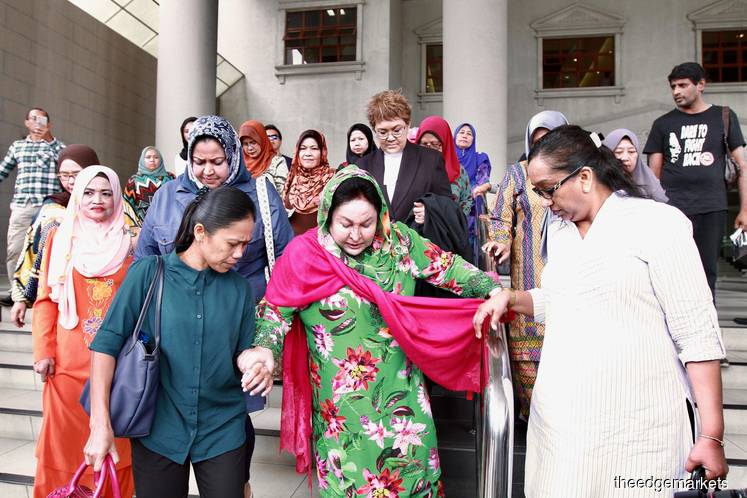 After her trial ended today, Datin Seri Rosmah Mansor's helpers held her arms as she walked down the stairs at the Kuala Lumpur Court Complex.
KUALA LUMPUR (Feb 5): Datin Seri Rosmah Mansor's graft trial finally began after a two-day delay.
She arrived at the court complex here in a car at around 9.55am with an ambulance in tow.
Her legal team claimed she had travelled to court from the unnamed private hospital she was warded at since Monday night.
Clad in a green baju kurung with a matching headscarf, she cut a surly figure as she gripped the railing of the stairs while labouring up the steps of the complex.
She had been diagnosed with cervical spondylosis, osteoarthritis for both knees, as well as chronic adrenal insufficiency after a medical check-up on Sunday.
Upon her arrival at the fifth floor, where her trial would be held, reporters clamoured to ask the former premier's wife about her condition.
She curtly replied: "Do I have a choice," in reference to her appearance at court despite her lawyers seeking a one-week adjournment on Monday due to her "life-threatening" neck pain and other ailments. A hospital patient wrist tag peeked out of her right sleeve.
Cushions were placed on the wooden bench in the accused dock where she was sitting.
Defence counsel: MACC interviewing Rosmah's doctor is 'indimidation'
In court, Rosmah's counsel Datuk Jagjit Singh complained that the Malaysian Anti-Corruption Commission (MACC) had recorded a statement from doctor Datuk Dr Syed Abdul Latif Alsagoff yesterday after the release of the medical report, as it amounted to an act of intimidation.
"We take strong personal exception to this happening as the doctor who gave the report is being investigated. Who directed the MACC to interview [the doctor]? This should not be permitted by the court and this amounted to criminal intimidation," he said.
The doctor had conducted Rosmah's medical check-up and certified her as unfit to attend court.
Jagjit also said his client is suffering from her various ailments and had to discharge herself from hospital to come to court, so that she would be in compliance with the judge's orders.
"She had been hospitalised since Monday night, after the court had been informed of her ailment," he said.
However, senior deputy public prosecutor and former Federal Court judge Datuk Seri Gopal Sri Ram pointed out the MACC was merely doing its job following the medical report submitted and that if the doctor feels intimidated, he can lodge a complaint.
"As such, the prosecution would not be giving any instructions on this matter," he said.
Justice Mohamed Zaini Mazlan said the court is not making a ruling on the matter and reiterates that the doctor is free to lodge a report if he feels there was a form of intimidation.
The trial was adjourned for the day just before 2pm, after three prosecution witnesses had testified.
Outside the court room, Jagjit raised MACC's questioning of the doctor again, reiterating that it was a form of intimidation.
"If this is not intimidation, by having the MACC come and record your statement, then what is? We were hoping that the court would make a ruling on this matter but it did not. We may take this matter up," he said.
The counsel further added that his client may undergo some procedure tomorrow, demonstrating that she is indeed not well.
Jagjit added that if the court could allow adjournments for counsels or lawyers when they fell ill, the court should consider his client's plight.
Trial began with amending offence dates
The prosecution began its case by amending the first charge to Datuk Seri Najib Razak's wife. The amendment involves the months she allegedly tried to solicit the purported bribe, which is changed from between March and April to January and April 2015.
She is claiming trial to three corruption charges. In November 2018, she was accused of soliciting RM187.5 million and then receiving RM1.5 million involving a solar electric project for 364 rural schools in Sarawak.
In 2019, she was again charged for receiving another RM5 million involving the same project.
The prosecution began its case with Sri Ram reading his opening statement.
During proceedings, Rosmah could be seen asking her aide for a piece of pen and paper to write instructions to her lawyers.
Meanwhile, her husband Datuk Seri Najib Razak and his lead counsel Tan Sri Muhammad Shafee Abdullah walked into the court room twice to observe the trial.
The former Umno president and Pekan MP was seen patting his wife on the back while she sat in the dock.
They exchanged a few words and Rosmah smiled back at him.
In the morning, Najib was but 100m away, seated in the accused dock of another court room for his own graft trial.
He is fighting several charges in relation to the embezzlement of RM42 million from former 1Malaysia Development Bhd subsidiary SRC International Sdn Bhd.
See also:
Special dept in PMO set up for Rosmah — a first for any premier's wife, says witness
Sri Ram's opening statement at Rosmah's school solar power graft trial
Rosmah in hospital, putting in doubt whether graft trial will start tomorrow
Sri Ram: Rosmah's only problem is an overdose of wealth and publicity
Rosmah suffers from 'life-threatening' pain in the neck
Rizal Mansor's charges dropped, may be called as prosecution witness against Rosmah