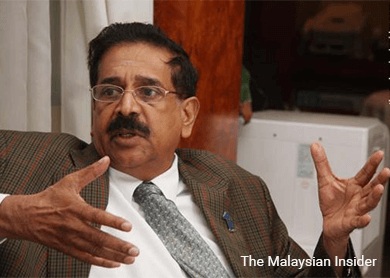 (June 25): The Registrar of Societies (RoS) confirmed today that Datuk Seri G. Palanivel was no longer a member of Barisan Nasional's Indian-based party MIC, and declared his rival Datuk Seri Dr S. Subramaniam the acting president.
Subramaniam announced this in a press statement, saying RoS had conveyed this in a letter addressed to the MIC central working committee (CWC) of 2009.
"RoS in a letter addressed to CWC 2009 today has recognised that Datuk Seri G.Palanivel is no more a member of the MIC as per Article 91 of the MIC constitution.
"RoS has also recognised that consequent to this that Datuk Seri Dr S. Subramaniam will function in the capacity of acting president to lead the CWC 2009 to conduct the re-elections of the MIC as per the RoS decision," his statement said.
Subramaniam and Palanivel have been in a dispute over MIC's leadership after contentious party elections in November 2013, the results of which RoS nullified and ordered re-elections.
Palanivel and four others in the party took legal action against RoS, and today failed to obtain an interim stay against a court ruling which upheld RoS's directive for re-elections.
Subramaniam had also declared Palanivel no longer a member, citing the MIC constitution on members who seek legal action against the party.
Subramaniam also recently announced that the RoS had given MIC an extended period until October to hold re-elections.
MIC is a senior component member of the ruling BN coalition, but BN has largely stayed out of its leadership tussle and left the party to resolve its matters internally.
BN secretary-general Datuk Seri Tengku Adnan Tengku Mansor had said that the coalition offered to help MIC by providing some solutions, but these were rejected. – The Malaysian Insider