This article first appeared in The Edge Financial Daily, on July 23, 2019.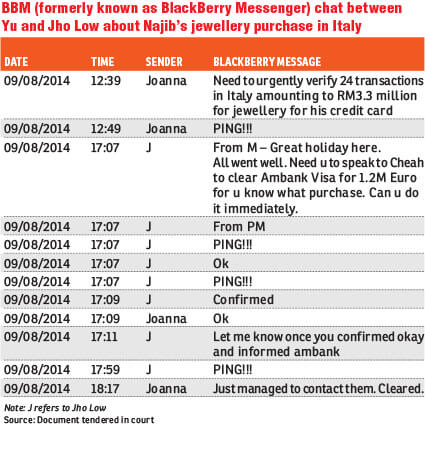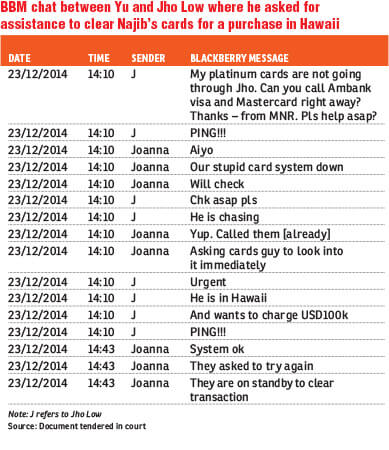 KUALA LUMPUR: Former AmBank Bhd relationship manager Joanna Yu Ging Ping, who denied yesterday that she was a "rogue banker" who acted in concert with fugitive businessman Low Taek Jho or Jho Low, told the High Court yesterday that she only took instructions from former SRC International Sdn Bhd chief executive officer and managing director Nik Faisal Ariff Kamil, who is the mandate holder of former prime minister Datuk Seri Najib Razak's  accounts with the bank.
Only if Nik Faisal was unavailable would she contact Jho Low, after which Nik Faisal would get back to her, the 48-year-old who is now unemployed testified yesterday.
"If I cannot contact Nik Faisal then I would contact Jho Low, who would be able to contact him and Nik Faisal would get back to me.
"I would ask Nik Faisal to give his instructions regarding the accounts via email and would wait for such instructions before [acting on] the instructions," she said during examination-in-chief by prosecution lawyer Datuk V Sithambaram.
The witness, who oversaw five accounts Najib had in AmBank — comprising four current accounts and one savings — also said neither she nor the bank had access to Najib personally.
Sithambaram: The defence has alleged that you were a rogue banker and acted in concert with Low Taek Jho, which resulted in Najib being charged.
Yu: No, we did not conspire to do anything illegal.
Defence counsel Harvinderjit Singh objected to the line of questioning, saying his team had not cast any aspersion on AmBank staff who handled Najib's accounts. But when Sithambaram turned to Harvinderjit and asked if the defence was going to withdraw the allegation, Harvinderjit did not respond.
Recall that during cross-examination of R Uma Devi, AmBank's Jalan Raja Chulan branch manager in April, the defence had suggested that Yu, together with her then colleagues Krystale Yap and Daniel Lee, were rogue bankers who had conspired with Jho Low and undertook transactions using Najib's accounts without his knowledge.
Meanwhile, the witness said Nik Faisal was given the mandate to act on behalf of Najib in three current accounts, which have the numbers ending 880, 898 and 906, via a letter sent to the bank in July 2013, hence the bank has to check with Nik Faisal for instructions relating to these accounts.
The witness, who is the 54th called by the prosecution, also said relationship managers in AmBank do not handle current accounts of the client because this was done by the branch.
"I do not have access to the current accounts from my desktop. However, sometimes the branch will draw to our (relationship managers') attention that Najib's accounts have an overdrawn situation.
No complaints from Najib about millions transferred into his accounts
The former banker also agreed with Sithambaram that Najib had never complained to the bank over the millions of ringgit being transferred into his accounts.
Yu also claimed that before Najib's purported jewellery purchase costing over RM3.3 million on Aug 12, 2014, she had received a message from Jho Low asking her and the bank to make sure that the purchase made via two credit cards (Visa and MasterCard platinum) would go through.
The witness also said Jho Low had contacted her regarding Najib's purchase of a Chanel watch in Honolulu, Hawaii, on Dec 22, 2014, when the Penang-born businessman asked her to check whether there were problems with the credit cards.
"I told him that we checked and there should not be any problem with the US$100,000 purchase as the credit limit was RM3 million. In the end, the transactions were cleared to the amount of US$130,625, which was billed via the Visa Platinum (RM458,585)," she said.
Meanwhile Harvinderjit, during cross-examination, asked Yu whether Najib was given the opportunity to look at the statements of his accounts, when the Malaysian Anti-Corruption Commission (MACC) initiated investigations.
"He had all the time to check ... ," Yu began to reply, but was interrupted by the defence lawyer.
"That's not my question. My question is whether my client was invited over and shown the bank statements when the MACC had commenced investigations," Harvinderjit said.
"No, we never invited the client to the bank," Yu replied, looking perplexed.
Najib is facing seven charges — three for criminal breach of trust, one for abuse of power and three for money laundering — involving RM42 million of SRC's funds.