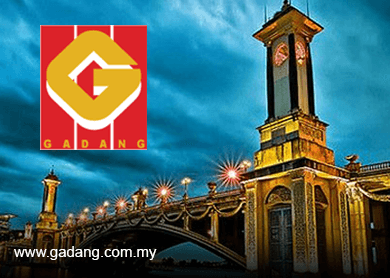 Gadang Holdings Bhd
(July 31, RM1.49)
Maintain buy call with an unchanged target price (TP) of RM1.98. Gadang recorded RM170.48 million and RM25.1 million in revenue and net profit respectively for its fourth quarter ended May 31 of financial year 2015 (4QFY15).
Its top line increased 0.5% quarter-on-quarter (q-o-q) and 19.2% year-on-year (y-o-y). Similarly, its bottom line surged 52.1% q-o-q and 172.8% y-o-y.
FY15 net profit of RM59.9 million reached 180% of our forecast. Similarly, FY15 revenue of RM588.1 million reached 108% of our forecast.
The better-than-expected revenue was attributed to higher revenue recognition in its property segment.
The above expectation of net profit was attributed to higher profit before tax (PBT) margin in the construction division coupled with stronger revenue in the property segment.
PBT margin for FY15 in the construction segment chalked up a y-o-y increase of 3.32% which translated into a better group net profit margin (up 2.04%).
Meanwhile, the construction segment made up 76.44% of revenue for FY15. Overall, the group recorded a 34.91% increase in FY15 net profit.
Construction continued to perform with the segmental PBT margin surging 6.36% y-o-y to 17.55% for 4QFY15, bringing the segmental PBT to RM23.05 million  compared with RM9.26 million a year ago, mainly attributable to the higher construction activities and higher-margin projects being recognised.
Overall, the construction segment contributed 57.78% (RM49.15 million) to group PBT for FY15.
We expect the construction segment to continue to generate a strong earnings stream next year banking on the ongoing construction projects such as Rapid P1, Rapid P2 and the Klang Valley Mass Rapid Transit 1 V2.
The PBT margin for property in 4QFY15 dropped 12.34% q-o-q and 19.33% y-o-y to 30.52%.
For FY15, the property segment's PBT margin inched down 2.46% to 32.74%.
However, with stronger revenue recognised in the property segment for FY15 (up 38% y-o-y) of RM120.5 million was more than enough to offset the lower PBT margin.
As a result, the PBT for property segment increased 29% to RM39.46 million which made up 46.39% of the group's PBT for FY15.
The higher revenue recognised was mainly due to higher development progress in projects and change in accounting estimates for revenue recognition treatment for capital city project (from state of completion to survey of work performed).
The group increased its stake in PT Dwata Bangun Tirta water supply concession in Indonesia to 85% via Asian Utilities Pte Ltd (AUPL), its indirect wholly-owned subsidiary.
AUPL completed the acquisition in May 2015 from a minority shareholder for a total cash consideration of 1.5 billion rupiah or RM400,000.
As this particular concession has still yet to generate profit for the group therefore the positive impact will not be realised near term.
The group has proposed a first and net dividend of five sen per share in respect of  FY15 or equivalent to a dividend yield of 3.47%.
We revised our net earnings forecast with an increase of 30% for the group's FY16 and FY17 given the higher margin achieved in FY15.
Meanwhile, we remain unchanged on our revenue forecast.
We reckon that the current share price is undervalued given its low forward price-earnings ratio (PER) of five times compared with its historical average PER of eight times.
Looking forward, we believe the group is able to maintain its growth trajectory backed by the ongoing construction projects and continuous sales activities generated by the flagship projects in the property segment. — JF Apex Securities Bhd, July 31
This article first appeared in Digital Edge Daily, on August 3, 2015.