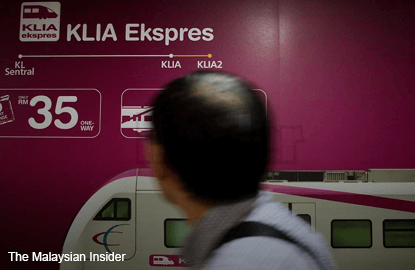 (Dec 3): Defending its 57% fare increase, Express Rail Link Sdn Bhd (ERL) said the approved new fare had been RM64 but the company chose to offer the service at a discounted rate of RM55 instead.
ERL also said the fare revision for a one-way trip between KL Sentral and KLIA/klia2 from RM35 to RM55 was in accordance with the concession agreement it had signed with Putrajaya in 2002, adding that the hike had been approved by the government.
"This fare revision is in accordance with our concession agreement and has been approved by the government," ERL said.
"Although the approved fare is RM64 for KLIA Ekspres, we are offering a discounted rate of RM55. In addition, we are offering further discounts when customers purchase tickets online, on the ERL kiosks as well as with selected credit cards."
Despite what some have called an exorbitant price increase, ERL said the fares remained competitive although it added that there could be customers who were "price sensitive".
"We are aware that passengers travelling in groups may find that taking a taxi would be a cheaper option. However, our fares are also competitive.
"If you purchase KLIA Ekspres return tickets online using your MasterCard for a family of four, the fare per trip will be RM160 (four adults) or RM116 (two adults + two children).
"There will naturally be customers who are more price sensitive. However, we believe that we still offer great value and many of our customers recognise this.
"Passengers are our number one priority. We are exploring all possible options to reduce their cost when they travel," it said.
ERL, responding to a question on whether it was still paid a sum from taxes imposed on foreign flight passengers by Malaysia Airports Holding Berhad (MAHB), said it needed all the revenue to manage rising operating costs.
"Revenue from all sources is needed to manage cost escalation and ensure that the company continues to deliver safe and reliable services."
Earlier, Deputy Transport Minister Datuk Abdul Aziz Kaprawi said the government had given the operator the go-ahead to increase rates since they had not been allowed to do so for the past 14 years.
When asked why the rates were not increased in stages, Aziz said, "For frequent travellers, they can use the travel card, it offers up to 40% off the published rate."
Aziz added that the cost of operations had doubled for the rail operator.
Following public outcry over the new fares, Serdang MP Dr Ong Kian Ming had urged the government to suspend the proposed fare increase and instead conduct an open inquiry to establish a reasonable price revision.
He also called on Putrajaya to disclose the full contents of the government's 30-year concession with ERL, signed in 2002. – The Malaysian Insider