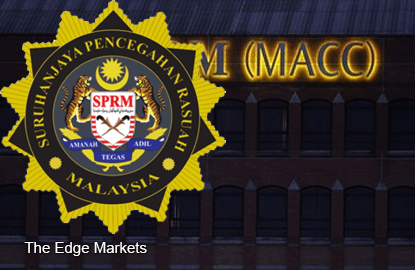 (Aug 3): The Malaysian Anti-Corruption said today that the US$700 million (RM2.6 billion) which was channelled into Prime Minister Datuk Seri Najib Razak's personal bank accounts came from donors.
Earlier today, PKR secretary-general Rafizi Ramli warned that the public should get ready for "proof" from Barisan Nasional that the RM2.6 billion channelled into Najib's bank accounts are in reality personal donations.
Rafizi had also said that this will be the "script" by BN's new communications team to convince the public that there was nothing corrupt about the funds going into Najib's bank accounts.
In its statement, MACC also said that the money in Najib's accounts was not from state strategic investor 1Malaysia Development Bhd (1MDB), adding the results of the investigations were referred to the Attorney-General.
MACC, however, did not identify the donors nor did they disclose how the RM2.6 billion was spent.
The commission also said that it was tasked to investigate SRC International and the money flow into the prime minister's accounts while the police was probing the 1MDB issue.
It added that Bank Negara Malaysia meanwhile, was tasked with probing the financial methods and procedures.
"Investigations revealed that the RM2.6 billion alleged to have gone into Datuk Seri Najib Razak's account was contributions from donors, and not funds from 1MDB.
"However, the probe into SRC International that involved RM4 billion was still being carried out by MACC," the anti-graft body said, referring to SRC International's RM4 billion loan from the Retirement Fund Inc. (KWAP).
The commission also assured that the ongoing probe will be handled in an independent and professional manner and urged all parties to be patient and give them space to continue investigations.
As such, it urged the people not to speculate until the probe is complete, adding that it will not let any quarters influence or meddle in the ongoing investigations.
MACC also reiterated that none of its officers were involved in any conspiracy to bring down the government.
"Our responsibility lies in conducting the probe into corruption allegations, and not to bring down anyone, including the government," the commission added.
MACC also said that it will extend full cooperation to the police who are investigating its officers.
SRC International was named by The Wall Street Journal in its July 2 expose as one of the 1MDB-linked companies that was part of the trail of funds that eventually went to Najib's personal bank accounts. – The Malaysian Insider