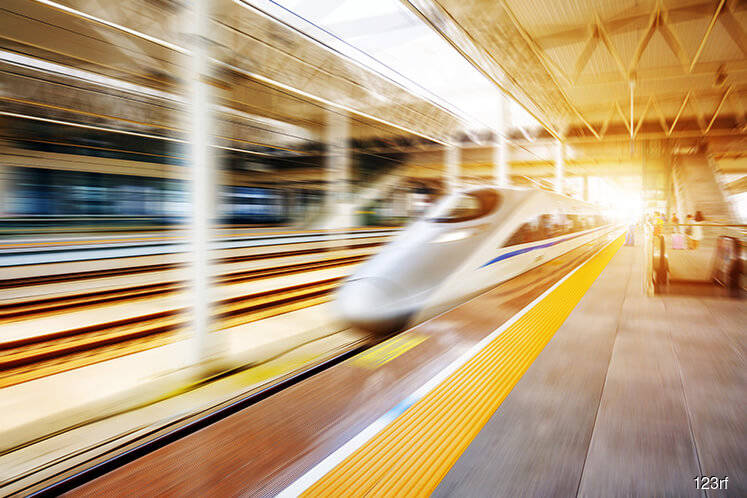 PETALING JAYA (June 18): A significantly cheaper alternative to the Kuala Lumpur-Singapore high-speed rail (HSR) will cost RM20 billion – or just a fraction of the mega project's cost, which has been variously cited as from RM60 billion to RM110 billion.
The Star, citing sources, said the alternative plan entails upgrading and using the existing Keretapi Tanah Melayu (KTM) double-track infrastructure by adding a single line next to the current double-track, enabling the network to cater for standard gauge and meter gauge trains.
Standard gauge train tracks are wider, allowing trains to travel at higher speeds and with more stability, compared with meter gauge tracks that are narrower and cause trains to travel more slowly.
Standard gauge trains can travel at 200km per hour; in comparison, the HSR is able to travel up to 320km per hour but would require a new alignment.
Besides not having to build a new track for the HSR, savings would also come from reduced land acquisition costs and potential cost overruns.
"The upgrading of the existing railway tracks would involve minimal land acquisition, minimal disruption to existing system and complement the entire national railway network. It would not lead to a duplication of railway lines," they said.
The cheaper proposal also has the added benefit of sparing Malaysia the HSR termination penalty – estimated at RM500 million – as it would not disrupt Singapore's plans that have been put in place.
The proposal could take off if the government would allow third parties to operate the KTM lines, who would be prepared to invest in better locomotives and run operations on a commercial basis, possibly reducing travel times even further.
The Council of Eminent Persons has already been briefed on the proposal, said sources.