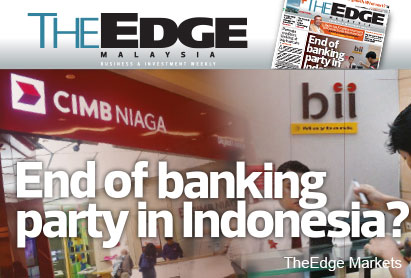 KUALA LUMPUR (Nov 22): Asset quality and proftability pressures are on the rise in Indonesia's banking sector, taking a toll on Malaysia's top two banking groups — CIMB Group Holdings Bhd and Malayan Banking Bhd (Maybank) — which have operations in Asean's biggest economy, the Edge weekly said in its latest edition.
The Edge reported that last month, both the banking groups' Indonesian banking subsidiaries turned in weaker-than-expected numbers for the third quarter ended Sept 30, largely because of higher loan loss provisions.
It quoted analysts as saying the banks' fourth-quarter performance could be just as bad, if not worse, with the heavy provisioning expected to continue.
CIMB Group's 96.9%-owned PT Bank CIMB Niaga Tbk, the fifth largest lender in the republic by assets, reported a third quarter net profit of IDR343 billion — a sharp 68.2% decline from the same quarter a year ago and a 59.9% drop from the previous quarter.
As for Maybank's 78.9%-owned PT Bank Internasional Indonesia Tbk (BII), the ninth largest lender, its third-quarter net profit at IDR3.7 billion was a dramatic 99.1% plunge from that in the same quarter a year ago and a 97.5% drop from that in the previous quarter.
However, the Edge said the two banks were not alone in turning in dismal performances.
"Except for Indonesia's Big Four state-owned banks, namely PT Bank Mandiri Tbk, PT Bank Rakyat Indonesia Tbk, PT Bank Negara Indonesia Tbk and PT Bank Tabungan Negara Tbk, other mid and small-sized lenders also saw their third-quarter earnings take a hit for similar reasons — higher provisions and lower margins," it said.
The magazine pondered if things would improve from next year or were both CIMB Group and Maybank headed for a long and bumpy ride in Indonesia?
The Edge said investors were understandably nervous at these developments as both CIMB Group and Maybank have, in recent years, derived a substantial portion of their earnings from Indonesia.
"What's clear, however, is that the tougher challenges in that country will have a greater impact on CIMB Group than Maybank as the former tends to derive about 30% of its bottom line from Indonesia. For Maybank, it's only about 7%.
"To make things worse, both banking groups have been seeing sharply lower investment banking income amid weaker capital markets in the region. And in the case of CIMB Group, it is in the midst of a proposed merger with smaller Malaysian rivals RHB Capital Bhd and Malaysia Building Society Bhd (MBSB), which throws up other complexities and uncertainties for investors," said the Edge.
For more on the challenges faced by the Malaysian banking giants and the outlook of the Indonesian banking sector, read the Edge edition for the week of Nov 24 to Nov 30.