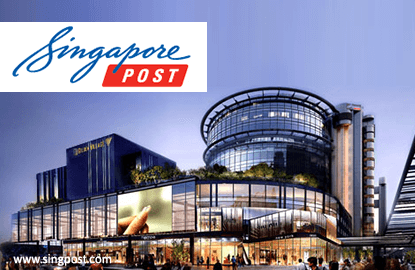 SINGAPORE (Aug 7): SingPost's lacklustre 1Q17 results come as anything but a surprise, given the unfortunate series of events it has been through this year.
On Thursday, the mail, logistics and e-commerce company posted a decline in 1Q17 earnings to S$35.9 million, down 23% on the absence of one-off gains. 
SingPost was listed on the mainboard of the Singapore Exchange in 2003 at an initial public offering (IPO) price of 60 cents as a traditional mail deliverer where shareholders can expect steady yields but not much exciting.
In recent years though, SingPost has tried to remake itself as an high-groeth e-commerce player. In 2014, Chinese e-commerce giant Alibaba acquired a 10.35% stake in SingPost for S$312.5 million. The two parties also signed a memorandum of understanding (MoU) to negotiate a potential joint venture (JV) to grow their international e-commerce logistics businesses.
SingPost also took on a string of acquisitions including US e-commerce logistics providers.
Then came the sudden resignation of SingPost's group CEO, Wolfgang Baier and an inquiry was launched into the company's corporate governance practices over the acquisitions of stakes in three companies, due to an "administrative oversight". 
SingPost has also seen its chairman and two of its directors step down.
Will 2016 be SingPost's worst year yet?
Perhaps not.
Last week, the national mail carrier rolled out its first islandwide open parcel locker service, allowing retailers and consumers to rent a POPStation locker to deliver their parcels 24/7.
In our latest issue of The Edge Singapore, we look into whether this savvy move may suggest that SingPost may still have a future in the e-commerce field, and whether the stock low enough for investors to take another gamble.
Read the full article by Joan Ng in our cover story ("Unlocking SingPost's e-commerce potential", week of August 8, 2016"), available in The Edge Singapore at newsstands today.