This article first appeared in The Edge Financial Daily, on March 18, 2020.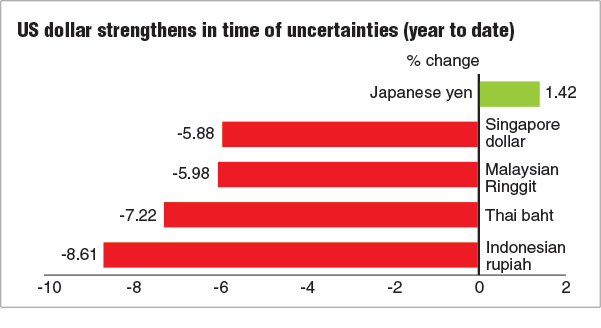 KUALA LUMPUR: The ringgit yesterday continued its downtrend that started since last week. The local currency depreciated by 5.98% to 4.3500 at the time of writing against a strengthening US dollar, the worst level since April 2017.
The ringgit also weakened against most major currencies including the Japanese yen and the euro, but appreciated against the British pound and the Australian dollar.
Negative sentiment hit the local shores as pandemonium kicked off yesterday in the country following the movement control order announced by the prime minister on Monday night.
On top of that, investors continue to weigh in on the economic impact of the Covid-19 outbreak as well as the Russia-Saudi Arabia crude oil price war, leading to concerns of additional supply of the commodity.
As a net oil exporter, the ringgit has also weakened in tandem with the sharp fall in crude oil prices which traded near US$30 (RM130.20) per barrel yesterday, close to its lowest since 2016.
On Monday, it sank to US$29.45, the lowest since January 2016.
Reuters reported that further declines in crude oil prices may follow as the Covid-19 pandemic hits demand, and Saudi Arabia and Russia continue to battle for market share.
On the other hand, the US dollar's rally gained momentum as nervous traders rushed to buy the most liquid currency amid fragile sentiment and signs of growing pressure in offshore dollar funding markets, according to Reuters.
Most Asian currencies, except for the yen, depreciated against the towering US dollar with Indonesian rupiah being hit the worst. (see chart)
Reuters said market liquidity was tight and investors remained very cautious after coordinated moves by central banks failed to quell anxiety about the Covid-19 pandemic.
"Investors are now waiting to see the scale of government fiscal responses to battle the economic fallout from the virus and limit the economic contraction.
"Money managers and businesses are scrambling for dollars as the outlook grows darker by the day," the news wire reported.