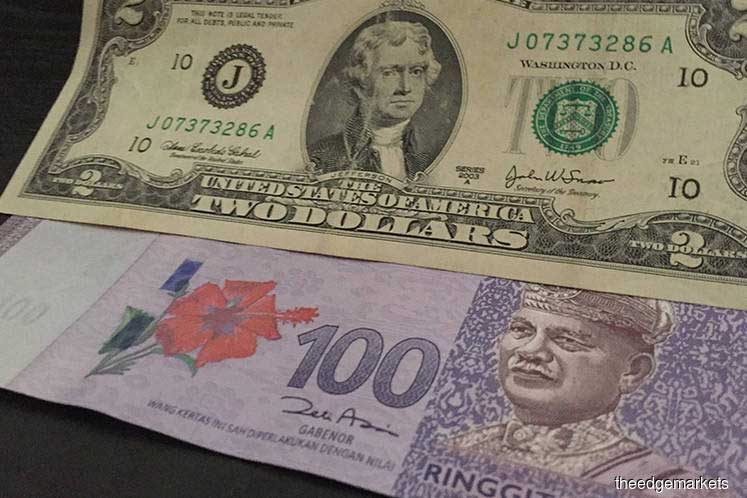 KUALA LUMPUR (Sept 16): The ringgit is expected to weaken to 4.26 against the US dollar by mid-2020 in anticipation that the US-China trade conflict will hurt Malaysian exports, UOB Global Economics and Markets Research said today.
UOB said today in its quarterly global outlook report that FTSE Russell's decision this month on the status of Malaysian bonds in FTSE Russell's World Government Bond Index (WGBI) is also a key risk for the ringgit.
"Regional exports, including Malaysia's remain under threat in the absence of a resolution to the US-China trade conflict. A key risk event to watch out for is FTSE Russell's decision whether to exclude Malaysia bonds from its WGBI on 26 Sept.
"Bank Negara Malaysia said they had positive engagements with FTSE following further liberalisation of the foreign exchange administration rules to improve market liquidity and accessibility. With that, we think the odds for Malaysia to remain in WGBI has improved though the weight may be pared down from 0.39% to make way for the inclusion of onshore China," UOB said.
According to UOB today, the ringgit extended losses for a second straight quarter in the third quarter of 2019 and briefly touched its weakest level in two-years against the US dollar in early Sept as the yuan weakened to a decade-low of 7.18. 
"Going forth, we keep to the view of a modestly higher USD/MYR and lift our forecasts to 4.26 by mid-2020, up from 4.22 previously," UOB said.
The ringgit was last traded at 4.1653 against the US dollar. Malaysian markets are closed today in conjunction with the Malaysia Day holiday.
Trading resumes tomorrow.