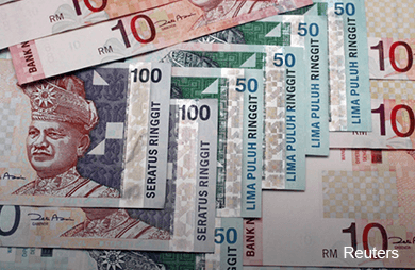 KUALA LUMPUR: Shrinking international reserves, high foreign holdings of government bonds and high external debts continue to make the ringgit one of the most vulnerable currencies in Asia (ex-Japan) to external shocks, said analysts, who expect the local currency to continue falling.
Standard Chartered Global Research foresees the ringgit — which ended at 4.1685 against the US dollar and at 2.9619 against the Singapore dollar last Friday — to hit 4.20 against the greenback by the third quarter of 2015 (3Q15) and 4.05 by end-2015, on further outflows from both the bond and equity markets. Its previous forecast was 3.75 until end-2015.
UOB Global Economics & Markets Research, on the other hand, sees the ringgit sliding to 4.26 by end-3Q15 and easing to 4.20 by end of 2015 on the lack of positive catalysts. It expects the ringgit to stay below 4 until end-2Q16, even as it maintained the currency is now fundamentally oversold and pegged its fair value at around 3.60.
In a note dated last Thursday, Standard Chartered said, "We believe the ringgit's weakness is not quite over. Increased market volatility ahead of a Fed (US Federal Reserve) rate hike, further bond and equity outflows, and BNM's (Bank Negara Malaysia) limited policy options are likely to push US$-RM (US dollar-ringgit) higher. As such, we revise our short-term US$-RM forecasts higher."
Given Malaysia's declining foreign exchange (forex) reserves, Standard Chartered expects the central bank to avoid defending specific levels and to instead aim to contain volatility to some degree. "It may aim to rebuild FX (forex) reserves when sentiment stabilises," said the research outfit, which continues to expect the Fed to hike rates in September.
BNM's international reserves, which dipped below US$100 billion last month for the first time since 2010 to US$96.7 billion as at July 31, had declined further to US$94.5 billion as at Aug 14.
"Also, BNM recently indicated that the US$-RM 'fair value' is at 3.65, implying a 12% undervaluation. We maintain short- and medium-term 'neutral forex' weightings on the ringgit," said Standard Chartered.
Portfolio outflows from Malaysian equities year to date are US$ 3.2 billion. If foreign holdings in equities decline to end-2009 levels, it may lead to another US$3.6 billion of outflows, it said. But government bonds pose more downside risks.
"We think the bigger threat to the ringgit is from potential outflows from MGS (Malaysian Government Securities). We expect benchmark index investors to cause net outflows of US$ 2.5 billion from MGS in the near term, driven by further currency weakness," it said.
Malaysia reported net inflows of US$5.2 billion from November 2014 to July 2015, which took overall foreign holdings of MGS to US$43 billion. Foreign investors turned net sellers of (MGS) in July — the first month of outflows since February — with US$383 million sold.
As for BNM bills, given the already low foreign holdings, which declined by US$12.2 billion to US$4.3 billion from November 2014 to July 2015, further outflows are likely to be relatively small, said Standard Chartered. "In a worst-case scenario, BNM bills may see roughly US$3 billion of outflows," it added.
The continued ringgit rout notwithstanding, Standard Chartered maintained that Malaysia's fundamentals are still relatively robust, hence the research outfit kept its 2015 growth forecast at 5% for the country.
"Indeed, with the first half of 2015 gross domestic product (GDP) growth of 5.3% year-on-year and a current account surplus of 3.1% of GDP, Malaysia ranks higher than most other countries in the region. Against this backdrop, we believe the recent depreciation in its currency has been driven less by fundamentals and more by negative sentiment,' it added.
It expects the ringgit to only strengthen to around 3.95 against the greenback in 1Q16, and then to 3.85 in 2Q16.
Meanwhile, UOB observed that the selling of the ringgit so far has not only come from the trimming of foreign stakes in MGS (net sellers, -RM1.4 billion in July ), but also BNM notes (-RM2 billion), government investment issues (-RM1.6 billion), private debt securities (-RM200 million), and equities (-RM3 billion, bringing total foreign holdings to 22.7% in July versus 23.8% at end-2014). Additionally, UOB, in its note last Friday, said importers who were previously unhedged may have started to buy dollars in anticipation of a further run-up in the currency.
This article first appeared in digitaledge Daily, on August 24, 2015.