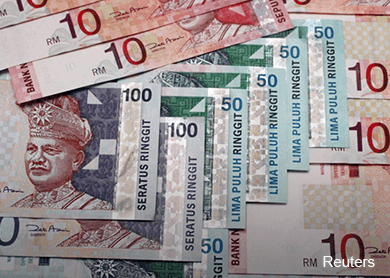 (June 1): Malaysia's ringgit fell for a sixth day in the longest stretch of losses since 2013 before a U.S. jobs report that may give a clearer picture as to when the Federal Reserve will raise interest rates.
U.S. companies probably took on 225,000 workers in May, according to a Bloomberg survey ahead of the June 5 data. A gauge of the dollar rallied to a six-week high last month, while the ringgit dropped 2.8 percent. The euro declined against the greenback Monday after Germany's Purchasing Managers' Index of factory output weakened. Figures at the end of the week may show Malaysia's exports contracted in April.
"I don't think there's any one factor that's driving the ringgit," said Michael Every, head of financial markets research at Rabobank International in Hong Kong. "There's a tiny slice of positioning ahead of U.S. numbers this week" that's fueling the currency's drop. "And there's a tiny slice of the fact that the German PMI showed further weakness."
The ringgit fell 0.5 percent to a six-week low of 3.6862 a dollar in Kuala Lumpur, according to data compiled by Bloomberg. One-month non-deliverable forwards retreated 1 percent to 3.7000 as of 5:22 p.m. local time.
Malaysia's exports declined 6.7 percent in April from a year earlier, after increasing 2.3 percent the previous month, according to the median estimate in a Bloomberg survey. They fell 9.8 percent in February.
The nation's government bonds were little changed, with the 10-year note yield at 3.92 percent, data compiled by Bloomberg show. The yield climbed four basis points last week.
The Bloomberg Dollar Spot Index rose 0.4 percent Monday after increasing 2.3 percent in May. Twelve of the world's 16 major currencies tracked by Bloomberg have fallen against the greenback in the past three months as bets for Fed tightening picked up.
"The concern about whether the dollar will get a lot stronger as we approach the non-farm payrolls" led to the drop in ringgit forwards, said Suresh Kumar Ramanathan, a foreign- exchange strategist at CIMB Investment Bank Bhd. in Kuala Lumpur. "If these numbers play up very strongly, it heralds a Fed rate hike in September."