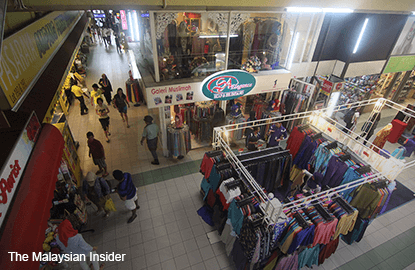 KUALA LUMPUR (Oct 20): Owners of small and medium businesses are feeling the heat from the ringgit's drop against the US dollar with some struggling against a 10% to 30% increase in the cost of goods.
A random survey by The Malaysian Insider found that businesses which sourced materials from abroad faced this particular challenge.
Mirage Resources Sdn Bhd chief executive Kamarul Ariff Abd Karim said the cost of his Zawara clothing line had increased by about 30% after the ringgit dropped against the US dollar.
For the sake of sales, he has opted to take a cut in profit margins.
"When the ringgit falls, the cost of our products goes up. This is because we import everything.
"The franchisor will try to absorb as much as possible and we also have to increase our sale prices although it cannot be too high," Kamarul, who has more than 10 franchise outlast nationwide, told The Malaysian Insider.
"Our sales volume goes down because the products are more expensive.
"So we have to increase by a smaller margin to pay for operational costs and absorb some of the costs."
Although his profit margin has reduced by 20% over the last two months, he still had his own strategy to maintain business volume.
"We absorb the losses as much as possible and expect the ringgit to stabilise over the next few months.
"Zawara will also increase its product quantity, for robes, shoes and headscarves, in order to boost sales. (We're putting out) 20,000 products a week compared with 10,000 previously."
The advertising budget has also been slashed, especially for "less effective" mediums like magazines and newspapers. This is a temporary measure, he said, until sales improved.
Riaz Anggun, which specialises in clothing for Muslim women, is also faced with rising costs but finds that it is still cheaper to source textiles overseas.
Owner Azlina Ahmad said that business was still profitable despite costs rising by 20%.
"It is still cheaper (sourcing overseas) than buying in Malaysia. For instance, textile from Thailand that used to cost RM4.50 a metre is now RM5.50 because of the depreciation of the ringgit.
"But it costs nearly RM10 a metre here," she told The Malaysian Insider.
As with Zawara, the advertising budget is one of the first things to be slashed.
The ringgit, which hit RM4.40 against the US dollar, is also affecting confectionery makers and cake stores.
Cloud Cookies, which operates in Ampang, is feeling the strain as it uses imported butter and nuts.
"Small businesses will be affected as the costs of butter and almonds have gone up.
"For now, prices have increased from RM3.50 to RM5.90.
"When our costs increase, the price of the items will also increase and will eat into our profit margin by about 10%," company director Eniliana Rayudin said.
Cloud Cookies, which supplies biscuits throughout the peninsula, has decided to keep costs low with simpler packaging, although mindful this could affect its image and, in turn, sales.
"We had to do it to ensure we remain affordable," Eniliana said.
Cosmetics line Jannah Lawwa has also seen costs go up by almost 30% and owner Jannah Suzanna Daves said this was because all products are sourced from abroad.
"We are really feeling the effect because of the ringgit. To ensure constant sales, I have to absorb the losses so that clients don't run away," she said, adding that she felt there was no way out.
"We cannot raise prices. And we have not been advertising for some time now as it costs too much."