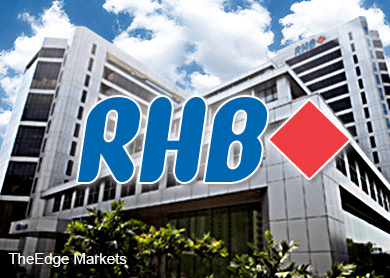 KUALA LUMPUR (May 29): RHB Capital Bhd saw its net profit for the first quarter ended March 31, 2015 (1QFY15) climbed 5.7% to RM476.3 million or 18.5 sen a share from RM450.69 million or 17.7 sen a share earlier.
The higher earnings was achieved on the back of 2.9% total income growth and lower loan impairment charges, partially offset by higher operating expenses and lower impairment write back on other assets, the banking group said in a statement to the stock exchange today.
RHB Cap (fundamental: 1.5; valuation: 2.4) said its net fund base income grew 2.1% on year while gross fund base income increased by 16.7% on the back of 13.7% year-on-year (y-o-y) growth in gross loans and financing.
However, its funding and interest expense were higher by 29.5% due to higher customer deposits base by 10.8% y-o-y.
Net interest margin was at 2.22% for the current quarter compared to 2.26% in the preceding quarter.
According to RHB Cap, other operating income recorded growth of 2.9% to RM506.5 million, largely attributed to higher investment income, higher insurance underwriting surplus and net gain on revaluation of derivatives, partially offset by lower fee income. While other operating income to total income ratio stood at 33.6%.
RHB Cap's operating expenses increased by 4.3% to RM819.9 million on  a 5.8% increase in personnel costs and increase in information technology expenses.
Cost-to-income ratio stood at 54.3%, it added.
On its allowance for impairment on loans and financing, it saw a decrease of 7.4% to RM50.2 million from RM54.2 million last year.
"This was primarily due to lower collective allowance and lower bad debts written off, partially offset by lower impaired loans and financing recovered," it explained.
The Group's gross loans and financing grew by 0.7% quarter-on-quarter (q-o-q) and 13.7% y-o-y to reach RM143.5 billion.
"Excluding one large corporate repayment during the quarter, gross loans growth would have been at 2.2% q-o-q," RHB Cap noted.
It said the growth was broad based, predominantly from purchase of residential and non-residential properties, working capital and purchase of securities.
RHB Cap's domestic market share stood at 9.5% as at March 31, 2015.
On its gross impaired loans ratio, it stood at 2% as at end of first quarter which is stable compared to December 2014.
"Customer deposits grew by 1% q-o-q and 10.8% y-o-y to RM158.7 billion as at March 31 this year.
"Current and savings accounts (CASA) balances increased by 3.7% and 2.8% respectively for the first quarter 2015. CASA composition improved to 22.3% as at the end of 1QFY15 from 21.7% in December 2014," it added.
Commenting on this, RHB Banking Group's group managing director Datuk Khairussaleh Ramli said: "1QFY15 saw challenges emanating from the global economic environment and we expect the full year to remain the same."
"Nevertheless, we are pleased that our business operations have been resilient and continued to show reasonable top line growth," he added.
Khairussaleh said the group's transformation plan "IGNITE 2017" has continued to gain good traction in the 1QFY15.
According to him, the group's key priority is on executing prioritised set of initiatives under IGNITE 2017 to support its growth agenda for the rest of the year.
"In addition, given the current challenging operating condition, the Group will put extra focus on managing overhead and funding costs, return on risk adjusted capital and asset quality," he added.
"Barring unforeseen circumstances, the Group's 2015 performance is expected to be better than 2014," he commented.
As of midday break (12.30pm), shares in RHB Cap down three sen or 0.4% to settle at RM7.42, for a market capitalisation of RM19.284 billion.
(Notes: The Edge Research's fundamental score reflects a company's profitability and balance sheet strength, calculated based on historical numbers. The valuation score determines if a stock is attractively valued or not, also based on historical numbers. A score of 3 suggests strong fundamentals and attractive valuations.)