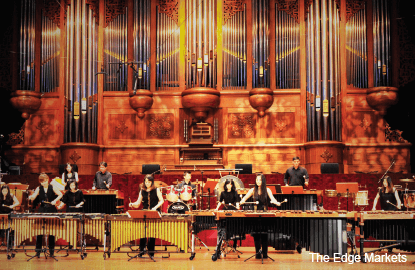 IN a rare return to Malaysia, Taiwan's renowned Ju Percussion Group (JPG) will be performing this weekend at the Plenary Hall, KLCC. It has taken 20 years for the group to perform in Kuala Lumpur once again, but for Hands Percussion founder and artistic director Bernard Goh, the significance runs deeper.
As a young Chinese drummer, Goh encountered JPG and its founder Ju Tzong-Ching during their first visit to Malaysia, and was so affected that he volunteered to be a backstage crew when the group toured several cities. Wanting to learn more, Goh then took a trip to Taiwan in 1996 to attend their annual Taipei International Percussion Convention (TIPC). It proved illuminating and the tipping point for the then young artist. 
"When I came back, I formed Hands Percussion the next year," recounts Goh, "I didn't know anything about percussion or whether I could do it, but they really motivated and inspired me."
Over the years Goh has been in touch with Ju, and has brought the members from Hands Percussion for workshops and visits. Last year they were invited for the eighth TIPC, and while they were there, Ju indicated to Goh that he wants to bring his group to Malaysia again for another visit. 
Gamely taking on the challenge to organise and host the upcoming concert, Goh nevertheless confessed, "Deep down I felt pressured … it is like a report card in a way, as Master Ju always asks me, how the percussion situation and education is here," says Goh with a flustered smile. "To say our group is steady, in this situation and climate, I'm not too sure. But we have survived," he humbly stated. 
The artistic director also points out that he's always honest about Hands Percussion's distinct "Malaysian" style, which is different from JPG's classically trained percussion style.
Formed in 1986, JPG was the first percussion ensemble established in Taiwan. Comprising about 17 percussionists and a composer-in-residence, the group combines classical Western percussion techniques and instruments with Asian elements, often creating an innovative blend of sound that is thoroughly contemporary. 
For the show in KL, JPG will be bringing in a full-scale set of more than 150 instruments and 11 performers, including a Pipa player. "The instruments have all arrived in a 40-foot container," says Goh. Commenting on the show itself, Goh emphasises that it is rare opportunity for Malaysian audiences to watch a pure percussion show that is "not just a lot of noise or too intimidating in a classical setting."
He highlights JPG's breadth of work, "They've done so much, from very classical styles to the very experimental, so much so you might not even know what they're doing," he quips,  "A lot of their works have a theatrical element."
The group will be preparing something to cater to all audience types here, from percussion fans to first-time concertgoers and children, including a piece that will involve audience interaction and a Malaysian folk-song suite, rearranged specially for this concert. 
It is supposed to be a quiet season for Hands this year, as they took time off to rest, learn and prepare new programmes for the coming year. Nonetheless, Goh says preparing for JPG's concert has been a good learning process. The director was also adamant that Hands Percussion will not perform together with the award-winning group in the show, wanting a full-experience for Malaysian audiences. "They are very, very professional. We are so looking forward to it. There are some of my members who weren't even born when the group last came here. I want them to have something to look up to, to show them the group that inspired their sifu to dream," explains Goh. 
He also hopes that by bringing in world class acts such as JPG — Hands Percussion has previously brought in famed groups such as Cloud Gate Dance Theatre and U-Theatre drumming — the barriers to art can be broken down. "For me personally, I want to expose these works to people here … art doesn't need languages, you can have English educated, Chinese educated; no race, no colour or status-divide, all in one crowd." As part of their giving-back project "Hands-in-Hand", they will also be bringing in schoolchildren from rural areas to attend the concert. 
"You can expect a fantastic show," Goh reiterates, "All the members are classically trained, from Vienna, in the United States, all with Masters level qualifications and doctorates. But they have also preserved their heritage really well, and adopted traditional Chinese percussion instruments … the diversity in their percussion music can be seen. It's a world music kind of sound."
---
Taiwan's Ju Percussion Group Asia Concert Tour in Malaysia will be held on Sept 26 at Plenary Hall, Kuala Lumpur Convention Centre. Call (012) 7798 009 or (012) 5026 883 to purchase tickets. Tickets are priced from RM88 to RM388.
This article first appeared in digitaledge Daily, on September 21, 2015.