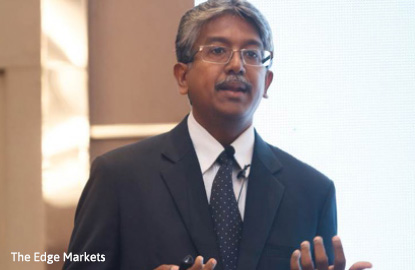 This article first appeared in Personal Wealth,
The Edge Malaysia Weekly
, on February 13 - 19, 2017.
Women should have more retirement savings than men, given their longer lifespan, higher medical costs and lower risk appetite. 
"Ideally, Malaysian women should contribute more to their retirement savings or look at other means available so that they can have a comfortable retirement," says Surendran Ramanathan, Aon Hewitt's head of retirement and investment in Southeast Asia. 
"Looking at their life expectancy, men may have another 15 years after they retire at age 60. But women live about three to five years longer than that, so they should be aware of how much they need in their retirement." 
Surendran was speaking on the sidelines of the recent "Re-Solving the Rewards Conundrum" conference organised by Aon Hewitt Malaysia.  
According to a report published by the group in June last year, 83% of US women are not saving enough to meet their retirement needs compared with 74% of men. It goes on to say that women need 11.5 times their last-drawn salary for their retirement needs while men only need about 10.6 times. Surendran says this is also true in Malaysia, where women need significantly more savings than men. 
But it is not just about saving enough for their living expenses. Women should be aware that a longer life expectancy can mean higher medical costs and they should make provisions for this. According to a report by US-based healthcare cost-projection software developer HealthView Services, a healthy 55-year-old woman will spend, on average, US$79,000 more for healthcare than her male counterparts.
Women should also save more as they tend to have a lower risk appetite when it comes to investing. As they have a preference for more conservative investments, they need to put away more than their male counterparts to make up for the shortfall in investment returns. 
According to the BlackRock Global Investor Pulse Survey published in March last year, women are less likely to hold stocks than men and have more assets in low-return cash, at 71% and 60% respectively. When asked how they felt about investing, the female respondents used words like "nervous" and "risky", while male respondents used words like "hopeful" and "optimistic".
Not enough savings
Surendran says more than 70% of Malaysians are highly dependent on their Employees Provident Fund (EPF) savings for their retirement. This is worrying as the statistics provided by the EPF last year showed that at the age of 54, some 68% of its members had less than RM50,000 in their accounts. 
"The majority are saving solely with the EPF. Some contribute to the Private Retirement Scheme (PRS), but nothing beyond that. The problem is most Malaysians do not have the capacity to put away more," he says. 
"For normal employees, they contribute 11%. If they are in a higher tax bracket, 20% or more goes to tax — so, that is already 30% of their monthly salary. With housing loans and their other responsibilities, on top of the higher cost of living, most Malaysians do not have more disposable income to save." 
In 2015, the government took the initiative and allowed employees to reduce their EPF contribution to 8% to help them cope with the rising cost of living. In February last year, it was revealed that 78% had opted for the lower rate while the rest maintained their contribution at 11%. 
Surendran says although the move may help some Malaysians, it is just a temporary measure. "This will take a toll on their total savings and not solve the problem we are currently facing. I think if people keep relying solely on their EPF savings, more Malaysians will fall into the category of not having enough retirement savings." 
More Malaysians are opting to work past the age of 60 to save more and spend less on their retirement. This is despite the fact that most Malaysians said they would retire before the age of 60 in another survey.
Surendran says Asians used to retire at an earlier age because they could depend on their families to support them in their retirement. However, this value is no longer held by most families. 
"If you look at Japan and Singapore, the family size is shrinking. So, they need to be independent and even work past the age of 65," he says. 
"I feel this will also be the case in Malaysia and we have already started to see this. Malaysians can no longer depend on their children, so it is good if they can continue working to sustain themselves — although it really depends on personal preference or individual financial requirements."
Malaysians should also make sure they are properly insured. Surendran says life insurance is no longer a priority for many after they reach retirement age, but they need to look for medical insurance that can cover them during their golden years. 
"A lot of people say their companies provide them with insurance coverage so they do not need to pay more premiums. But what they need to do is get a medical plan that complements their company's coverage," he says. 
"They also need to be careful because some medical plans end at a certain age — around 60 — so, what is the purpose of having that? They need to look at plans that can cover them beyond that age." 
Malaysia's retirement structure best in region
Although there is the problem of employees not having enough retirement savings, the structure provided for Malaysians to help them save for retirement is better than in other Asean countries, says Surendran. 
For example, employees in Singapore have a salary ceiling when it comes to their Central Provident Fund (CPF) contributions. "Currently, the salary ceiling is S$6,000. If they earn more than S$6,000, they do not contribute more to CPF," he says. 
"Whereas in Malaysia, there is no cap — it does not matter whether you are earning RM1,000 or RM20,000, you can still contribute 11% and your employer will still contribute 12%." 
Thailand does not have a mandatory scheme. Some employers may offer a voluntary scheme, but the contribution amount is lower than that in Malaysia. Employers there decide how much they want to contribute. But on average, the total contribution of both employees and employers only come to 10% to 15% monthly. 
"This scheme is quite new. It was set up by companies 5 to 10 years ago. Although there are plans to make this mandatory in Thailand, nothing has materialised so far," says Surendran. 
In Indonesia, defined benefit schemes are available for employees. Under these schemes, employers give their employees a certain number of months' wages when employees reach retirement, depending on their years of service. Employees can get up to 32 months of their salary if they work long enough for the company. 
"In Malaysia, if you move from one company to another, you still contribute to the EPF. In Indonesia however, if you work at company A and move to company B, your years of service go back to zero. So, not many people get the full benefit since they jump from company to company. If they work at the last company for about eight years, for example, they may only get 20 months' salary, which is not going to be enough," says Surendran. 
Some employers in Malaysia go the extra mile and offer a larger contribution than legally required, he says, adding that 40% to 50% of local companies contribute an additional 4% to the EPF. 
"In Malaysia, companies can voluntarily contribute up to 19%. So, some multinational corporations and government-linked companies contribute about 16% to their employees' EPF accounts. This is a good way to attract talent and give rewards to employees without getting taxed," says Surendran.