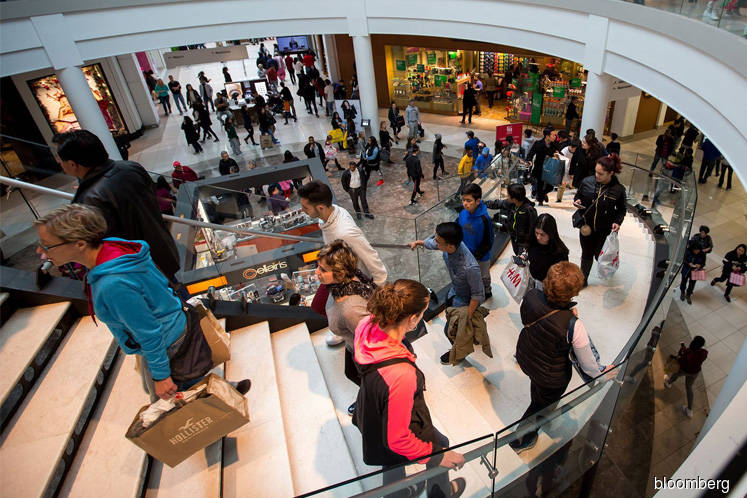 KUALA LUMPUR (Dec 7): Malaysian retailers saw sales contract by 1.1% in the third quarter of 2017 (3Q17), way below the retailers' expectation and against the positive 4.9% growth in 2Q17, as consumers had less money to shop.
The retail sales contraction was also a sharp contrast from the third quarter GDP growth of 6.2% but in line with the decline in the Consumer Sentiment Index to 77.1 from 80.7 in the previous quarter. Retail growth had in the past tracked GDP growth.
"For the third quarter of 2017, Malaysia retail industry reported another set of disappointing result," Retail Group Malaysia's (RGM) managing director Tan Hai Hsin said in the latest Malaysia Retail Industry Report (November 2017) released this morning. "After a short recovery during the second quarter of this year, retail sales slid into the red again in the latest quarter." Retail sales grew by a mere 1.9% in 3Q16.
RGM tabulates retail data on behalf of its member retailers who are in the hypermarket, supermarket, department store, fashion and fashion accessories and specialty retail business.
Tan pointed out that the members of Malaysian Retailers Association had in August 2017 projected retail growth to rise by 2.9% while RGM had forecast a better 4% growth.
"Despite the strong economic performance during the third quarter, majority of consumers did not receive higher take-home pay. The propensity to spend was not high as reflected in the decline in the Consumer Sentiment Index," he said. He added that the rising cost of living has also deteriorated consumer's purchasing power and the early Hari Raya festival celebration this year also contributed to the lower sales. Retail sales in the first nine months of the year was 1.9%.
Four retail subsectors posted negative growth in 3Q17. The department store cum supermarket subsector contracted by 3.5% after posting a 4.1% growth in 2Q17, department stores category contracted by 4.4% (15.1% growth in 2Q17), the supermarket and hypermarket subsector was down 5.2% (0.8% increase in 2Q17), and fashion and fashion accessories contracted by 4.8% (2.5% improvement in 2Q17).
The pharmacy and personal care sub-sector registered the strongest growth in 3Q17, compared to the other categories at 6% while other specialty retail stores (including photo shop, toy stores, second hand goods store and TV shopping channels) grew by 6.3%.