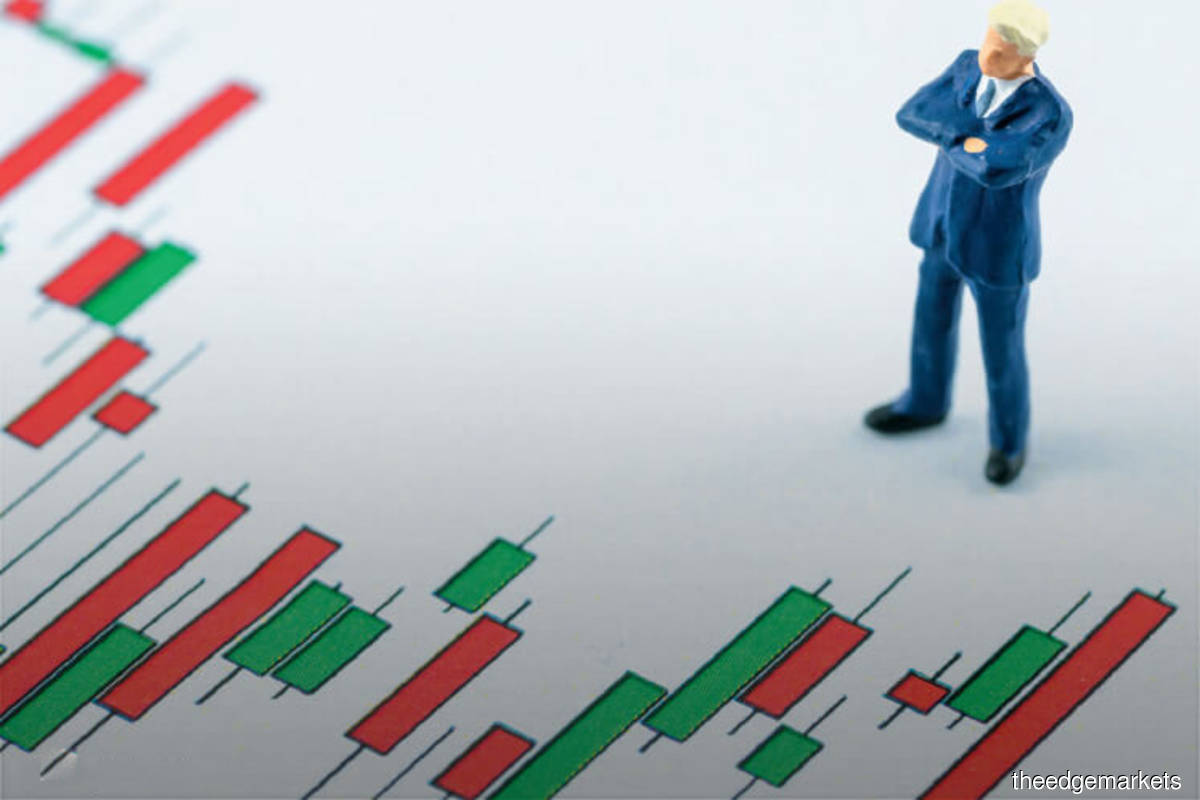 KUALA LUMPUR (Oct 28): Retail investors tend to invest more in the stock market when they work from home, according to statistics compiled by CGS-CIMB Research.
According to CGS-CIMB, retail participation on Bursa Malaysia increased last week. The average daily turnover volume and value on Bursa rose 32% and 19% week-on-week (w-o-w) respectively to 8.6 billion units and RM5.2 billion last week. The research house attributed the higher retail participation to the introduction of the conditional movement control order (CMCO) in the Klang Valley from Oct 14.
CGS-CIMB said retail investors' share of total trading value grew to 38% (versus 34.7% in the previous week), followed by institutional investors at 22.7% (from 24.9%), proprietary trade at 20.2% (against 23.8%) and nominees at 19.1% (previously 16.6%). 
Of institutional trade totalling RM11.8 billion last week, 50.6% were domestic, while 49.4% were foreign, the research house added in a report yesterday.  
CGS-CIMB stated that year to date (YTD), retail investors (local/foreign: 98.9%/1.1%) made up 33.5% of total trading value, institutional investors (local/foreign: 54%/46%) made up 31.2%, proprietary (investment accounts/proprietary day traders: 80.2%/19.8%) made up 18.2% and nominees (local/foreign: 87.7%/12.3%) made up 17.2%.
The local research house also pointed out that retail investors' participation not only rose w-o-w, they were the sole net buyers of Malaysian equities last week despite rising political uncertainties. 
This suggested that retail investors may have higher risk appetite, as well as liquidity, compared to other groups of investors, CSG-CIMB said.  
What were retail investors buying?
The local research house said retail investors were net buyers of consumer, industrial and property stocks. It also found retail investors to be net buyers of companies in the consumer, industrial and property sectors last week while they continued to take profit on the healthcare sector. 
"Last week's flows suggested that retail investors were net buyers of Rubberex Corp (M) Bhd, Mah Sing Group Bhd and Supermax Corp Bhd, and net sellers of Top Glove Corp Bhd, Press Metal Alumimnium Holdings Bhd, YTL Corp Bhd and MyEG Services Bhd. The flows suggested that retail investors may be dipping into stocks with potential positive news flows or with share prices that had corrected recently," CGS-CIMB noted.  
"One common thread was that the rubber glove sector continued to feature prominently on retail investors' trading radar. On a YTD basis, we were not surprised that Top Glove was the main beneficiary of retail net buy flows, followed by Genting Bhd and CIMB Group Holdings Bhd (key laggards in the FBM KLCI). Retail investors appeared to prefer stocks with lower P/Es (price-earnings) in the glove sector and were net sellers of Hartalega Holdings Bhd YTD," it added.  
Meanwhile, the local research house noted that local institutions were net sellers of consumer product and property stocks. 
"Stocks in the consumer product, property and energy sectors were key 'sells' of institutional investors, while the key sectors that saw inflows from this group were healthcare, industrial products and utilities," it added.  
As for foreign investors, CGS-CIMB said they were net buyers of the telco sector as they continued to be net sellers of banks, property and healthcare.  
The local research house observed that institutional investors, both domestic and foreign, were keen on Top Glove.
"There were two common features between local and foreign institutional investor flows last week — both were net sellers, but the stock with the highest net buying by both groups was Top Glove, possibly in anticipation of a potential resolution of its labour dispute with the US Customs and Border Protection (CBP) and with it as a liquid play benefiting from Covid-19," CGS-CIMB said.