This article first appeared in Personal Wealth, The Edge Malaysia Weekly, on June 22, 2020 - June 28, 2020.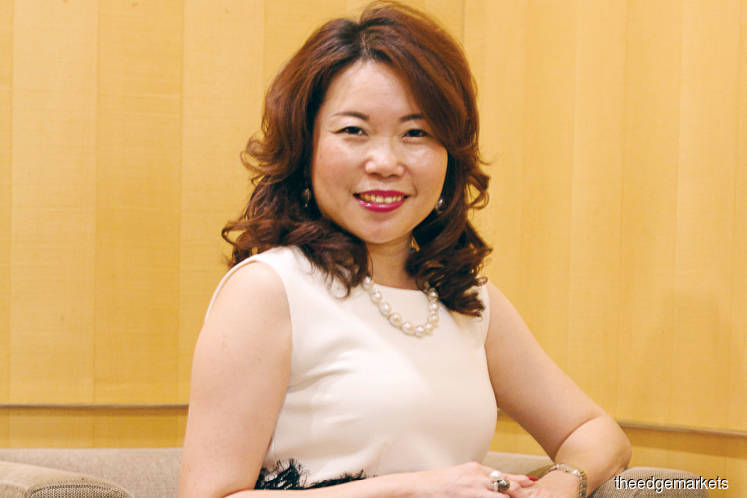 The humanitarian crisis and economic volatility stemming from the Covid-19 pandemic have thrown into sharp relief the growing challenges of biodiversity loss, climate change and social inequality. 
There has not been a more opportune time for sustainable financing to play a vital role as countries around the world begin the process of revitalising their economies after the fallout from Covid-19, says Tan Ai Chin, managing director and senior banker (client coverage) and head of investment banking at OCBC Bank (M) Bhd. "As the impact of the crisis continues to evolve, it is definitely not an overstatement to say that the pandemic has not only been a test for sustainable financing in particular but the finance industry in general as well. 
"Sustainable financing incorporates elements not only from environmental and governance aspects but also includes a social impact angle. The economic consequences of this crisis will inevitably have far-reaching implications on social welfare — income loss arising from unemployment, supply chain disruptions as well as food security and education issues. Our very way of life is under threat, not just from the virus itself but also in trying to protect ourselves from it."
Fiscal and monetary measures implemented by most governments will invariably minimise the immediate economic crisis. But the long-term implications may be more far-reaching, says Tan.
"I believe it would not be an understatement to say that the Covid-19 pandemic has had a profound impact on our lives in recent months, and the actual and potential economic fallout and social impact arising from the disease have played a central role in the headlines and other forms of discourse since. What makes this situation unique is that while the pandemic itself is a biological one, it is more pervasive than other crises we have encountered, and that is the unfortunate indirect impact of globalisation.
"We certainly hope that the business community at large and individuals will learn from the hard lessons of this pandemic to re-evaluate and transform into a new norm of doing business and how we live our lives to ensure that we continue protecting Mother Nature to create a sustainable future in the holistic sense."
Although sustainable finance is a niche area of financing, Tan is optimistic that other financial intermediaries will get on the bandwagon. "Or else, they will become irrelevant to society," she points out.
She adds that while the Malaysian government has done what it can to reallocate resources to those in need via stimulus packages, financial intermediaries will also need to do their part. This is where having an effective sustainability framework in place can make a difference, she stresses. 
Tan says sustainability has always been a part of OCBC's agenda as it is convinced that "…businesses do well by doing good". "In the spirit of our commitment to achieve five of the 17 Sustainable Development Goals identified by the United Nations, we too have implemented various financial relief measures to assist our customers in riding out the storm. 
"Our customers are our lifeblood and it is imperative that all of us emerge from this crisis as equal participants of the same virtuous cycle. Despite the inevitable strains on the bottom line of banks, we continue to do our part in helping our community at large through various corporate social responsibility efforts. 
"We at OCBC strongly believe that there is no better testimonial for the implementation of sustainable financing practices than by adopting these values ourselves for the betterment of the community."
It is based on these fundamentals that OCBC's wholly-owned Islamic banking subsidiary, OCBC Al-Amin Bank Bhd, led the coordination of the first-of-its-kind syndicated multi-currency shariah-compliant sustainability-linked set of financing facilities of US$800 million for Axiata Group Bhd last month.
"The Islamic sustainability-linked financing for Axiata was a significant milestone in our effort to achieve a S$10 billion sustainable finance portfolio by 2022. It has resulted in the OCBC Group once again taking the lead in the Bloomberg APAC Sustainability-Linked Loans league table for the year so far," says Tan. 
She adds that the initiatives have given the bank an opportunity to differentiate itself from its peers. "This is also part of our commitment to support the Value-based Intermediation financing concept introduced by Bank Negara Malaysia for Islamic banks, which aims to deliver product offerings that generate a positive and sustainable impact on the economy, community and the environment."
The sustainability-linked financing offers Axiata a reduction in financing cost in return for its commitment to reduce its overall carbon footprint and to ensure compliance with the stringent environment, social and governance criteria set by FTSE Russell to maintain its inclusion in the FTSE4Good Bursa Malaysia Index, says Tan. The syndicated financing terms are in line with Axiata's objectives and financially incentivises the entity to meet its sustainability targets.
As a prominent regional player, OCBC emerged as the first bank in Southeast Asia to stop financing new coal-fired power plants last year. The banking group has also committed to doubling its sustainable financing portfolio by 2025, says Tan.
Last year, OCBC backed more than 20 green and sustainability-linked loans, which included financing renewable energy projects in countries such as Australia, China, Malaysia and the UK. "This added more than S$5 billion in commitments to our sustainable finance portfolio in 2019. We closed out last year by topping two significant sustainable finance league tables — Bloomberg's 2019 Mandated Lead Arranger (MLA) league table for green loans and renewable energy loans, as well as the 2019 MLA league table for green loans and sustainability-linked loans," she says.
"OCBC Malaysia has covered the entire spectrum of sustainable financing, from green to sustainable, with the latest being sustainability-linked financing. These initiatives demonstrate our continued commitment to ensuring that responsible and sustainable financing remains at the core of our business principles to facilitate a sustainable future for everyone."
As the full impact of the Covid-19 pandemic has yet to be determined, OCBC believes that the global economy will see signs of recovery in the second half of the year, with positive global GDP growth in 2021, says Tan. "Barring any unexpected second or third wave of the pandemic, the recovery process — in our view — will be determined by two key factors: a recovery in the demand for goods and services and the ability of businesses to reinvent themselves.
"In respect of the demand factor, we foresee that it will be very unlikely for businesses to return to pre-Covid-19 levels, given the changes in consumption patterns. Hence, companies would need to make certain adjustments by reinventing their business models to suit the new normal." 
Some of the key sectors that are expected to drive economic growth in the coming months are technology-related such as digital services, e-commerce, data centres, media and communication, as well as traditional businesses such as healthcare, green and sustainable financing solutions and strategic and public infrastructure, she says.