This article first appeared in Enterprise, The Edge Malaysia Weekly, on May 13, 2019 - May 19, 2019.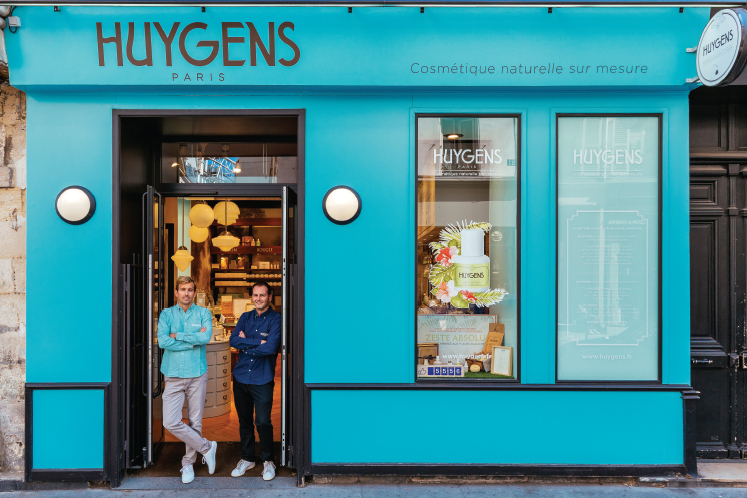 When Sébastien Guerra and Daan Sins decided to start their own cosmetics brand in 2011, they wanted to create something that was both kind and clean. The duo, who had been in the French cosmetics industry for about 15 years each, had seen what the industry could be like and wanted to play by their own rules.
They decided that instead of going through the normal distribution channels, they would set up their own little place and distribute the cosmetics themselves.
One day, while strolling around Le Marais, an up-and-coming neighbourhood in Paris, they stumbled across a 17th century alchemist's house with an attached tower. They were intrigued. Le Marais was trendy but not too expensive because it was under the radar.
"It was still a place to be discovered and we discovered it in 2013. On top of being historical, it was a very lively area that was reinventing itself with upcoming designers and art workshops," says Guerra.
In keeping with the historical feel of the store, the two partners decided to give their brand the name of a famous resident in the area, Huygens. "Huygens is actually a family name of a historical person who was famous in the 17th century. We launched the brand by opening this very store," says Guerra.
The company's basic value proposition is that its cosmetics are organic. But aren't most French cosmetic brands organic?
"If you dig into it, they would not claim to be organic because most of them are actually not. It is true that people associate some kind of naturality to being organic, but it is actually two different things," says Guerra.
Its other key selling point is that its products are "clean". This means its products have avoided all damaging ingredients such as parabens, endocrine disruptors, nanoparticles, silicone and mineral oils.
Huygens opened its doors on June 27, 2013. "The first person who passed by, stopped and said she had heard of the brand. And we said, 'Um, actually, we have just opened.' But she insisted that she had seen us in New York. Then she bought a bespoke body scrub. From then, our success in Paris was immediate," says Guerra.
How does the bespoke concept work? "Customers select the blend of essential oils that they want us to add to a neutral base of products. Some people choose based on their olfactory preference while others choose based on the aromatherapy benefit they are looking for. And the base is, of course, organic," he says.
It started its webshop just a month after it opened its doors. "It was obvious from the beginning that we should be online. We built up the range and launched a few products based on customers' feedback," says Guerra.
The company initiated its first partnership with a beauty box business in France, known as Birch Box. "I do not know if it is big in Malaysia. But in France and the US, beauty boxes are a huge success. People subscribe to a service and they get miniatures of products to try each month," he says.
"We created some miniature samples that we sent out to people and it helped us to get known very rapidly. In fact, we are now one of the best-selling brands of face care in France. Putting the products in the hands of customers and having them try it and like it is the best possible publicity one could have."
Guerra points out that if the formula is good, customers will like it, buy it again and communicate about it. "I think we have 3,500 reviews on the Birch Box website, with an average rating of 4.5 out of 5, which is excellent. Now, we are even co-developing products with Birch Box that we base on customer feedback and focus groups," he says.
One of the items the company produced based on customer feedback was organic perfumes. "Originally, we did not have perfumes. It was mostly care and home range products. But we had a lot of requests from people in our shops asking for a natural perfume," says Guerra.
His partner, Sins, had expertise in developing perfumes for major brands. "So, we agreed. But we wanted to do it our way. Instead of having 90% synthetic aromas in our fragrances, which is how other brands do it, we decided to have 95% natural aromas in our fragrances and to use organic flower water. And that is quite new in the market," says Guerra.
"At the end of 2016, we launched our first perfume, La Parfum Originel, and it has been very successful. Originel means both original and specific. It is a woody perfume with a sweet note, vanilla.
"It was so successful that we decided to launch a new one. Now, we have three perfumes and our next project is to enter department stores in Europe with this range and also maybe a home aromatherapy range."
Even before Huygens expanded to the rest of Europe, it was approached by the Japanese. "We had a lot of press internationally and we were approached by a Japanese partner who wanted to introduce our brand in Japan," says Guerra.
So, in December 2016, its Japanese partners opened the first Huygens store in the country in Omotesando, Tokyo. The brand is so popular that there are about 13 stores selling its products in Japan today.
Huygens was first sold in Malaysia last year, at Robinsons in the Four Seasons Hotel Kuala Lumpur. Here, the company has partnered Clini7 (M) Sdn Bhd.
Clini7 business development manager Denise Pereira says this came about because her company was looking for "clean" cosmetics to sell in Malaysia. "Sébastien was at the French embassy doing promotions. So, we brought him in. We found the concept of bespoke and clean cosmetics very interesting. Basically, all of the products are natural and organic. The founders of the brand care about the environment and none of their products are tested on animals."
Pereira says Malaysian consumers are looking for more natural, organic and cruelty-free products. "That is why when we saw Huygens, we thought this would be something Malaysians would like. We launched our first store in Four Seasons and we see that most of our customers who sample our products come back for repeat purchases. But we have not really advertised much until now."
Guerra cuts in, "We were waiting for our first permanent counter in Malaysia with the proper 'wow' effect and proper presentation before really communicating about the brand."
This permanent counter is at Robinsons, the Gardens Mall, in Kuala Lumpur. Malaysia is only the company's fourth market. "We opened in Singapore in January and are planning to open in Taiwan in April," he says.
Why did the company decide to open in Asia before the rest of Europe or even the US? Basically, in Asia, it came in through partnerships. In Europe, Huygens wants to penetrate the different markets on its own and this, understandably, will take more time. In the US, it will need to get the Food and Drug Administration's (FDA) approval, which is another lengthy process.
What about China? Guerra pauses to consider his words. "Being registered in China is not compatible with being cruelty-free. The registration process in China obliges brands to do animal testing. It is not very well known except by people who are very concerned about the products being cruelty-free. They ask us whether our products are being distributed in China because they want to make sure that we are not. Animal testing is illegal in Europe."
The company was selected by upmarket French department store chain Galeries Lafayette for a campaign it did on responsible, environmentally-friendly brands. "Actually, its main criteria was about being 90% natural. And most brands actually, even some organic brands, do not tick that box. We did," says Guerra.
He calls Huygens the next generation of organic beauty. He says he and Sins started the company because they were tired of working for other people.
"Daan and I had worked in cosmetics for conventional brands for 15 years. When we got to the point of creating our own brand, we wanted to be true to ourselves and true to what we believe in. We wanted to create our own thing and write our own story. In writing that story, we have tried to do it in a way that suits our beliefs in terms of the product offering, the way we distribute it and even the people we work with, be it our suppliers or team members," says Guerra.
"We pay a lot of attention to creating a good place to work and getting the right people to work with. The whole work place is changing, not only in terms of consumption but also in terms of preferred occupations. The young are looking for purpose in what they do and they are very choosy about whom they work for. We have a responsibility to them in the way we organise the company."
But noble purpose aside, it is a lot of fun. "The whole thing is a great adventure," he says.