This article first appeared in The Edge Malaysia Weekly, on March 9, 2020 - March 15, 2020.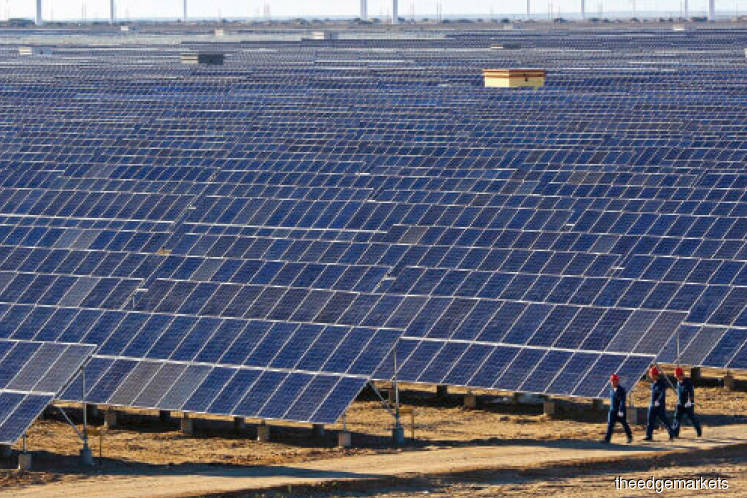 THE response to an invitation to bid for contracts for the generation of 1,400mw of solar power — which could be valued at as much as RM5 billion — could be lukewarm, industry sources say.
This could be due to unhappiness about the award of Large-Scale Solar 3 (LSS3) jobs in August last year that differed greatly from that of LSS1 and LSS2 deals, which apparently irked many local players.
To recap, the 1,400mw solar power jobs are part of the RM20 billion stimulus package announced last month to lessen the impact of Covid-19 on the economy and provide 25,000 jobs.
However, LSS3, which involved the generation of 500mw of electricity, was undertaken via an open tender last year for an estimated RM2 billion worth of jobs to increase electricity generation from renewable energy.
The plan is for renewable energy to constitute 20% of the country's total energy generation mix by 2025 compared with 2% as at 2016.
It is understood that the Malaysian Photovoltaic Industry Association (MPIA), which is a representative platform for the sector, has collected information from the disgruntled LSS3 participants but whether any recommendations were made or if the complaints of the players were forwarded to the government is not known.
MPIA did not respond to emailed questions from The Edge.
Nevertheless, a couple of participants that The Edge spoke to were unhappy and said they would think twice about bidding for the new 1,400mw contracts.
"There are many things we (the bidders) are unhappy about. There were many changes from the bids for LSS1 and LSS2," says a source who is a solar player.
There is a requirement for the parties to have a large piece of land on which the solar panels can be placed. This would increase costs considerably while those not awarded any of the LSS3 jobs could be saddled with the land.
Another source, also a solar player, had placed a deposit to acquire land from a state government. "I stand to lose my deposit. Some who acquired land are stuck with it," he says.
It is not clear why the terms of LSS3 were changed.
To recap, LSS1 and LSS2 were broken down into several categories. Under LSS1, there were jobs for 1mw to 5mw, 6mw to 29mw and 30mw to 50mw, and a separate category for Labuan in Sabah. The process was similar for LSS2.
Nineteen jobs were awarded under LSS1 and 40 under LSS2. Under LSS3, however, only five companies or joint ventures were awarded jobs out of the 112 bidders.
There is also some agitation over the foreign shareholding of the JVs, which was increased to 49% from 20% for LSS1 and LSS2.
"It should be the other way around … foreign shareholding should be less as we have gained experience from LSS1 and LSS2," one of the sources says.
Documentation viewed by The Edge indicates that the five companies that won offered a raw offer price of between 23.18 sen and 24.39 sen per kilowatt hour (kWh), with some Malaysian companies offering only a marginally higher amount.
The five who won LSS3 contracts are German outfit ib vogt GmbH in a tie-up with Coara Solar Sdn Bhd; Cypark Resources Bhd in collaboration with Impian Bumiria Sdn Bhd; a partnership between JKH Renewables Sdn Bhd and Solarpack Asia Sdn Bhd; a JV involving ENGIE Energie Services S.A. and TTL Energy Sdn Bhd, and another between Konsortium Beseri Jaya Sdn Bhd and Hanwha Energy Corp Singapore Pte Ltd.
Checks on CTOS indicate that Coara Solar is 95%-controlled by Susan Enid Dickman and the remaining 5% by Loi Yap Loong. As at end-March 2019, the company had RM889,223 in total assets and RM787,345 in total liabilities. Its revenue for FY2019 ended March was RM350,472.
Publicly traded Cypark's largest shareholders are its CEO Datuk Daud Ahmad (15.36% stake) and its executive chairman (11.54%). Cypark has a market capitalisation of RM500 million. Its partner Impian Bumiria's controlling shareholder is Azli Abdullah with 71% equity interest while Chan Koh How holds the remaining 29%. As at end-December 2018, it had total assets of RM5.81 million and total liabilities of RM4 million. For its year ended December 2018, the company suffered an after-tax loss of RM591,399 on revenue of RM1.48 million.
JKH Renewables, which has a paid-up capital of RM2, was registered in February last year and has no financials. Chan Kok Hoe and Wong Jan Chai are equal shareholders of the company. Online checks indicate that Chan is Solarpack Asia's head for Southeast Asia. Solarpack Asia, meanwhile, is wholly owned by Spanish company Solarpack Corporacion Tecnologica SA, a company with a market capitalisation of €500 million.
French outfit ENGIE Energie Services is part of the ENGIE SA group, which has a market capitalisation of €38 billion. TTL Energy, meanwhile, is 65%-controlled by Ong Ay Mei and 35% by Lee Chiang Tung.
As at end-2018, TTL Energy had total assets of RM10.12 million and total liabilities of RM9.25 million, and registered an after-tax profit of RM310,757 on revenue of RM1.42 million.
South Korean outfit Hanwha Energy's partner Konsortium Beseri Jaya was registered last year and is 99%-controlled by Kan Mun Pung. The remaining 1% is held by Hashini Hashim. Konsortium Beseri Jaya has yet to file its financials.