This article first appeared in The Edge Malaysia Weekly, on August 16, 2021 - August 22, 2021.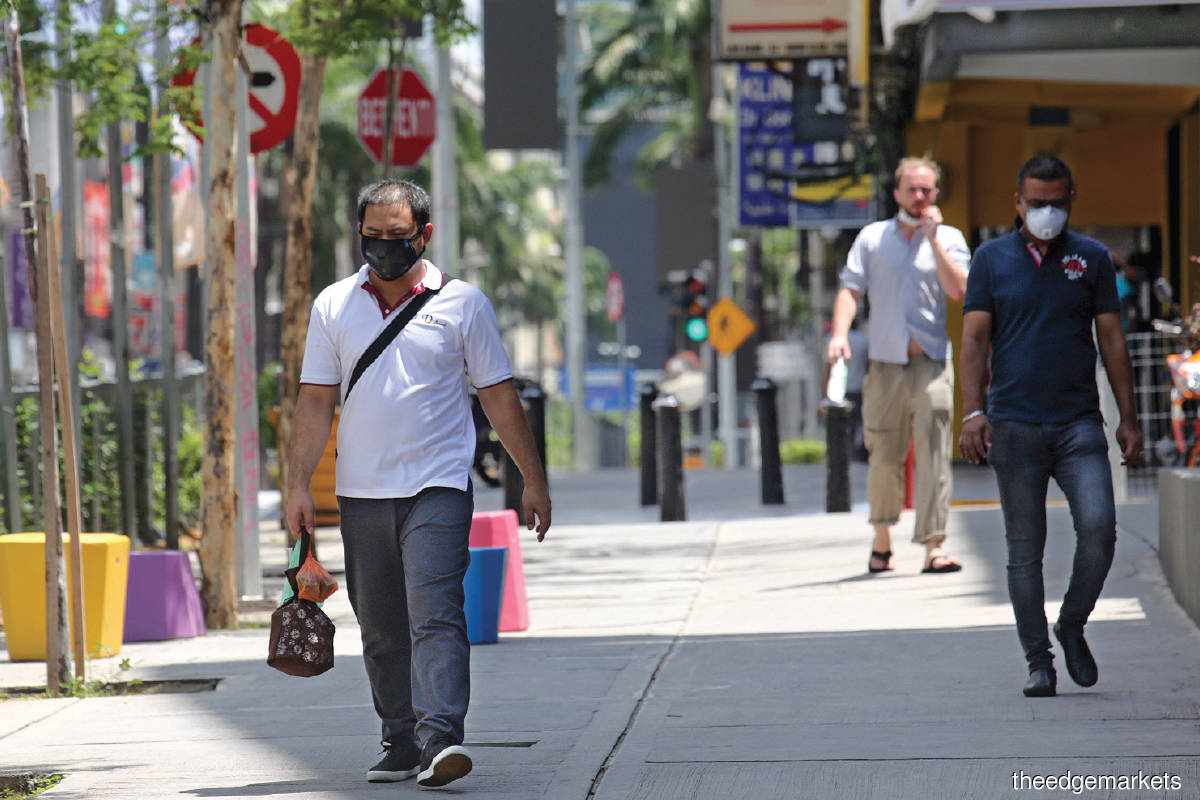 WHEN 40-something Stefanie (not her real name) lost her job in hospitality after her company was forced to close down in 2015, she was told to reskill to improve her employability. A few months later, armed with a whole new skill set as a coder, she found herself up against many young graduates for the same job.
While Stefanie and the other young applicants have little to no prior experience in a new industry, she failed to secure any kind of job owing to her age.
Stefanie's story is just one of many similar stories of people who are laid off mid-career and face difficulty finding re-employment even after undergoing retraining or reskilling, says Shahryn Azmi, executive director and co-founder of MakeTimePay, a new hiring platform for gig work.
According to him, those in the middle of their careers like Stefanie have it worse as they are often perceived as too old and expensive to hire. "They are also perceived to be more difficult to teach, and more troublesome [to deal with] because they have already been working, unlike young graduates," he tells The Edge in an interview.
With the Covid-19 pandemic putting many Malaysians out of work, workers have been told that new skills or reskilling will be the key to steady employment. Governments for one have regularly promoted it as a solution.
"However, the theory that reskilling guarantees you a new job does not work," says Shahryn, who used to helm the Corporate Development Centre (CDC) until it closed in June last year. The centre was set up by Khazanah Nasional Bhd in 2015 to provide reskilling and redeployment opportunities for retrenched employees from the now defunct Malaysian Airline System Bhd (MAS). MAS had laid off one-third of its 20,000 staff that year under a restructuring plan to make the national airline profitable.
"We found out very fast that reskilling didn't work. In Scandinavian countries such as Sweden, Norway and Finland, it may work because their attitude towards work is quite different. The employers there value work experience. The problem here lies with ageism, which is like racism except with age. Reskilling is training people for a completely new job, which means we can take somebody in their 40s, mid-career [and then reskill them]. But these older workers are being impacted by ageism during the hiring process," he explains.
"By contrast, we found that upskilling, that is, teaching employees new skills to boost their current position, has made people more marketable. For example, a secretary who upskills herself with Excel skills has more value for the next employer because she has 20 years of experience as a secretary and also a higher level of skill."
Why, then, do policymakers and business leaders continue to focus on reskilling? Shahryn says part of the problem is that those who recommend reskilling as a panacea for unemployment have never been in the situation themselves. "And most of the reskilling that they are talking about is focused on technology," he adds.
"Policymakers don't give enough thought to older workers. There is just this inappropriate fixation on fresh graduates, most of whom live at home, have no housing loan, no car loan and no spouse or children yet. What about the experienced older, mid-career worker? What happens to him or her? So they are sent for reskilling, but it is not so simple.
"The 'system' actually tells us this quite directly, but subtly. Why is it that fresh graduates cannot be easily employed? Organisations are looking for experienced people so that their workers can be rapidly productive. If you bring zero experience —and it doesn't matter what you studied formally — there is going to be some doubt about your possible performance and so, organisations opt for the candidate with experience," Shahryn says.
"Having said that, the system then discriminates against the older workers with a lot of experience for no reason other than the fact that they are older. The young then don't get hired; the old also don't get hired — and so, everything sits with those who are in their late 20s to mid-30s. Outside of those age limits, employers discriminate horribly," he notes.
"What is old? Anybody who is older than you is old. I have personally seen this happen during walk-in job interviews where the applicants — who were in their 40s and had lost their jobs, with children and car and house loans to pay — walked up to the desk and the young recruiter went, 'No, no, no, you are too old'. Do you know how that person feels when you do this? And it happens all the time," Shahryn says.
Dr Yeah Kim Leng, professor of economics at Sunway University, concurs. "Priority should be given to those who have been retrenched and are still unable to find jobs, especially if they have a family to provide for. That is critical so that it doesn't lead to any permanent scarring effect on themselves and their dependants."
He notes that fresh graduates are much more likely to be living with their parents and don't have to worry about bills piling up. "As long as they are not married and have no children, the social impact on them would be less."
Data from the Department of Statistics Malaysia shows that in the second quarter of 2021 (2Q2021), there were 143,500 unemployed people in the 45-64 age group. This represented about 19% of the total 764,900 unemployed people. Meanwhile, the number of jobless youths in the 15-24 age group stood at 283,100, accounting for 37% of the total number of unemployed people.
Yeah also believes reskilling and upskilling should not be forced upon individuals. At the same time, there is little point in training people in new technical skills if there aren't enough jobs at the end of it.
Shahryn agrees. "You cannot keep forcing people into areas that are in demand but they have no interest in. The key is to get the person into something that will pay them."
He also points out that underemployment, or people who take on a job that does not reflect their actual skills or education, is a huge problem in the country. "They can't get a job doing what they were doing previously because the jobs are no longer available. And if they were to look for a job, they have to go through the long hiring process. So, in the meantime, they just grab whatever job they can find, which is usually as food delivery riders or ride-hailing drivers."
Older workers pushed out of work
Socio-Economic Research Centre (SERC) executive director Lee Heng Guie says there has been a discernible rise in the jobless rate for the 55-64 age group since 2Q2020, following the pandemic-inflicted economic shock.
"There has been a rise in the unemployment rate, which is likely to be temporary, but the rate is unlikely to return to pre-pandemic levels in the near term," he says, noting that some of the manual workflow and mundane jobs will be digitalised and there will be more flexible working arrangements going forward.
Lee observes that since the pandemic, the number of unemployed elderly people has increased significantly, from 4.7% (37,200 people) of total unemployment in 2Q2020 to a high of 8.2% (61,400 people) in 3Q2020, before easing to 5.9% (45,000 people) in 4Q2020. "In 2Q2021, a total of 61,300 elderly people were unemployed, making up 8% of total unemployment."
"The loss of job and income render the older persons vulnerable to financial difficulties to cope with living expenses and medical healthcare needs. The weak job prospects for the retrenched elderly persons also affect their retirement savings, and the increasing old age dependency ratio could increase the vulnerability of older persons as families struggle to cope with care needs," he adds.
Lee, however, believes upskilling and reskilling are essential for both the employees to equip themselves with the necessary skill sets (both hard and soft skills) to perform better and for employers/businesses to survive, especially in the wake of the pandemic.
Gigs, a solution to rising unemployment
Shahryn says a solution to tackling rising unemployment in the country is to allow people, especially experienced workers who have lost their jobs, to be hired based on their professional skills but on a short-term basis.
This is where hiring platforms such as MakeTimePay and SOLVNEX come in to match gig workers with suitable jobs of a short-term and task-based nature. Last year, Shahryn teamed up with Ken Tai, who has more than 20 years' experience in the technology industry, and Joseph Lam, a practitioner in marketing communications and branding with over 35 years' experience, to co-found MakeTimePay.
"When you hire gig workers, you don't hire based on anything except whether or not they can do the job. I don't care how you dress because I don't need you in the office. I don't need you to be very young or very old as long as you can do the job. So now you are hiring based on merit. And if the person is able to do the job well, he or she will have a much better chance of getting the next gig job. That's what makes platforms like MakeTimePay different from a traditional job interview or job search," Shahryn says.
The same works for micro, small and medium enterprises. "These companies need help to get their businesses going but they also need to save money. But if they keep hiring full-time staff amid uncertain business conditions, it could put a strain on their budgets. So what is the solution? They can hire workers for short-term projects or on an ad-hoc basis. They get the tasks done, while controlling their costs. It is a win-win situation, both for the person looking to earn money and the company looking for people to do the task. The person who is doing the task is also doing what they are professionally qualified to do," he adds.
On the government's part, SERC's Lee says, given the expected slow recovery in the labour market and the necessary skill set required by businesses and companies, employers should be rewarded with incentives such as tax credit or hiring allowance to hire employees with the relevant skills and educational background to address skill-related underemployment and youth unemployment.
"The government can also provide double tax deductions for human capital investment in upskilling and reskilling of employees to capitalise on the opportunities in the digital economy or in technology transformation," he adds.
He also suggests that the government's PenjanaKerjaya hiring incentive, which ends in December 2022, be extended and expanded to cover job portals other than MYFutureJobs, with the criterion of providing data to MYFutureJobs upon hiring.
"We should also implement a national database to ensure targeted support. For example, better data allows the mapping and redeployment of informal workers to new roles. The government can also partner with private organisations and communities to map out informal workers' skills and qualifications, and match them with market demand," Lee says.
"The government can also build a bigger pool of highly trained technical and vocational education and training graduates to attract high-value-added investment, drive productivity and enhance innovation, which could indirectly help to improve the income of the Bottom 40% group, as skilled workers, especially those trained under the employer-led training models, would be able to garner higher wages owing to the right skills fit and industry exposure. In the long term, it would also result in a reduction in overdependence on foreign workers," he adds.
The mindset needs to change
Still, the mindset is 90% of the problem for everything and everyone, says Shahryn.
"Consider the fact that employers are still mainly hiring graduates from accounting, business, finance and marketing schools. What about the people who studied other subjects? What about maths and history graduates? Those people can work things out; they can analyse and write reports and can communicate. What happens to them? They are told that they have no future in business so they should go and teach instead. It's totally idiotic. It's very Malaysian. Later, we say that people have no soft skills," he points out.
"Look at the Americans. They study something in university called liberal arts for four years. The university students do a 'major' but then they do a mixture of many other subjects to give them a broader perspective on life and the world, but we frown on that. Why? Why do we think that breadth of learning is bad? Then we say people have no imagination, no ability to innovate or create. They struggle because they have been forced to be narrow.
"If we start with the attitude that we hire only business-type graduates to work in business and commerce, then upskilling or reskilling changes nothing because that is just one 'trick' the person can do. Their background is still not good enough or appropriate," Shahryn says.
"Thus, mindset is everything, [not only] for the decision-makers and policymakers but also for the workers, who learn from the leaders and the media. We undervalue what our people can do. We force them to be narrow-minded, and then complain that they are narrow-minded," he adds.
Yeah says there is currently an imbalance in the employment structure where sectors such as plantation, agriculture, construction and fisheries face a shortage of foreign workers.
 "So perhaps the government can create some programmes that allow for profit sharing with the companies concerned, where the unemployed workers can pick up those jobs and become subcontractors. That can help to eliminate the labour shortage. Those jobs can become permanent, especially for those who have an interest in agriculture. For example, there are abundant opportunities for the government to cultivate and encourage people to become agropreneurs. This will fulfil multiple objectives from creating employment and encouraging entrepreneurship to improving food security in the country and the economy.
"Of course, a shift in mindset will be important. As the saying goes, 'Necessity is the mother of all invention' and so the government can provide some incentives to encourage people to explore this kind of venture. This move is also timely for those who have lost their jobs to bounce back quickly rather than wait for salaried jobs to be created, especially in industries that are not expected to recover in the next two to three years," he adds.