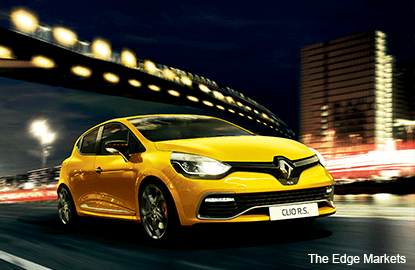 This article first appeared in The Edge Financial Daily, on January 7, 2016.
Driving Renault's technologically advanced and easy-to- use Clio RS (Renault Sport) 200 — which now comes with a turbocharged engine and five-door body — is addictive. 
And making a five-door look like a sportier three-door hatch is a clever trick. Renault's designers have neatly hidden the rear door handles with a rising beltline, keeping a rakish profile, but adding practicality. It means access to the rear is easy.
Its suspension and power train are athletic yet forgiving. This was certainly apparent last month as we drove the Clio RS around Kuala Lumpur and up to Genting Highlands for some French cuisine.
A worthy interior
The inside has been bolstered for quietude. I will not argue with the price (from RM166,888). The steering is nicely weighted and it is wrapped in leather as is the shift selector.  
A pair of teardrop-shaped dials — tacho on the left, fuel on the right — are intersected by a digital speedo with big easy-to-read numbers along with the gear indicator. Up top is the trip computer, a little less easy to read but extremely useful. 
Behind the wheel is a pair of aluminium paddle shifters, which are a delight to look at and use. Down lower is a paddle for the stereo, which takes some time getting used to.
There is plenty of RS badging and red inserts in the upgraded, cloth-covered seats and various bits of trim.
You will find the seats heavily bolstered so as to feel fully sporty, and their size befitting full-size adults. The back seat fits two and it does not feel cramped. The Clio RS' width at the back means the interior is roomy. There were certainly no complaints from the family.
The boot is big, at 300 litres — it is a deep, usable, square shape, and the seats fold easily, so it is simple to enlarge the load bay to the maximum 1,146 litres. When stowed, the rear seats sit almost flat, too.
The Clio RS has Bluetooth as standard, which ought to make pairing it to your smartphone a cinch. It has Renault's Nav'n'Go set-up. 
Exterior and styling
The Clio RS that we drove was Flame Red, and it looked great along with daytime running lights and a discreet RS logo on the grille. Along with silver 17-inch wheels, the skirts along the sills, diffuser rear bumper and hatch-mounted wing are all reasonably subtle, but hint at the car's abilities. 
The Clio RS 200 EDC has a 200-brake horsepower 1.6-litre turbo petrol engine that drives the front wheels through a six-speed efficient dual clutch (EDC) gearbox that lends this model its initialised suffix.
The chassis — a steel monocoque — is more familiar. It is a five-door-only, 4,062mm-long, conventional supermini shell. There are MacPherson struts at the front and a rear torsion beam. 
How it performs
Thanks to its "Sport" chassis, the Clio RS's body control inspires superior confidence. Its turn-in is sharp and the blips you get on downshifts when in "RS" mode make you feel like a pro.
My first drive saw me head all the way from Dewan Bahasa, Kuala Lumpur, to Sekolah Indonesia Kuala Lumpur, Jalan Tun Ismail, for a meeting. For the uninitiated, that is less than 4km and I barely got out of third gear. But I was quite excited to drive it.
I enjoyed using the paddle shifters on the way up to Genting Highlands and they seem more at home in the Clio RS than in some other paddle-equipped cars.
I found myself intentionally leaving the radio off to better appreciate the sound — and pops — of the turbocharged engine.
We averaged 9.5 litres of unleaded fuel per 100km — or 9.8 litres/100km according to the car's own trip computer — with a best recorded fuel consumption figure of 8.5 litres/100km (2.2 litres/100km behind the Clio RS' 6.3 litres/100km factory claim). 
Rear passengers especially will approve of a more forgiving, compliant damper and spring combination, while the driver will appreciate not being bounced off the tarmac.
The 1.6-litre turbo pumps out 147kW and 240Nm of torque. That torque figure arrives down low at 1,750rpm, meaning an easier drive around town (it is very good in automatic mode). 
The six-speed EDC is a very well-tuned gearbox. In automatic mode it suffers from little of the hesitation of Volkswagen's DSG around town and probably behaves better when being thrashed, too. In "Sport" and "Race", the shifts get harder and faster, along with a delicious bark and crackle from the tailpipe.
From behind the wheel this hatch feels totally in command of itself — the weight of its body is brilliantly balanced between the front axle and back, the wheels are always in sync, even around tight curves, and the steering response is attentive and firm. There is no train or anger or attitude here; the car is simply comfortable, able and hardworking. I drove it much more over the course of five days and it was just fun to run it over to Bangsar for lunch, and over to Port Dickson for a day at the beach. 
Perhaps the fact that it is nearly half a second slower than a Ford Fiesta ST to 100kph (despite an easy-to-use launch control system) will only disappoint the niche beyond which Renault is attempting to expand.
Verdict
As a day-to-day proposition, the Clio RS is a genuine contender. It has all the little luxuries of a well-specced European hatchback, looks good and will not cost much to run.
The latest Clio RS endured a tough start to life, losing out to the Ford Fiesta ST and Peugeot 208 GTi on its review debut.
Both rivals had the edge as they were cheaper and more fun to drive. Yet with its hi-tech twin-clutch gearbox and turbocharged engine, the new Clio RS is a more grown-up package than its hardcore predecessor. Plus, the roomy cabin and five-door layout make it a practical everyday proposition. It also boasts head-turning looks and an equally stylish interior.
Show it a twisty road, and you can have a lot of fun, even in the wet. It is so good that it is almost as much fun as the basic, grittier Fiesta ST. Show it city traffic and it will dispense with it even better than the excellent 208 GTI with its excellent handling and pleasant interior.
I do not want to say that it all works to soften the car. But you will find yourself grateful for it on cobblestones, hills, highways and back alleys. 
Is it a worthy successor? Of course it is. Like M cars it is getting more civilised as time goes on. And there is nothing wrong with that.