This article first appeared in The Edge Malaysia Weekly, on September 17, 2018 - September 23, 2018.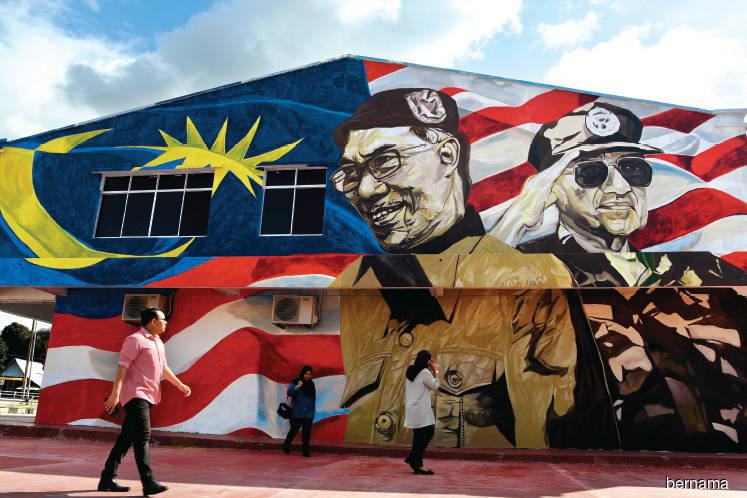 THERE is a picture sent to me via WhatsApp of Datuk Seri Anwar Ibrahim with wife Datuk Seri Wan Azizah Ismail and daughter Nurul Izzah.
On Anwar's image, the caption reads "bakal PM", for Wan Azizah it is "TPM" for timbalan perdana menteri, and for Nurul Izzah, "menteri",  which means prime minister-to-be, deputy PM and minister, respectively.
The message is obvious — that Anwar wants it all. No elaboration needed.
But love him or hate him, Anwar is not that naive, or foolish if you like, to place his family in the Cabinet when or if he becomes prime minister. For the record, he was against Nurul Izzah being a Cabinet member because Azizah is the current deputy prime minister.
But, how that scenario will play out, we will just have to wait and see. And in these days of social media and a new-found free Malaysia, the spreading of such messages is a reality of life politicians have to face.
It is also a reality that there are a good number of people, even among those who have stood by him  during those hard and difficult years, who are dead set against Anwar triggering a by-election to make a comeback to parliament. And they have their "reasons and justification" for feeling the way they feel.
And the man's political enemies (there are many) are in overdrive exploiting the issue. This is another reality.
There's a "letter" (one of many, I suppose) calling on the people "to teach Anwar's family and PKR a lesson" making the rounds. From the title, you would know the content even without reading the entire letter. And the author was not stupid enough to identify himself, or should it be herself?
Oh... there are camps in Anwar's PKR — something the party leadership has always denied. The reality is, there exists one side which is all for the incoming president and another that wants someone else to be PM. Take a look at the statement made by the party's women's chief (she has her rights to freedom of expression) and we get the drift.
Of course, there are many people who say Anwar is justified in doing what he is doing — and that is a reality too.
I can go on and on but, enough said, as a Malaysiakini reader, who calls him or herself "Mushiro", nicely puts it, "nothing seems right for the people who are against Anwar Ibrahim and nothing seems wrong for the people who are for Anwar".
A former political journalist agreed that it is very important for the No 1 in PKR and PM-in-waiting to be back in parliament with his fellow PH leaders although the timing is "a bit off" because of political fatigue among other reasons.
But a political observer opines that Anwar "has to be a registered MP as soon as possible to be able to speak from a position of strength and authority, and the sooner he becomes MP the better for the new government's credibility".
Still another observer says a lot depends on Anwar's answers to questions that arise. Badly tackled, it will "fuel talk that he is impatient".
However, he feels it is only right Anwar seeks all possible legitimacy in the party and government as PM-in-waiting. He has already won the party's presidency uncontested (which should mean full support from the party, unless someone in the party did not think so). Becoming an MP will further affirm his support for, and cooperation with, Tun Dr Mahathir Mohamad's premiership.
If we recall, Anwar has promised to help reform parliament. So, it is time for him to make good on that promise, and being an MP will enable him to strengthen the parliamentary reform process. This will allow Mahathir to concentrate on governing, which has become a daunting task judging from the damage done by the Barisan Nasional government.
Also, with Tan Sri Muhyiddin Yassin — the most experienced minister after Mahathir — still on the road to recovery from surgery, Anwar's return should provide PH with much-needed experience.
When told I was writing this article, a seasoned journalist reminds me that "Malaysia Baru was made possible by the coming together of the Mahathir and Anwar-led coalition of PKR, DAP, Bersatu and Amanah. A deal was struck that Anwar will return to parliament and become the next PM. Let's respect that deal."
That, too, is a reality.
Save by subscribing to us for your print and/or digital copy.
P/S: The Edge is also available on Apple's AppStore and Androids' Google Play.