This article first appeared in The Edge Malaysia Weekly, on September 24, 2018 - September 30, 2018.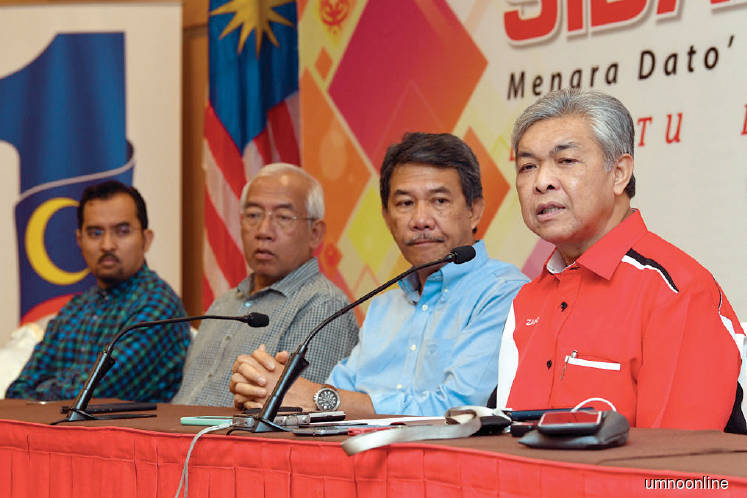 I have always thought people at war would keep their battle plans close to their chests. Closely guarded, wrapped in secrecy. Silly me.
What we have now are politicians at war — albeit a political one — telling all and sundry via media, social, or otherwise, nothing less; what's in store, revealing their plans and things they are doing.
Funny, isn't it? Why tell when that can alert the enemy and put the battle plans at risk of being foiled?
Take Umno leader Datuk Zahidi Zainul Abidin, for example. The member of parliament for Padang Besar told reporters — not one, mind you, but a whole bunch of news hounds — that Umno and Barisan Nasional MPs have met Parti Pribumi Bersatu Malaysia chairman Tun Dr Mahathir Mohamad "to discuss a merger" and that some of the Umno MPs wanted to meet Parti Keadilan Rakyat as well.
Why? To save the Malays. Of course, I would not have guessed. But somehow the noble act prompted by the need to save the Malays (and Islam and the nation) would naturally surface in this kind of situation. Former Umno vice-president Datuk Seri Hishammuddin Hussein also said it was "to save the race and nation" that he met Mahathir in Putrajaya recently.
Well … anyway, back to Umno's passion for revealing its plans.
Current vice-president Datuk Seri Mohamed Khaled Nordin has also told the media about the "possibility" of a new coalition comprising Umno, MCA, MIC, Gabungan Parti Sarawak, Gabungan Bersatu Sabah and yes, PKR. Never mind that PKR is already in the ruling Pakatan Harapan coalition together with Bersatu, Parti Amanah Negara and DAP.
And you know what — although Bersatu is not mentioned in the coalition Khaled called Pakatan Malaysia, he somehow saw it right to write a letter to Bersatu president Tan Sri Muhyiddin Yassin to tell him what is in the pipeline, so to speak.
Comical? Strange, maybe? But naughty, to put it mildly, if you believe it is Umno's mind game to split the ruling coalition.
You would probably be right to say it is all psy-war.
But it can also be Umno's way of trying to get into the corridors of power, as I have said before in previous articles.
When Umno lost the 14th general election, it vowed to make amends, rebrand and revamp itself to face and win the next election, which will be held in five years.
I guess five years is a long time to wait for a party that had held power from Merdeka till GE14. Besides, there is no guarantee it will achieve success at the ballot box come GE15.
Hence, it embarks on a plan, or rather plans, to bounce back, through deals with the ruling parties as a shortcut back into government. So it seems.
In short, trying to get back into power via the back door, as I see it.
If there are no corrupt practices involved in the negotiations, I suppose legally there is nothing wrong with cutting a deal.
But morally, and I think readers would agree, it's not right for Umno or any other party for that matter to be wheeling and dealing to be in government. Yet, I must admit that while I am against it, I can understand why such tactics are being used. In a nutshell, getting into power is the name of the game.
While nothing can be done to stop Umno from doing what it is doing, the onus is also on PH not to, for want of a better word, entertain the deals and proposals presented. No matter how enticing they might be. One temptation is talk that the presence of Umno or rather Umno MPs on their side would make PH components stronger, boost their numbers in parliament and enable PH to have a super majority in the august house.
But take a look at comments and feedback of Malaysians in social media and what not and you see many do not want PH to enter into any deal whatsoever.
They are the rakyat who voted PH in GE14 and they do not want the very same people they kicked out in the first place to be brought back into power. What more via the back door. In fact, they want the government to take action against Umno people, in particular former ministers. At least some of them, if any wrongdoings were committed when they were in office.
And the rakyat did not mince their words in calling on PH to ignore any overtures made by Umno/BN. The last thing PH needs is to incur the wrath of the people who voted for them in the first place. Ignore them at your peril.
However, PH, and in particular Mahathir, has always been clear in its stand, that is, Umno will not be accepted into PH — en bloc — as a party. But Umno leaders can join Bersatu or any other PH components as individuals — ordinary members that is — after vetting, obviously.
But Malaysians who do not want Umno in PH are not only talking about the party. Even Umno MPs who have quit the party are not spared. The rakyat do not want them to be accepted into the PH fold. It's all there on the internet, social media, traditional media, you name it — the voice of the people, or should I say the majority — for all to hear and see.
To be fair, the ex-Umno MPs have not said anything about wanting to join or cross over to PH.
Yet with speculation rife on an Umno exodus, we can never tell what the next move might be when or if more MPs leave Umno.
A fellow journalist sums it up with these words: "When Malaysians voted in the new government, it was not for Umno's political frogs to be part of the new Malaysia."
Nicely said, my friend.
Mohsin Abdullah is a contributing editor at The Edge. He has covered politics for more than four decades.
Save by subscribing to us for your print and/or digital copy.
P/S: The Edge is also available on Apple's AppStore and Androids' Google Play.