This article first appeared in The Edge Malaysia Weekly, on December 24, 2018 - December 30, 2018.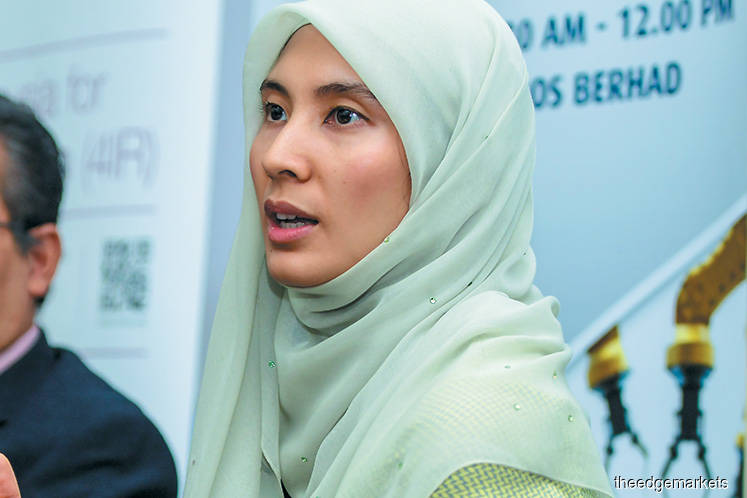 THE obvious question is why did Nurul Izzah Anwar quit? And the answer we often get is that she is cheesed off by accusations of nepotism against her father. Her father, of course, is PKR president Datuk Seri Anwar Ibrahim, who recently appointed his daughter Penang PKR chief.
Well, that could be true. But then, Nurul Izzah not only gave up the Penang chief's position but also quit as party vice-president, as well as from all government-related work.
We also hear — from political observers and journalists — that she wasn't happy with the appointment of former IGP Tan Sri Abdul Rahim Noor as a facilitator for the southern Thailand peace talks, considering what Rahim did to Anwar back in 1998. Remember Anwar's black eye? She openly and strongly criticised Rahim's appointment, which was made by the government. In other words, she criticised the government.
Many also believe that she was far from happy when former Melaka chief minister Tan Sri Rahim Thamby Chik applied to join Bersatu — an ally of PKR in Pakatan Harapan — given Rahim's animosity against Anwar.
But then, we are talking about a 38-year-old who has been through the rough and tumble of high-level politics that many politicians much older than her have not experienced. We are not talking about a sulking girl. It's not for nothing that Nurul Izzah is known as Puteri Reformasi.
While I agree with the reasons above, I believe there is more to it than meets the eye.
The three-term MP had made very clear her objections on the possible crossover of former Umno MPs to the Pakatan Harapan coalition, in particular Bersatu.
Among other things, she said that accepting Umno turncoats is a betrayal of the mandate given on May 9 and "there's no meaning to democracy if Malaysia is governed through elite-based politicking". There were many more harsh words used.
In my opinion, the Umno exodus and Bersatu's apparent willingness to accept the "political frogs", as they have been labelled, is one factor that drove Nurul Izzah to quit her posts.
Then there are the PKR party polls, which were concluded in November. It is crystal clear that the bitterness between Team Azmin and Team Rafizi has not ended despite the hugs, embraces and pledges about closing ranks.
Nurul Izzah had earlier spoken up against the way the party elections, in particular the campaigning, had been conducted.
The attacks on Team Rafizi are seen as attacks on Anwar and now, there is a fierce blitz directed at the president himself, accusing him of cronyism, favouritism and all kinds of "isms".
Heavy politics is at play here and many observers say the derailment of the reform agenda by certain leaders were among the reasons for Nurul Izzah's resignation.
But at present, all that is portrayed in a rather vague manner.
PKR acting secretary general Datuk Saifuddin Nasution is on record as saying developments in Pakatan Harapan and not PKR were what drove her to quit.
But a party insider claims she is frustrated with the antics of two big players in Harapan and PKR, as well as a person outside the coalition. No names were given and there are no details of what the antics are or what the political game is.
The party insider is among several observers I spoke to who are supposed to be in the know. For obvious reasons, they want to remain anonymous.
The reasons they cite as to why Nurul Izzah quit are more or less the same as those that many would have heard of. I won't go into them, save for this comment by one observer: "If her supporters cannot figure out by now why she quit and cannot see the bigger picture behind her decision, susah lah."
Which brings me to the next big question: What now?
According to another observer, Nurul Izzah is now free to say what she wants and is no longer subject to party protocol and is "also free to move within the likes of Invoke, (the NGO started by Rafizi) as an ordinary member".
The observer feels that the priority would likely be to put public pressure on Bersatu to reject political frogs as that will diminish public support for Pakatan Harapan, which will invariably affect PKR and DAP as they depend a lot on the Chinese and Indian communities.
Another observer says Nurul and Rafizi Ramli, who failed to take the PKR deputy presidency in the recent polls, will be a powerful force, "more so if joined by Khairy Jamaluddin, the Umno MP for Rembau".
Pictures of the three having lunch and chatting over teh tarik have gone viral and invited all sorts of interpretation. In fact, there are some who are anticipating the formation of a party for the young by the trio. A bit far-fetched? Perhaps for now.
Rafizi has tweeted that the three share the same aspiration, among others, to see "a Malaysia that is fair, competitive and progressive. A Malaysia that builds, not one that destructs".
And he says there is now an urgent need "to reach out to as many people as possible with the same aspiration about nation-building".
As for meeting up with Nurul Izzah and Khairy, he has this to say: "We need to go out of our comfort zone and begin discussions over teh tarik. And a lot of things can be solved over teh tarik even if we come from completely different perspectives."
Feel free to interpret all that. But Rafizi will always be accused of being an Anwar proxy, and acting at his behest or on his behalf. More so now that he is openly teaming up with Anwar's daughter (but then, he has always had close ties with Anwar's family) and is seen as trying to lure Khairy to side with Anwar.
An unfair assessment of his ability, you say? Well, this is politics and who says it is about being fair?
That apart, a veteran journalist expects Nurul Izzah, Rafizi and Khairy, together with other young MPs on the same wavelength, to keep their options open to create a third force in politics outside the current party and coalition structure.
A political analyst sees the so-called third force as workable as many young people want to see the three close ranks and work together.
As for Nurul Izzah, says the veteran journalist, it is all the more important to consider such a possibility since her upward mobility in PKR will always be handicapped by virtue of her being Anwar's daughter and being curtailed by Azmin's powerful forces.
Anything she or Anwar does will be met with accusations of nepotism.
When she retained the PKR vice-presidency last month, she scored a thumping victory, obtaining 20,000 more votes than the second-placed candidate. But she found herself surrounded by rivals.
Zuraida Kamaruddin and Dr Xavier Jayakumar, both federal ministers, and Tian Chua complete the vice-presidents' lineup. The three are from Team Azmin.
As for members of the central leadership council, Team Azmin swept 15 of the 20 seats. In a nutshell, not only Nurul, but her father as well, is surrounded by Team Azmin, or the "cartel", as it is known.
However, Anwar as the party president is empowered to include appointees. He has named the state chiefs but that has created controversy.
Apart from the state chiefs, according to Bernama, the PKR constitution gives the president the power to appoint five people to the central leadership council, two vice-presidents, the secretary-general, information chief and treasurer.
The appointees notwithstanding, the question now is will Anwar appoint a new vice-president to replace Nurul Izzah? If yes, who? But can this be done as the slot in question is a contested position? Or will PKR operate with three vice-presidents, without filling the spot vacated by Nurul?
As Tian Chua puts it, the president can appoint up to three vice-presidents.
But in the case of the vacuum created by Nurul Izzah's resignation, according to him, it qualifies as a case for a replacement, but a replacement is not necessary.
To Central Leadership Council member Nik Nazmi Ahmad, an appointment by the president to replace Nurul Izzah cannot be made because it involves a contested seat.
A contest is also not necessary now, he says, and as such, it will have to be left vacant until the next party polls in three years' time.
However, all that should not be a problem as the party can operate with the three current elected vice-presidents, apart from vice-presidents appointed by Anwar he wants to do so. That is his prerogative as stipulated in the party's constitution.
But that's the least of Anwar's problems. He has got bigger things to take care of. That's for another day.
As for Nurul Izzah, as a political observer puts it, her resignation is not the final act but a beginning. — Mohsin Abdullah
 
Save by subscribing to us for your print and/or digital copy.
P/S: The Edge is also available on Apple's AppStore and Androids' Google Play.