This article first appeared in The Edge Malaysia Weekly, on November 19, 2018 - November 25, 2018.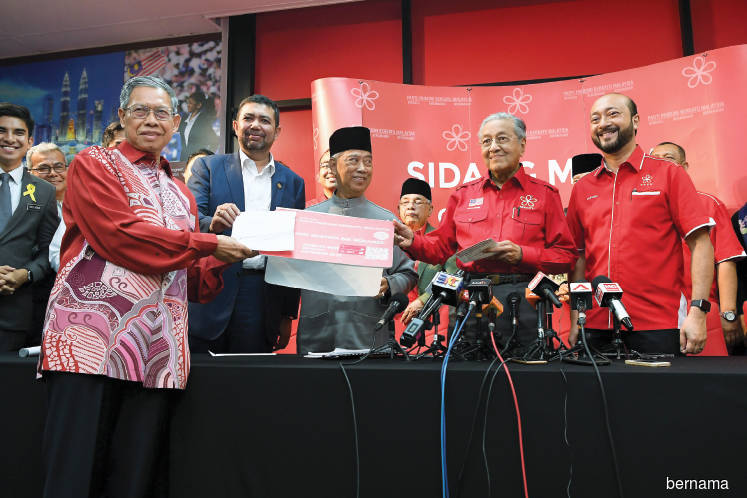 A political analyst says the possibility of vetting by Bersatu is remote, 'only cherry-picking of Umno MPs, one after another'.
THERE is a notion, debatable of course, that the Malays need Umno to champion their cause, that is, to ensure their interests are well taken care of.
Many in Parti Pribumi Bersatu Malaysia, including its leader, Tun Dr Mahathir Mohamad, subscribe to such a notion. It is no surprise as most of them come from Umno.
But although they believe in such a notion, they say it is not the current Umno that can be counted on to do the job. In the words of Mahathir, "this is Najib Razak's Umno", although Datuk Seri Najib is no more the party president.
The real Umno, as Mahathir puts it, "is dead as it has deviated from its original struggle, which is to fight for the good of the Malays and nation". Now, as Mahathir sees it, Umno fights for Najib, and many Malays share that view.
This "Najib's Umno" is associated with all things negative, to put it mildly. No explanation is needed as these negative aspects are well known.
Political analyst Dr Sivamurugan Pandian reminds me that Mahathir did say Bersatu would like to be the Umno of 1946 — referring to the party formed by Datuk Onn Jaafar to fight for the Malays and not personalities.
Obviously, Bersatu wants to take on that role, but the question is, will Bersatu be a worthy replacement or just another Umno? Already talk of many Umno people wanting to join Bersatu is causing anxiety among the rakyat, or a good number of them anyway, who voted Pakatan Harapan into power.
As a Bersatu insider describes it, the Malays today, apart from those who are neutral, are aligned to four parties. They either support Amanah — which he calls a moderate Islamic party — multiracial PKR, PAS — which claims to be Islamist — or Umno.
Therefore, says the party insider, if Bersatu is to expand and wants to represent the Malays, it has no choice but to accept all Malays, including former Umno members and sympathisers. But he acknowledges that to win elections, it is not enough to depend on party members only.
Naturally, for a political party to be in power, the support of the majority group is of utmost importance and in the case of Malaysia, the majority are the Malays. What's more as the Malay population continues to grow while the numbers of the other ethnic communities are getting smaller.
However much as Bersatu wants the numbers as far as Malay support is concerned, there is a caveat with regard to Umno members coming into its fold. And that is, according to the party insider, Umno MPs, state assemblymen and those with party positions must resign from Umno and join as individuals. But not before being subjected to vetting by Bersatu. That is the official party line anyway.
Just how is the vetting to be done effectively? We will get back to that shortly.
For political analyst Dr Oh Ei Sun, Bersatu's objective is to be the party that the Malays can clearly identify with.
"I guess Bersatu is trying to distinguish between being a corrupt organisation that redistributes spoils and being a champion of Malay interests," he says.
Sivamurugan, on the other hand, views the role that Bersatu plays as accommodating the interests of the Malays as well as protecting the PH coalition from the negative perception created by some quarters that these interests will be eroded if political power goes to others.
He is quick to add that what is more important is the party's role at the national level in protecting the interests of ethnic and religious groups while championing the Malay position.
I must say I agree as Umno started off rather well, resulting in the Alliance and later Barisan Nasional getting the support of most of the rakyat. But gradually, it deteriorated into its current form, which has taken a heavy toll on not only the party but BN as well.
It is well and good for Bersatu to want to be like the Umno of 1946, but as Sivamurugan rightly points out, Bersatu must state clearly what its struggle is all about and explain this to its members, in particular the younger ones who would not know what Umno of 1946 was all about.
And if I may add, the situation back in the day had warranted the formation of the Umno of old. It might have worked then, but to use that formula in present times? I don't think so. A right blend is the order of the day I would say, taking into consideration present and future demands and the challenges facing the country and its people of all ethnic and religious backgrounds.
Back to the question of vetting new Bersatu members.
To say vetting is very important is stating the obvious.
Just how does Bersatu ensure that undesirable elements from Umno or, for that matter, from anywhere else are prevented from coming into the party bringing with them their culture, thus spoiling Bersatu? That is the gist of the concerns of PH's supporters.
We have heard many times of people saying they did not kick out Umno in the 14th general election for it to come back to power via Bersatu, PKR or their other coalition partners.
Political analyst Oh does not see the possibility of vetting taking place, "only cherry-picking of Umno MPs, one after another".
But Sivamurugan says vetting and screening can be done by people with stature within Bersatu,"who have the experience to disqualify people who will tarnish the image of the party".
Vetting, he says, must focus on "the party's struggle and contribution to the community rather than vested interests".
Bersatu supreme council member Datuk A Kadir Jasin wants vetting to be done by the council itself.
Against such a backdrop, the big question is, will all this mark the demise of Umno?
It all depends, says Sivamurugan, on the motivation of some of its leaders whether to retain Umno as it is — that is, in its current form — or overhaul it to fit into the new political culture in Malaysia.
To Oh, it is not the end of Umno "as long as it manages to hold on to its assets, which can be used to wield influence and as an attraction in future elections".
But one thing is sure: Umno is now in the shadow of Bersatu — the new boss in town, so to speak.  — By Mohsin Abdullah
 
Save by subscribing to us for your print and/or digital copy.
P/S: The Edge is also available on Apple's AppStore and Androids' Google Play.