This article first appeared in The Edge Malaysia Weekly, on April 30, 2018 - May 06, 2018.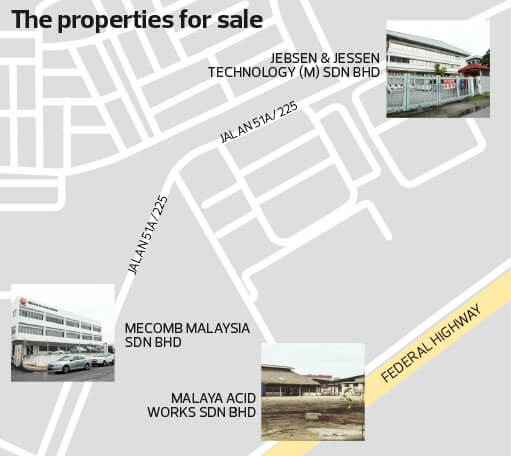 TWO more premises in the industrial area of Jalan 51A and Jalan 225 in Petaling Jaya have been put up for sale, following the relocation of the occupants. One of the properties is owned by industrial conglomerate Jebsen & Jessen while the other belongs to Sime Darby Bhd.
Industry experts expect more such assets in the area to come up for sale, prompted by factors such as increasing land values and the search for lower cost to stay competitive.
"Old trading and manufacturing houses are relocating from this established location in PJ. Firstly, the Jalan 51A area is no longer suitable for manufacturing and warehousing because the old factories are turning semi-commercial and have become car showrooms and offices," says VPC Alliance (M) Sdn Bhd managing director James Wong.
"Secondly, the cost of production in PJ is much higher as the wages there are higher than in industrial areas in Shah Alam and Klang. Thirdly, some of the existing factories in PJ are too small to cater for some operations, which have purchased larger parcels outside PJ to build new manufacturing and warehousing facilities," he adds, citing Fraser & Neave Dairies and Aluminium Co of Malaysia as examples.
Most of the factories and buildings in Jalan 51A are between 30 and 40 years old. In the 1990s, industrial land in nearby Section 13 was valued at between RM45 and RM50 per sq ft. The market price has since soared five times, ranging between RM230 to RM260 psf for land with at least 50 years remaining on its lease. The prices differ, depending on the remaining lease and land use.
Nabeel Hussain, Savills Malaysia's senior director of capital markets, agrees that there will be more movement out of the Jalan 51A area as its industrial nature changes to residential, which is valued higher. "Land values are becoming such that many of the long-term industrial occupiers of the area will be moving further away from the city," he says.
Jebsen & Jessen hopes to fetch between RM35 million and RM40 million for the former office and plant of Jebsen & Jessen Logistics Sdn Bhd located at 16, Jalan 51A/225. The group has hired VPC Alliance and Grants & Leases Real Estate Solutions as joint exclusive marketing agents to find a buyer for the asset.
Wong says Jebsen & Jessen Logistics has moved into an office building that enables it to run a more centralised and efficient operation. "It is also the tendency for many old trading offices to be asset-light."
Jebsen & Jessen Logistics, which is wholly owned by Singapore-based Jebsen & Jessen (SEA) Pte Ltd, has relocated to UOA Business Park in Section U1 Shah Alam, Selangor. It is selling three 3-storey blocks, each of which comes with an office area and a warehouse or workshop.  The total gross floor area of the office space is 55,540 sq ft while that of the warehouse/workshop is 31,566 sq ft.  The three buildings occupy 2.1 acres, the lease on which expires in 2072.
The sale is being conducted via expression of interest (EOI). Unlike a tender, an EOI is non-binding and the parties have the option to not proceed with the deal. The closing date for the submission of bids is May 30.
Over at Sime Darby, the conglomerate has hired real estate agent and valuer CBRE WTW as its exclusive marketing agent for its Mecomb office building at 20, Jalan 225. The agency invited tenders for the industrial asset last month. The closing date for the submission of bids was April 5.
"This is part of our efforts to be more efficient and cost-effective operationally. We would like to leverage Sime Darby Industrial's existing facility (in Tractors Engineering Complex) in Puchong to serve Mecomb's customers. The savings we enjoy will eventually be passed on to our customers," says a senior representative of Sime Darby.
The 35-year-old Mecomb office building occupies 1.02 acres with 62 years still left on the lease.
The representative was unable to reveal the price of the deal as negotiations are ongoing. Nevertheless, sources say the asset could fetch as much as RM20 million.
Both Jebsen & Jessen and Mecomb's buildings are located opposite the 17.26-acre parcel once occupied by Malaya Acid Works Sdn Bhd. This was put up for sale in September 2016, and it has been reported that the owners are asking for RM300 million or RM400 psf.
In June 2016, British American Tobacco (M) Bhd sold its factory and two parcels of leasehold land measuring 13 acres in Jalan 19/1 to LGB Properties (M) Sdn Bhd for RM218 million or RM382 psf. The new owner is planning a mixed-use development on the site.
In late 2015, Linde Malaysia sold its 10.3-acre leasehold industrial land in Jalan 222 to Pelaburan Hartanah for RM44.87 million or RM100 psf. The lease expires in 2028.
Save by subscribing to us for your print and/or digital copy.
P/S: The Edge is also available on Apple's AppStore and Androids' Google Play.