This article first appeared in City & Country, The Edge Malaysia Weekly, on September 9, 2019 - September 15, 2019.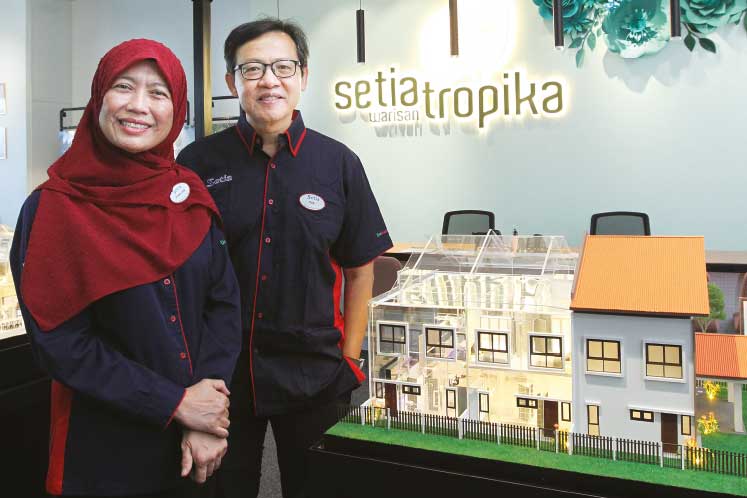 Noor Lida (left) and Koe at the sales gallery of Setia Warisan Tropika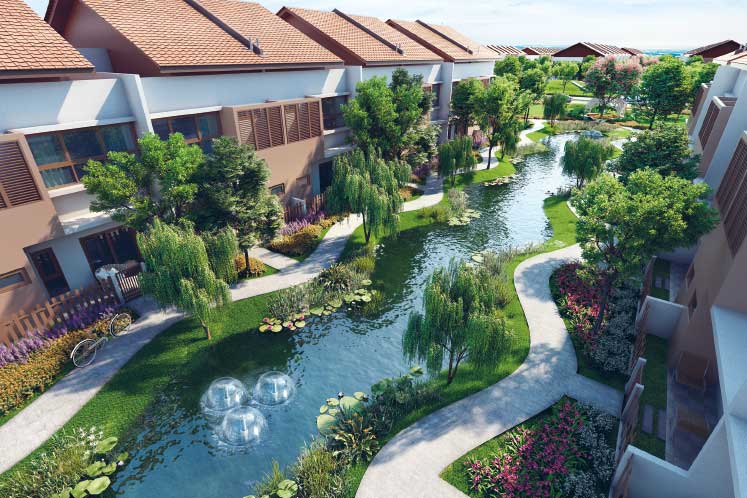 An artist's impression of the waterway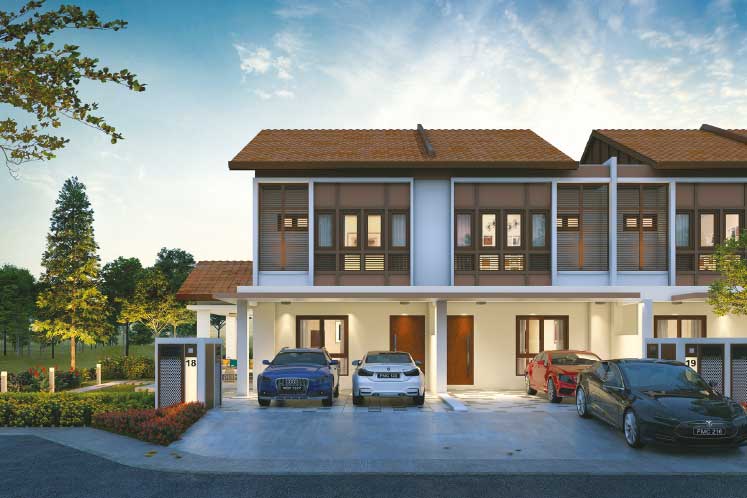 An artist's impression of the inked houses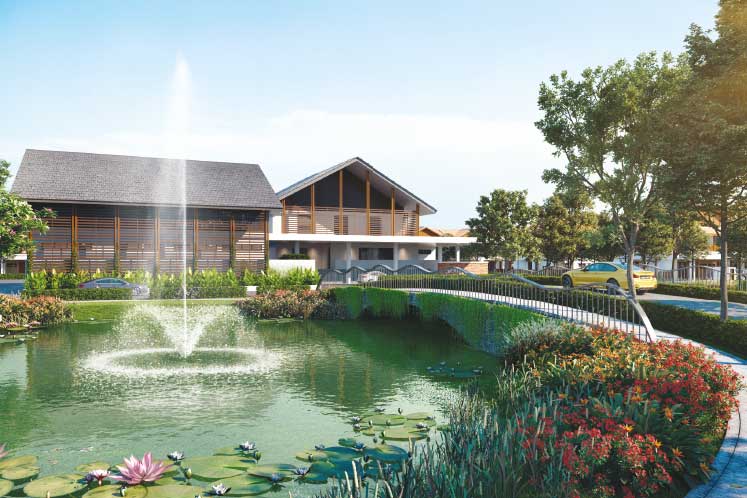 An artist's impression of the clubhouse
Living in a tropical country, we are blessed with plenty of sun, rain and varied flora and fauna.
S P Setia Bhd senior executive vice-president Datuk Koe Peng Kang laments the fact that we often do not see the treasures that we have and the beauty of living in a tropical country. This is why the developer's upcoming township, Setia Warisan Tropika, will focus on tropical living, he says.
Located in Bandar Baru Salak Tinggi, Sepang, the RM1 billion, freehold 129.93-acre township will comprise 692 two-storey linked houses, 257 apartments, 406 townhouses under the Rumah SelangorKu scheme and a commercial component.
The gated linked houses will be built in four phases and Phase 1, featuring 187 units, will be launched this month. The other components are still in planning stage.
The houses, whose built-ups range from 1,907 to 2,108 sq ft, are priced at RM550,000 onwards. As these are strata landed properties, there is a maintenance fee of about 10 sen psf.
Purchasers will have the option of a conventional or flexi layout, says general manager Noor Lida Nazri. "If the purchasers choose the flexi layout, they can have another bedroom added to the ground floor."
As some of the units will be close to the waterway or parks, they will be designed in such a way that the living and dining areas will be at the back of the house, overlooking these features.
Of the 187 units in Phase 1, 70 will have the flexi layout option. And although the development comprises linked houses, the façades will be in semi-detached style.
"As the roof of linked houses is usually long and continuous, we came up with the simple idea of making a break in it so that the houses don't look linked. There will be a break for every pair of houses, which will share a single pitched roof. From a certain angle, they will look like semidees," explains  Noor Lida.
She adds that the break is more for aesthetical reasons, although there will be more air ventilation.
The main spaces in the houses will have 11ft floor-to-ceiling heights and large windows for good natural lighting and ventilation.
An exclusive, residents-only one-acre clubhouse will be included in the township and it will be within walking distance of the houses. Facilities include a half-Olympic-size pool, an events hall that can fit 500 people, and a basketball and futsal court.
The clubhouse as well as some of the water fountains will be partly powered by solar. Noor Lida says solar panels will be installed there so that the residents do not have to worry about maintenance cost and electricity consumption.
Located around the township are amenities such as the Kuala Lumpur International Airport, klia2, Xiamen University Malaysia and Mitsui Outlet Park.
Other ongoing developments in the vicinity are Sunsuria City by Sunsuria Bhd, Warisan Puteri by IOI Properties Group Bhd, Serenia City by Sime Darby Property Bhd and Saujana KLIA by Glomac Bhd.
According to Noor Lida, the Salak Tinggi ERL station is within walking distance of Setia Warisan Tropika, which will prove convenient for future residents.
The township is connected to various highways and roads such as Jalan Putrajaya-Dengkil, the North Central Link Expressway and the North-South Expressway.
The land, says Koe, was bought by I&P Group, which is now in S P Setia's stable, in 2000. He explains that after I&P's entry, the group revisited the tract and realised its value and strategic location. But there was a challenge — there was no access road to it.
"The construction of the ERL cut across the land and there was no access to it. We had to acquire more land to build the access road in order to obtain the development order. So, first, we discover there is no access and second, we need to find out who is the neighbouring landowner," says Koe.
He adds that the accessibility issue took a long time to resolve and the group spent RM4 million on buying the land for the access road.
Tropical resort living
Setia Warisan Tropika's tropical resort living concept is reflected in the design of the houses and in the landscaping.
"Given our weather, we are blessed with lots of sun and rain. The most suitable design to handle [this type of weather] is tropical — pitched roofs with generous eaves and louvres to enhance sun shading," explains Noor Lida.
The landscape, meanwhile, will boast eight thematic gardens, water features and tropical shady trees.
"Most of us enjoy going to beautiful resorts like Tanjong Jara that have lots of greenery. The environment is cool even when the sun is up. So, why can't we do that? All we need are good, shady trees and we can walk outside," says Noor Lida.
Developers play an important role in creating a person's lifestyle, she adds. "If you plant a lot of trees and put in things like playgrounds and futsal courts, the residents will be encouraged to lead an active lifestyle."
Koe wants people to live in a tropical environment and rediscover what Malaysia has to offer. "We always think other countries are better but people don't realise that the best is here. You may feel that a tropical environment is hot and makes you sweat. But that is not true. It is all about managing our gardens."
In fact, green spaces make up more than 20% of Setia Warisan Tropika with a concentration on tropical plants such as hybrid orchid Arundina Suria.
"Building a house without a landscape is like a human body without a soul. Our landscaping does not only comply with the requirements of the authorities but we are also careful about which plants can sustain the entire ecosystem, especially the butterflies and birds in the area," says Koe.
He also explains that the water features in the township are for stormwater management. "We don't just build a pond and that's it. We transform something technical like stormwater management into something recreational and functional."
The landscaping and water features, side by side with the building design, will make the township look like a tropical resort, Koe adds.
Providing a quality lifestyle
Setia Warisan Tropika mirrors a precinct in S P Setia's award-winning Setia Eco Glades, says Koe. "All the [award-winning] ingredients are here but at a cheaper price."
The group's aim is to create a lifestyle for the strata society, he adds. Other than that, the design of the place must be that of a holiday home. Yet another key factor is that the design must be fit for the group's own families before it is considered fit for the public.
"When we design, we always ask ourselves whether or not we would live there. If we think it is not good for our families, then it cannot be good for the purchasers. Today, many of us live in our own townships. This is proof that our developments are of good quality," Koe explains.
Though the homes are priced at RM500,000 to RM600,000, the buyers get to enjoy a quality lifestyle and features that are on a par with the developer's higher-priced properties in Setia Eco Glades, Setia Eco Park and Setia Eco Templer.
"You won't have to worry that you will get a lower quality lifestyle because of the price tag. Our objective is not to just sell a property but also to build a community. We learnt so much from Setia Eco Park. By not using the conventional way of maximising the buildings but focusing on improving the lifestyle, facilities, sustainability and community engagement, values rise faster," Koe points out.
"We make sure that whatever we do, we leave a legacy for people to increase the value of their investment. It is my aspiration as well as the team's that we not only provide a house but also a lifestyle and see the smile on the children's faces when they ran around and play in our developments.
"One thing we can promise you is that whatever you see in the pictures will be better in reality. Setia Warisan Tropika will feature the best concepts and designs from all the projects that we have done. It is the continuity [of our Setia brand]."